I can't deny that the Manny Ramirez 50-game suspension bodes well for the Giants. Ramirez was arguably the National League's most valuable player through the month of April and early May. However, it's certainly no ticket to the postseason for this team, and they shouldn't be treating it as such.
Most of the Bay Area sports media beat the Ramirez story to a pulp on Thursday, but every single one of them were sending the same message;
This now opens a door for the Giants in the division. I agree with this to an extent, but let's not forget, Ramirez is only going to be gone until July 3rd, so the Dodgers will have him back in plenty of time (3 months to be exact) to get back to where they are now. Also, the Dodgers were really taking off and kind of separating themselves from the rest of the National League, and they aren't sitting at 21-9 just because of the mercurial Ramirez. The team has talent up and down the roster. They still have
Andre Eithier
,
Matt Kemp
,
Russell Martin
,
James Loney
,
Rafael Furcal
, and
Orlando Hudson
. Make no mistake about it, the Dodgers are not going to become a walk in the park all of the sudden now that Manny's out for 2 months and there's no reason the Giants shouldn't really change their approach. The only way I see his suspension having an effect on his team is if they somehow lose some confidence without their #99 in there, but I just don't see that happening with a
Joe Torre
led ball-club. Now, I'm not trying to come off overly cynical here. I see why people are talking about it and analyzing it the way they have. The Dodgers aren't as good of team without Man-Ram than they are with him, so over the next 8 weeks, the Dodgers aren't going to be quite as good as they were over the first month. The thing I don't want to see though, is the Giants deal away a couple of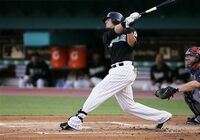 young starting pitchers for a guy like Jorge Cantu, thinking that maybe they can overtake the division while Manny's on the shelf.
Jorge Cantu
immediately comes to mind because of the Giants' interest in him over the winter, and way he's played over the season's first month. Cantu would be a nice add to the middle of the lineup, and first-base, don't get me wrong, but is he going to be hitting .315+ all season long while averaging a homer every 11 at-bats? I highly doubt it. And of course, because he's cheap, productive and still pretty young, the
Marlins
would want at least 2 solid young arms for him and I just don't think he's worth it. They shouldn't feel the need to strike now and force something just because of the situation. If the right deal rolls around and it makes sense with or without Ramirez playing for L.A., then by all means, pull the trigger. But please, no making moves just to make one in light of the new situation.
Notes: The Giants get their first and only look at the Manny-less L.A. Dodgers this weekend, starting Friday. The Giants don't play the Dodgers again until August, so this will be their only opportunity to take advantage of not facing Ramirez... Barry Zito gets the start Friday night as he's still in search of his first win of '09, despite having thrown the ball particularly well in his previous 3 starts... Bengie Molina hit 2 home runs on Thursday, and has 3 homers and 9 RBI in May (7 HR and 27 RBI on season)... Fred Lewis also had a nice game Thursday, collecting 2 hits and driving in his first run since April 11th.
Trevor Cole The San Francisco Giants Blog
Ad blocker interference detected!
Wikia is a free-to-use site that makes money from advertising. We have a modified experience for viewers using ad blockers

Wikia is not accessible if you've made further modifications. Remove the custom ad blocker rule(s) and the page will load as expected.