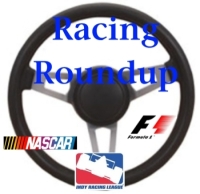 What a weekend! It was a perfect Sunday for yours truly, with tons of meaningful racing and an Eagles victory (a blowout too, allowing me to drift over to the IndyCar coverage without worrying about missing something important). The IndyCars finished their season at Chicagoland, F1 was at the masterpiece that is Spa, and NASCAR figured out who is in the Chase. Let's roundup!
Formula One
The ultimate result has already been talked about on AGM and I have let my thoughts be known. The penalty given to Lewis Hamilton was rotten, wrongly called, and as my dad noted immediately after I told him, felt completely political.
Lewis Hamilton started on pole, with Felipe Massa second. Kimi Raikkonen was one of several drivers to charge forward at the start, along with Sebastien Bourdais and Jarno Trulli. Hamilton span at La Source, which led to Raikkonen taking the lead. The defending world champion would hold the lead throughout the bulk of the race. His teammate Massa would hold third through most of the race, but did not really challenge Hamilton for the top two. Meanwhile, Hamilton's teammate Kovalainen started poorly, was penalized for spinning out Mark Webber, then suffered a transmission failure on the last lap to finish tenth. Behind the the lead trio were Fernando Alonso's Renault, the Toro Rossos of Sebastien Bourdais and Sebastian Vettel, and the BMW Saubers of Robert Kubica and Nick Heidfeld.
As always in Belgium, rain was impending but held off for the bulk of the race. With only a few laps remaining it finally started, making the track incredibly slick. Meanwhile, Lewis Hamilton was slowly gaining on Kimi Raikkonen after their final pitstops. The lead got obliterated on lap 41, when Hamilton finally challenged Raikkonen for the lead.
Hamilton attempted to pass at the Bus Stop chicane. I'll let the video show what happened:
Hamilton took the checkers, with Massa second. Nick Heidfeld went from eighth to third after changing to intermediate tires and blowing past those who stayed out on slicks. Bourdais was the big loser in the exchange, going from fourth to seventh. Sometime after the race though, officials penalized Hamilton for his straight through the chicane, and he went from first to third.
Pending appeal, Top 8
Thoughts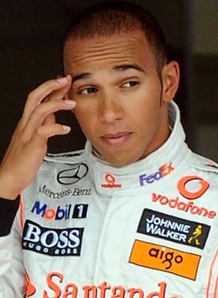 This has wide reaching implications for Formula One's respectability. It seems that every major penalizing decision in recent times has benefited one team, Ferrari, at the expense of another, McLaren. Instead of Lewis Hamilton leading Felipe Massa by 8 points, it is instead 2. It almost seems like a fix to make the championship more exciting, in light of Ferrari's recent mistakes. If the FIA has any sense of the good of the sport, they would reverse the penalty. It is an incredibly bad stain on the integrity of Formula One racing.
Without the penalty this is the best race of the season. The racing was close throughout and the finish was exciting. If you had to show one race to someone to show how good Formula One racing can be, this would be a great candidate (again, ignoring the penalty). That's why the penalty kills me. It was quite dubious, as Hamilton did let Raikkonen pass him on the straight after the Bus Stop before getting around him again at La Source. Remember that Raikkonen then again got around Hamilton after they came upon Rosberg before Kimi crashed into the wall.
IndyCar
Time to go from a series that saw a penalty make a championship closer to one that saw a penalty make it more apparent. Helio Castroneves' block on Justin Wilson at Belle Isle caused the Penske driver to need a lot of help to catch Scott Dixon for the IndyCar Series championship.
He would especially need it after qualifying, where he went under the white line three out of four laps, causing officials to nullify his attempt. Instead of starting fourth, he started 28th. This would only delay his run for the win, as Castroneves finally took the lead on lap 77 after a great pit stop. With some assistance from teammate Ryan Briscoe, the Penske drivers would run side by side for a long series in an effort to let Castroneves lead enough laps to gain three bonus points. After gaining the laps lead, Castroneves was in fact ahead in the championship. Dan Wheldon eventually spoiled the Penske Party and ran with Castroneves for a number of laps. A caution of lap 108 ended the side by side fest for now, as Oriol Servia's mirror fell off. On the restart, Sarah Fisher crashed. Helio was leading, giving him yet more laps out in front.
Dixon did not run up front the entire race like Helio. Scott ran much of the middle section of the race between sixth and tenth place. This should have caused many butterflies in the stomachs around Ganassi Racing, with a number of less experiences oval races like E.J. Viso and Graham Rahal running side by side with Dixon. The New Zealander was smart though, as he kept the low line, limiting the likelihood of being collected by another car.
On lap 181 of 200, Mario Moraes crashed to bring out the caution. Every driver would pit for a splash of fuel, at which time Dixon would exit the pits in first ahead of Castroneves. It was apparent that Dixon would win the title barring a crash - he had enough fuel this year.
Dixon broke an IndyCar record by leading the race - he has led 900 laps this season.
After an aborted restart due to an antsy Castroneves and a spin by Graham Rahal, the race got underway again on lap 194. Helio kept trying to pass on the outside, only to see Dixon remain ahead on the track. On the last lap however, Castroneves finally got ahead of Dixon right before the starting line. The commentators and IndyCar scorers initially gave the win to Dixon, however on video review Castroneves inched him out. The margin of victory: .0033 seconds, or about one foot. The margin is second in IndyCar history, only to the 2002 Chicagoland race that saw Sam Hornish Jr. beat Al Unser Jr. by .0024 seconds.
Castroneves, indeed, did not find out about his win until being informed by ESPN's pit reporter. Despite his best efforts though, he finished 17 points behind Scott Dixon in the standings. After the heartbreak of last year that saw him lose the title on the last lap, Scott Dixon won the 2008 IndyCar Series championship.
Top 10
Thoughts
In addition to the title race, another award was decided, the Rookie of the Year. After being rendered insignificant last year by the fact there were only two rookies last year, the award was in play in 2008 thanks to the merger. Hideki Mutoh had a horrible race that gave the opportunity for Justin Wilson to claim the title, but the tall Englishman fell short by six points.
Unlike most of the other oval races this year aside from Milwaukee, drivers from the ex-Champ Car teams were remarkably competitive. Viso and Moraes both ran in the top 10 prior to their crash, as did Graham Rahal before colliding in the pits with Buddy Rice. Will Power finished fifth equalling the best oval finish of a transition driver, that of his teammate Oriol Servia in Richmond. Credit teams gaining experience with oval racing, as well as an urgency to perform as many of them are not signed on for next year yet.
In what seemed like hell reaching 33 degrees Farhenheit (or 1 degree Celsius if you wish), Milka Duno actually led the race. Danica's least favorite rolling chicane stayed on the lead lap (I'll give her credit for doing that for once) then chose not to pit with the rest of the field on lap 141. She did concede the lead to Helio after the restart, but she certainly scared some people fearing she would take out other drivers while falling back, mainly Scott Dixon.
There is still one race remaining in 2008, the non-points race at Surfers Paradise, but expect a very different lineup for that race. Dan Wheldon will probably be in the Panther Racing entry, while his #10 Ganassi ride is occupied either by its 2009 driver, Dario Franchitti, or Ganassi's development driver Alex Lloyd. Conquest has already replaced injured and disgruntled Enrique Bernoldi with Champ Car vet Alex Tagliani for that race in addition to the ones run at Belle Isle and Chicagoland.
Most years, a resume like Helio Castroneves is deserving of a title. Two wins, 8 2nd place finishes, in the top 5 in 15 of 17 races, and finishing every single race (even Dixon had a DNF in St. Pete). However, Scott Dixon was phenomenal: six wins, seven poles, 14 top 5 finishes and 900 laps led.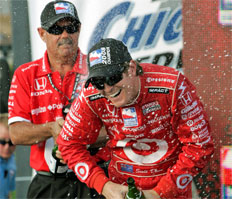 Final Series Championship Top 10
NASCAR
The Chase is finally ready to begin. The Sprint Cup Series took its show to Richmond for the Chevy Rock and Roll 400, the last race prior to the Chase's beginning. The big battle going into the race would be between 12th place Clint Bowyer and 13th place David Ragan for the final spot in the Chase. Because of Tropical Storm Hanna, qualifying was cancelled and the race began on points, not to mention was run on Sunday. Much of the early focus would be in their direction.
After a bad pit stop by Bowyer, the comeback looked possible by the young second year driver Ragan. However, Ragan had damaged his car early in the race tangling with teammate Matt Kenseth. He then got together with Regan Smith after Smith was bumped by none other than Bowyer. It was pure short track racing, and Ragan could not cope. He finished 32nd, and actually lost a spot in the standings to Kasey Kahne.
The race ultimately came down to two men: Jimmie Johnson and Tony Stewart. Johnson was looking for his second straight win, while Stewart was looking for his first visit to Victory Lane since last season at Watkins Glen. Johnson slid around the track's outside lane, while Stewart drove inside. Ultimately it would be Johnson who pulled ahead in the final few laps to take the checkered flag.
Top 10

The Chase is ready to begin, with the points reseeded based on wins. Johnson's recent form has closed the gap on Kyle Busch though.
Chase Standings (0 out of 10 races)
Kyle Busch, 5080
Carl Edwards, 5050
Jimmie Johnson, 5040
Dale Earnhardt Jr., 5010
Clint Bowyer, 5010
Denny Hamlin, 5010
Jeff Burton, 5010
Tony Stewart, 5000
Greg Biffle, 5000
Jeff Gordon, 5000
Kevin Harvick, 5000
Matt Kenseth, 5000
Ultimately, I think the seeding system is a complete joke. Clint Bowyer, for example, went from 12th in the standings to tied for 4th because of wins. There needs to be some real reward to running well throughout the season, like a better lead in the points. Kyle Busch, for instance, could be in 12th place after Loudon through no fault of his own despite dominating the season.
Congrats
In the Indy Lights finale, to race winner Arie Luyendyk Jr. and series champion Raphael Matos. Matos clinched the title rather midway in the race after the driver who was second in points, Richard Antinucci, was taken out by another driver. Matos led from pole until the race's final lap, when his teammate Luyendyk, seemingly faster but running high to protect Matos, passed him on the low side. Matos finished third, as Ana Beatriz also passed him on the low side before reaching the finish line (she finished third in the championship, equaling the best finish by a female in a AOWR feeder series. Danica Patrick and Katherine Legge both finish 3rd in Atlantics in '05 and '06 respectively). Luyendyk, the son of a two-time Indy 500 winner, has raced in every Indy Lights season, but had not won a race until this weekend.
In GP2 action, Romain Grosjean won the Feature Race at Spa while Pastor Maldonado won the Sprint Race. Championship leader Giorgio Pantano was disqualified from both races after crashing into another driver, but second place Bruno Senna was unable to capitalize. Their season end next weekend at Monza with Pantano ahead by 11 points. With a maximum of 19 points available, it is still up for grabs.
Carl Edwards, who while not doing well in the Sprint Cup race at Richmond won the Nationwide Series race. He has taken back second place from Brad Keselowski, but remains 207 points behind Clint Bowyer (there is no Chase in Nationwide).
Ron Hornaday Jr., winner of the NASCAR Craftsman Trucks race at Gateway International Raceway
That's all for this weekend. Next weekend NASCAR is in New Hampshire and Formula One in Italy.
Ad blocker interference detected!
Wikia is a free-to-use site that makes money from advertising. We have a modified experience for viewers using ad blockers

Wikia is not accessible if you've made further modifications. Remove the custom ad blocker rule(s) and the page will load as expected.