After a three weekend hiatus, it's time to look back at the racing results from this weekend. The big boys of F1 took the weekend off, while every American series took advantage of the holiday weekend for events.


Enter the Silly Season: Dan Out, Dario In
The IndyCar Silly Season has really gotten going though with a bang today with these two headlines:
Target Chip Ganassi Racing and Dan Wheldon Agree to Part Ways
Dario Franchitti to Join Scott Dixon at Target Chip Ganassi Racing in the IndyCar Series
BAM! Out goes Wheldon, in comes Franchitti. Dario is done with his NASCAR experiment, but surprisingly returns to open wheel racing rather than the predicted sports car route. But why would Chip dump Wheldon? The Englishman is fourth in points with two wins this year, and is a former champion and Indy 500 winner.
The likely cause would be Wheldon's performance on the road and street circuits. His average starting position has been 11th, knocked out in the 1st round twice and never making the Fast Six final round. His average finishes on the right turners is 14th, with only a fourth place at Sonoma to prop up his stats. For his career, he has finished in the top 5 in only three of seventeen street and road races, with one win at St. Petersburg. Anyone looking at the IndyCar schedule over the past few years would notice that street and oval circuits are becoming a bigger part of the scheduling pie, with 8 of the 17 scheduled for 2009.
Theories are still short since the news just broke, but I have a feeling that this might have something to do with Alex Lloyd. Lloyd, the 2007 Indy Lights Champion has been under contract with Ganassi since the beginning of this year. Lloyd started the 500 in a car prepared by Rahal Letterman, but is sans ride at the moment. There has been talk the Ganassi has been looking to expanding to a three car setup for at least half a season next year for Lloyd. Franchitti will be very beneficial to a young driver like Alex, as Dario has long been considered a whiz at setting up a car (one of the theories behind AGR's dip in form this year is his absence). Dario won't be around much longer (he's 35), so Lloyd will be able to assume the #10 seat in 2010 or 2011 and Chip will have the option to bring in another young star or concentrate on two cars. Dan on the other hand is 30, and has a number of good years left in him.
IndyCar
The IndyCars take the streets of Belle Isle for the penultimate race of the IndyCar season. The only two men eligible for the championship, Scott Dixon and Helio Castroneves, started on the front row. Dixon's crew made the bad decision to pit on lap 19, which caused him to be bogged down in traffic and knocked him out of contention for the win. He would ultimately finish fifth.
Castroneves was the car to beat after Dixon relinquished the lead, leading 53 of the 87 laps. Late in the race however, Justin Wilson challenged Castroneves for the win. On lap 71, Wilson made a move on Castroneves, to which Helio responded with a huge block. IndyCar honcho Brian Barnhart called the Penske driver on it, and Castroneves was forced to give up the lead to Wilson. Unfortunately for him, he would not be able to retake the lead, and the series' tallest driver also stood figuratively tallest.
The win is Wilson's first in the IndyCar series and the second for Newman/Haas/Lanigan Racing. They won the other street race of the season in St. Petersburg behind Graham Rahal. Although KV Racing has been the most consistent ex-Champ Car team this season, Newman/Haas/Lanigan is the only ex-Champ Car team to win a race this season. N/H/L won at Belle Isle for the second time, the last being in 1996 with now rival owner Michael Andretti behind the wheel.
The win, however, was not without some controversy. Blocking calls rarely happen, and usually come with warnings ahead of time. However, no on-track warning was given to Castroneves prior to his penalty. However, the block was very obvious, and while giving warnings can work on an oval with road and street courses it can take so long to get a run on somebody that the laps might expire before you get another opportunity. Some of the conspiracy theorists claimed that IRL officials called Castroneves to give the win to honor Paul Newman. The legendary actor who is one of the co-owners of Wilson's team is in failing health, and this will in all likelihood be the last win the team gets before he passes on. This is a crock though. Remember that the league has one more race to go, and that by letting Wilson go they make the battle for the championship that much simpler. Had Helio been allowed to stay in front, he would have trailed Dixon by 20 points instead of 30.
Thoughts
Am I the only person who doesn't hate Belle Isle? It isn't the greatest course, but certainly in comparision to Infine-yawn the racing was a lot better.
Kudos to Bruno Junqueira, who finished seventh in the craptactular Dale Coyne car. He didn't get a great start due to a crash in qualification, then was penalized for doing the field a favor by spinning out Milka Duno (c'mon, she would have done it to herself anyway!). Junky is definitely one of the stronger drivers on the road courses, even if he can't compete on ovals by virtue of his team.
The fuel knobs that allow teams to easily save fuel need to go in 2009. It does a serious disservice to the fans of the race to watch everybody sandbagging it in an effort to save fuel.
If you include the Long Beach result (which technically isn't an IndyCar race), the league has set a record with 10 different winners on the season (in order): Scott Dixon, Graham Rahal, Danica Patrick, Will Power, Dan Wheldon, Ryan Briscoe, Tony Kanaan, Ryan Hunter-Reay, Helio Castroneves, and Justin Wilson. One of the plusses in this statistic is that six of the above drivers scored their first IRL wins, which is one short of the series record set in 1997 (the series' second season). Consider there had been one first time winner since the beginning of the 2005 season, this is a good trend for the series.
Number of Winners Each Season
| Season | Winners | 1st Timers | Drivers (first time winners in bold) |
| --- | --- | --- | --- |
| 2008 | 10 | 6 | Dixon, Rahal, Patrick, Power, Wheldon, Briscoe, Kanaan, Hunter-Reay, Castroneves, Wilson |
| 1996-97 | 9 | 7 | Sharp, Hearn, Cheever, Guthrie, Luyendyk, Stewart, B. Lazier, Buhl, Salazar |
| 2002 | 9 | 7 | Hornish, Castroneves, Sharp, Ward, de Ferran, Dare, Barron, Scheckter, Giaffone |
| 2003 | 9 | 3 | Dixon, Kanaan, Sharp, de Ferran, Unser Jr., Herta, Barron, Castroneves, Hornish |
| 2005 | 9 | 0 | Wheldon, Hornish, Sheckter, Castroneves, Kanaan, Franchitti, Herta, Sharp, Dixon |
| 2001 | 8 | 3 | Hornish, Ray, Castroneves, Sharp, B. Lazier, Cheever, Unser Jr., J. Lazier |
| 2000 | 8 | 2 | Buhl, Lazier, Unser Jr., Montoya, Sharp, Cheever, Ray, Goodyear |
| 1999 | 7 | 4 | Cheever, Goodyear, Brack, Ray, Sharp, Schmidt, Dismore |
| 2004 | 7 | 4 | Hornish, Kanaan, Wheldon, Rice, Franchitti, Fernandez, Castroneves |
| 1998 | 7 | 3 | Stewart, Sharp, Cheever, Boat, Brack, Paul, Luyendyk |
| 2006 | 6 | 1 | Wheldon, Castroneves, Hornish, Dixon, Kanaan, Andretti |
| 2007 | 6 | 0 | Wheldon, Castroneves, Kanaan, Franchitti, Hornish, Dixon |
| 1996 | 3 | 3 | Calkins, Luyendyk, Cheever |
The final race of the season is on Sunday, as the Peak 300 from Chicagoland Speedway will decide the title. Scott Dixon is 99% likely to win the title this year, as he holds a thirty point advantage on Helio Castroneves. There are few scenarios that will see Helio win the title presuming both start, and thus earning a minimum of 10 points.
Title Scenarios
Helio Castroneves can win the title if:
Wins and leads the most laps: Dixon finishes 9th or worse
Wins but does not lead the most laps: Dixon finishes 11th or worse. If Dixon leads the most laps, then it's 14th or worse
Finishes second, leads most laps: Dixon finishes 18th or worse
Finishes second, does not lead most laps: Dixon wins the title
NASCAR
NASCAR has finished up their Labor Day experiment at California, I mean, Auto Club Speedway in Fontana. Five years after controversially giving Fontana the Labor Day weekend date and thus ended the legendary Southern 500 at Darlington Speedway, the Speedway has run on the holiday for the last time. It will be switching dates with Talladega and Atlanta, with Fontana taking Talladega's spot in the Chase, Talladega moving to Atlanta's spot, and Atlanta Motor Speedway hosting the Labor Day Weekend race. It's not the Southern 500, but it's probably as close as NASCAR will ever get in the corporate era.
Unfortunately for the fans in California, the final Labor Day Weekend races were anti-climatic. In both the Nationwide and Sprint Cup races, one car dominated and took the checkered flag. In Nationwide, it was Kyle Busch winning his 7th Nationwide race of the season and 18th in major NASCAR competition. On the Sprint Cup side, Jimmie Johnson dominated his home race, leading 228 of the 250 laps.
Thoughts
Thanks to the win seeding that the Chase implements, we have been treated to some great racing by the guys at the top of the standings. Since guys like Kyle Busch, Carl Edwards, and Jimmie Johnson have been secure in making the Chase for a while now, they are able to go at it for the win. If we were still under the old system, more conservative strategies would be in play. I'm sure this is preferable for guys like Busch and Edwards anyway, since they are aggressive drivers and don't like playing it safe.
Since I didn't write last week, I did not comment on the Busch-Edwards situation after the race had ended. The kind of bad blood boiling between the two is a plus for NASCAR, who needs great rivalries to help the series and its superstars thrive. Richard Petty couldn't be Richard Petty without guys like David Pearson and Cale Yarborough, nor could Dale Earnhardt have been who he was without Darrell Waltrip. Also, in a sport where the drivers have become homogenized and bland, having some good ol' fashioned hatred is the antidote.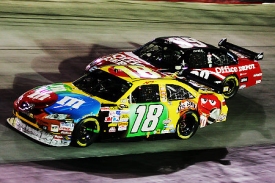 Next weekend is the Richmond race, the final race before the Chase of the Sprint Cup begins. After this weekend, the 12 drivers eligible for the championship will be finalized. The maximum number of points one driver can make up is 161. Kyle Busch, Carl Edwards, Jimmie Johnson, Dale Earnhardt Jr., and Jeff Burton have automatically clinched, and Greg Biffle is all but clinched (he just has to start). Kevin Harvick, Tony Stewart and Matt Kenseth are not mathematically clinched, but they are basically in. 10th and 11th place Jeff Gordon and Denny Hamlin need to avoid a disaster finish (i.e. 35th or worse) to make it in.
Currently holding 12th place, the final Chase spot is Clint Bowyer at 2989 points. 17 points behind is youngster David Ragan, who's only in his second full Cup season. 14th place Kasey Kahne is 48 points behind Bowyer, so he will have to have a great race at Richmond for a shot at the Chase.
Congrats to...
Sebastien Loeb, who won Rally New Zealand. The four-time defending World Rally Champion is eight points ahead of his nearest rival, Mikko Hirvonen. WRC has the month off before racing in Spain in the Rally Catalunya at the beginning of October.
Valentino Rossi, winner of the latest MotoGP race at Misano. For the second weekend in a row, "The Doctor" has won after Casey Stoner fell of his bike while leading. Rossi now has a commanding 75 point lead in the World Championship. The next race for them will be at the Indianapolis Motor Speedway, as the MotoGP world comes to the Brickyard for the first time two weekends from now.
Andretti Green Racing's Franck Montagny and James Rossiter, who won the overall winners in the American Le Mans Series race at Belle Isle. It's AGR's first ALMS win this year. Second was fellow LMP2 team David Brabham and Scott Sharp. The best LMP1 team was 23rd after the original class winners were disqualified for being under weight. This series is also off for September, as teams get ready for Petit Le Mans at the beginning of October at Road Atlanta.
Oswaldo Negri, Jr. and Mark Patterson, winners of the Daytona Protoype class in Grand Am. The Rolex Sports Car Series ran the first big race at New Jersey Motorsports Park, a new facility which opened in South Jersey. Although they finished in 13th, congrats to Scott Pruett and Memo Rojas of Ganassi Racing, who clinched the series title this weekend.
The winners at drag racing's biggest event, the U.S. Nationals, which ran this weekend at Indianapolis Raceway Park: Tony Schumacher (Top Fuel), Robert Hight (Funny Car), Dave Connolly (Pro Stock), and Steve Johnson (Pro Stock Motorcycle). Schumacher's win is historic, as it is a record seventh straight event victory for "The Sarge" and it sees him tie the all-time Top Fuel career wins mark of Joe Amato. It seems that whether they're driving in circles or in a straight line, there's something about the last name Schumacher when it comes to driving fast.
One Last Thing...
I have to honor Phil Hill before signing out. Hill passed away this week at age 81. Phil was the first American to win a Formula One World Championship, and the only World Champion to have been born in the United States. He was also the first American to win the 24 Hours of Le Mans, driving Ferrari to victory in 1958, 1961, and 1962 with Belgian Olivier Gendebien. He was one of the pioneers of racing in the United States, both in open wheel and sports cars.
Ad blocker interference detected!
Wikia is a free-to-use site that makes money from advertising. We have a modified experience for viewers using ad blockers

Wikia is not accessible if you've made further modifications. Remove the custom ad blocker rule(s) and the page will load as expected.