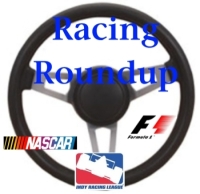 Welcome to another installment of Racing Roundup. Between Internet issues and celebrating Mom yesterday, I have been delayed in posting RR for this week.
This week we have the Turkish Grand Prix and Indy 500 Pole Day qualifying.
Turkish Grand Prix Recap
In my opinion, this the best race so far this season. Although the winner was inevitable, there was more position movement due to on-track racing than the other four races.
Although it looked like a Ferrari steamroller was about to come, qualifying brought an interesting result: a double-stacked Ferrari-McLaren sandwich, with Heikki Kovalainen and Lewis Hamilton starting second and third between polesitter Felipe Massa and fourth qualifier Kimi Raikkonen. With the way things had shaped up in practice, it seemed obvious the McLarens ran light on fuel during qualifying.
At the start of the race, it helped to be qualified in an odd position, as on the first turn both the Finns Kovalainen and Raikkonen got pushed out of several position. Coming out of the first turn, it was Massa-Hamilton-Robert Kubica-Fernando Alonso-Kovalainen-Raikkonen.
Although Heikki qualified well, his weekend would take a poor turn on lap 3 after a tire puncture forced him to pit. He would spend the remainder of the race trying to crawl back to the front, but would go no further than twelve by race's end.
The lighter fuel load became evident as Lewis Hamilton kept pace with Felipe Massa. Meanwhile, Raikkonen recovered from the start and moved back into the top three without too much trouble.
Hamilton came in to the pits very early, and had a strangely short pit stop. The fuel load again stayed very low, which could only mean one thing: McLaren race strategy was calling for a three pit stop race, whereas most (like Ferrari) would run two. The strategy paid off in terms of leading the race, as Lewis became race leader after Felipe Massa pitted for the first time. It was the first time the almost World Champion had lead since Australia.
Despite their best efforts, it became obvious that Hamilton would not be able to beat Massa for the race win. Indeed, the big question became if he could stayed ahead of Raikkonen. Once Hamilton had the softer tires on, the car lost a lot of speed and was being threatened for second place by Kimi. The McLaren driver would maintain his position, but not easily.
Further back in the back, a few drivers who haven't seen the end of a race lately did. Sebastian Vettel, who had not finished a race this season or finished a lap in three consecutive races did finish one lap down. Rubens Barrichello had a much ballyhooed "record breaking" race. He has officially entered more races than any other Formula One driver, and at the track the Brazilian was celebrated.
Unfortunately, the record is slightly hollow, since it indicates a driver participating in a weekend but not a race. On three occasions Barrichello has not started a race. He was the first casualty of the infamous 1994 San Marino Grand Prix (in which Ayrton Senna and Roland Ratzenberger were killed), injured during practice. He also failed to start two grands prix in 2002. He will, however, break the starts record (a more prestigious mark) at the French Grand Prix, assuming he starts the next two races.
Top 8
Indy 500 Qualifying & Practice
As I am writing this it is raining here in New Jersey. The northern US has been wet this last week, and it had some effects on work at Indianapolis Motor Speedway last week.
Although teams were able to get out on Tuesday, practice on Wednesday and Thursday was cancelled due to rain.
Thankfully, Saturday qualifying had clear skies. It was Pole Day, and it meant 11 cars could qualify that day including who won the pole. The financial reward for qualifying first was $100,000 – certainly worth something.
Qualifying can be hard to predict because you cannot simply equate practice speeds as an indicator. Cars that run well in traffic can run very different by themselves. Indeed, I would have expected one of the Andretti Green cars (particularly Tony Kanaan or Marco Andretti) by virtue of practice speeds. However, neither was the top team qualifier – Danica Patrick was.
Ryan Briscoe was the first car to qualify, setting an early pace. Scott Dixon would take over the lead about twenty minutes later, and soon after he went his speed was eclipsed by Danica Patrick. She would lead for about 45 minutes until Dan Wheldon blew past her time.
Qualifying is a bit weird at Indy. On each day it is available for a six hour period, and each team is allowed three daily attempts. If you are already "in the field" but want to improve position, you must withdraw your previous time. Qualifying tends to be done in a few periods of time. Qualifying was busy the first 90 minutes, then picked up around 3:30 until 4:40, then again in the last 45 minutes of the day.
The first to go in the second time frame was Helio Castroneves, who put himself well into the field. Briscoe would make a second attempt and claim the pole soon after. The very next car to go out was Scott Dixon, would beat Briscoe's speed to take the top spot. The last serious attempt came shortly after from Dan Wheldon, who finished behind Dixon but ahead of Briscoe.
Eight spots were all but guaranteed (2 Ganassis, 2 Penskes, 4 Andretti Greens), leaving three spots for everyone else. Vitor Meira put himself solidly into the field, and Ed Carpenter's qualifying run also left him secure. The final spot was up for grabs though, and for most of the day was held by Graham Rahal. Tomas Scheckter held 11th spot with half an hour to go when Ryan Hunter-Reay crashed on an attempt, causing a ten minute delay in proceedings. Rahal was unable to move up on his second attempt though. Scheckter and Luczo Dragon Racing knew the speed may not hold up, so they went out again only to post a slower, more tantalizing speed. With two minutes to go, it looked like Rahal would go out for a third time, only to be pulled right before the gun signifying the end of qualifying fired.
In an immediate interview on ESPN's coverage, Rahal was livid. Apparently his team, despite his suggestions, did not fit the car with new tires for the third attempt, so they pulled it realizing they had no chance of beating Scheckter on older tires. It may have been a good thing though, since if he had crashed the team would have been scrambling to fix the car for further qualifying, since his Newman/Haas/Lanigan team lacks a backup car and will not have one until the Friday before the race.
Second day qualifying was rained out, so on Saturday all 22 remaining positions will be up for grabs. It's a big advantage to those already in the field, since they can focus on race setup alone.
The Field So Far
While the Andretti Green cars did not qualify as well as their rivals, don't be surprised if they run well in the race. Marco Andretti and Tony Kanaan were routinely fastest in qualifying, when they ran well with other cars.
Other Thoughts:
While the Andretti Green cars did not qualify as well as their rivals, don't be surprised if they run well in the race. Marco Andretti and Tony Kanaan were routinely fastest in qualifying, when they ran well with other cars.
Roth Racing made a bad decision to hire John Andretti to drive for the 500. It's not because of any problem with John, but that it booted Jay Howard from the seat for the race (Howard has not been fired, and will race the rest of the schedule). I know Marty Roth can do what he wants because he owns the team, but he should have stepped out of his own seat instead. Howard has a lot of promise, and deserves better. Roth is not a good driver, so he does not serve his team well by running.
Congrats to…
To Kyle Busch for continuing his NASCAR World Domination tour with a victory at "The Lady in Black" a.k.a. Darlington Speedway.
Giorgio Pantano & Romain Grosjean, who won the two GP2 events that supported the Turkish Grand Prix. Unfortunately Grosjean's win was marred by an on-track incident where two dogs got onto the track, one which was struck by the car of Bruno Senna. Thankfully when I watch the Speed broadcast they were only showing highlights of the Sunday sprint race, and cut away right before the dog-car collision.

There will be no column next week; no (real) races are scheduled in F1, IndyCar or NASCAR. NASCAR's all-star race doesn't count for points, so I won't cover it unless something really interesting happens. As for the next weekend, I will be running another liveblog on the 25th for the Monaco Grand Prix and Indianapolis 500 (possible inclusion of the Coca-Cola 600 depending on other events/interest).
Ad blocker interference detected!
Wikia is a free-to-use site that makes money from advertising. We have a modified experience for viewers using ad blockers

Wikia is not accessible if you've made further modifications. Remove the custom ad blocker rule(s) and the page will load as expected.