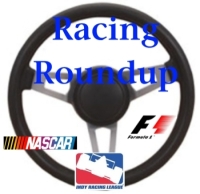 This week we have action from NASCAR at Atlanta Motor Speedway . There's also some last minute silly season stuff from Formula One and IndyCar.
Is Kyle Busch even human this year? Yes, I realize his win at Atlanta Motor Speedway was his first this season, but it always seems like he's been in the top 5 at every race since they dropped the green flag at Daytona. He's also leading the points in two series (he also leads the truck series), and was a blown tire away from sweeping all three Atlanta races this weekend. His Sprint Cup victory became almost a certainty after Carl Edwards, on a two-race winning streak, dropped out with mechanical issues. As previously mentioned, Busch won the Kobalt Tools 500. The win is historic; it is Toyota's first win since beginning its Nextel/Sprint Cup program last year. It's also the first for a foreign manufacturer since June 13, 1954, when Al Keller won a Grand National race in Linden, NJ in a Jaguar.
Since the checkered flag, however, Busch has been overshadowed by his Gibbs teammate and race runner-up Tony Stewart. In his post-race interview on FOX, Stewart blasted Goodyear, who manufactures all of NASCAR's tires. "That was the most pathetic racing tire that I've ever been on in my professional career. They exited out of Formula One. They exited out of IRL. They exited out of World of Outlaws and there is a reason for that. Goodyear can't build a tire that is worth a crap. If I were Goodyear, I would be really embarrassed about what they brought here. I guarantee you Hoosier or Firestone or somebody can come in and do a lot better job than what they are doing right now." Stewart wasn't the only driver to complain; Jeff Gordon and Dale Jr. did so as well.
Understandably, Goodyear has issued a statement today. However, some of what they said doesn't make too much sense. "We supplied the same tires for both the NASCAR Nationwide Series and NASCAR Sprint Cup Series races, and received zero complaints about our tires after the Nationwide race on Saturday." Maybe because they're completely different cars and have different tire wear.
Top 10 at Atlanta
Formula One
I'm already sure what will be a running theme at Formula One's non-Asian races this season: "Fix" your race or lose it. Ahead of the season opener in Australia, F1 dictator Bernie Ecclestone demanded that Australian officials make the Australian Grand Prix a night race or he won't renew their contract. His reason: to make it more accessible to the European TV audience.
I understand it's hard to have to wake up a little early for a race. As an American fan, I have to say: suck it up. This only poses a problem for you two races a season: Australia and Japan. For me, Malaysia and China comes on at 3 am, Australia is midnight and Japan 12:30. Not to mention being a early riser for everything else except Canada and Brazil.
Another bone to pick with Bernie: why do you keep biting the hands that have long fed your sport? It's always in traditional racing countries that he seems to have these problems. Remember, most of your drivers are from Britain, France, Italy, and Germany as are most of the manufacturers (yes, I know there's several Japanese drivers and teams, but they are off the hook on this one). Fans in these countries, not Bahrain or Malaysia, have made this sport, so don't neglect them.
We've also learned this week that Super Aguri, or as our commentators love to call them "the Super Best Friends team", will be racing this year despite not testing at all. They'll continue running Takuma Sato and Anthony Davidson to occassionally sneaking to Q2.
IndyCar
It's week 3 of the all together IndyCar series, and there's exactly that many new teams so far. While reports were optimistic that we may have as many as 6 or 7 new teams, I'm thinking is going to be more like 4. Maybe 5 but not by Homestead. So far, Conquest, Newman/Haas/Lanigan, and KV Racing have all announced their involvement, although so far we have three confirmed drivers (Franck Perera at Conquest, Graham Rahal and Justin Wilson at N/H/L).
Two teams have definitely packed it up: Forsythe Racing, whose owner probably has some strange sense of accomplishment knowing he didn't surrender to Tony George, and Walker Racing, who failed to get enough funding to run and packed it up. The foldings leave two interesting free agents out there: Paul Tracy, the only racer active since before the split and a colorful character that would be a treat to have around if only for sound bytes, and Will Power, who may or may not still have the Team Australia sponsorship to help secure a new seat (he's already been rumored for one of KV Racing's seats).
The series did have some on-track action with tests at Homestead-Miami Speedway and Sebring. Dan Wheldon lead the first Homestead session, while Danica Patrick, who sat out the first session suffering from the flu, lead test #2. At Sebring, Danica's Andretti Green teammate Tony Kanaan led the two sessions, while Penske's new driver Ryan Briscoe impressed the second set of sessions. No former ChampCar teams ran at these sessions (to my knowledge, some don't have cars yet). However, they will be able to run special sessions a week ahead of the first race at Homestead. Even then, it'll be difficult to see any teams ready to win races until the more road course heavy second half of the season.
Ad blocker interference detected!
Wikia is a free-to-use site that makes money from advertising. We have a modified experience for viewers using ad blockers

Wikia is not accessible if you've made further modifications. Remove the custom ad blocker rule(s) and the page will load as expected.