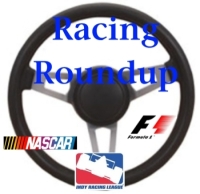 This week's Racing Roundup is focused almost entirely on NASCAR. While I mention some developments in the Open Wheel merger saga, the only action came from the stock cars in Daytona.
For a more in-depth look at the race, see the live blog started by Bobbyjim45. I thank him for creating somewhere to comment real-time.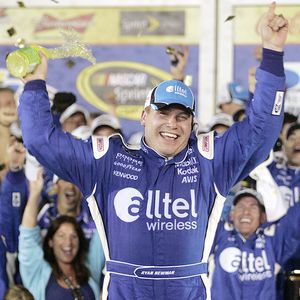 With that said, the Daytona 500 offered some great racing: plenty of lead changes, and a great finish.
It seemed like it took forever for the race start. I understand that this was the 50th running of the 500, but I don't think the celebrations matched the concept. Instead of having Kool & the Gang and Chubby Checker for some reason, we should have had a big montage honoring the past winners.
The first three-quarter of the race were pretty tame, with a mere two cautions. A few favorites emerged: the Joe Gibbs entries of Denny Hamlin, Kyle Busch, and Tony Stewart, new Hendrick driver Dale Earnhardt Jr. Hamlin and Busch seemed to dominate the early part of the race, although Denny would fall out of contention and finished 17th.
As it sometimes happens in NASCAR, the last quarter of the race is full of cautions, as everyone jockeys for position up front. Dave Blaney and Casey Mears were both front runners who fell victim to crashes, as did 2-time defending NASCAR champ Jimmie Johnson.
With a few laps to go, the Top 4 was a Penske-Gibbs split: Tony Stewart in front, with Ryan Newman and Kurt Busch behind and Kyle Busch in fourth. On the very last lap, Stewart (in first) went to the inside to get in front of his teammate Kyle. Meanwhile, Kurt Busch ended up pushing Ryan Newman past the Gibbs duo to give Newman the 500 title. The win was the first restrictor-plate victory for Penske's NASCAR team, previously a 14-time winner of the other big 500 mile race.
Top 10
Last year's winner Kevin Harvick finished 14th. Daytona newbie Sam Hornish Jr. finished 15th, racing upfront early on. Finishing in 16th was Dale Jarrett, who was racing the 500 for the last time. He will retire after the March 25th race in Bristol to go into broadcasting.
Open Wheel
No merger yet, although Champ Car might run out of teams before their season starts at Long Beach. Several teams, including the strong Newman/Haas/Lannigan, have been rumored to be making the switch. The most likely to switch anyway is Derrick Walker, who has said in the media that he might have Team Australia switch. He would not be in unfamiliar territory, previously running an IRL operation for two seasons, most notably running Sarah Fisher during her few really good races. Whether anyone will move has to be decided very soon (like this week) so that they have time to get ready for the first race at Homestead on March 29.
In personnel news, Tomas Scheckter has found a limited ride for 2008. The Jay Penske run Luzco Dragon team will run the South African at Kansas, Indy, and Sonoma at least.
Ad blocker interference detected!
Wikia is a free-to-use site that makes money from advertising. We have a modified experience for viewers using ad blockers

Wikia is not accessible if you've made further modifications. Remove the custom ad blocker rule(s) and the page will load as expected.