Welcome back to Racing Roundup. Racing wise, disgrace at the Brickyard, Kyle Busch breaking records, and the IndyCars up in Canada.
NASCAR Sprint Cup
The Allstate 400 at the Brickyard was one of the worst races in the history of Indianapolis Motor Speedway. In a scene reminiscent of the 2005 United States Grand Prix, horrific tire wear impacted racing. Of course, there was one huge difference between this race and that one: only one manufacturer, Goodyear, is responsible for supplying tires to NASCAR.
If you didn't catch the race, you did not miss much. Every 10 laps, NASCAR officials called a caution in an effort to force teams to pit. Every 25 miles, the tires, especially those on the right side, had become so completely worn down that no actual racing could take place. Jimmie Johnson, who sat on pole, unsurprising won the race. He probably would have won even if the tires were a-OK, but no one had the opportunity to really challenge him for the chance.
Due to the regular cautions, the only way a driver could make his way through the field was by gambling with tires. A.J. Allmendinger, for instance, was able to climb up through the field and finish tenth by only changing right side tires for consecutive stints. The gamble paid off, and A.J. had his first career top 10 finish.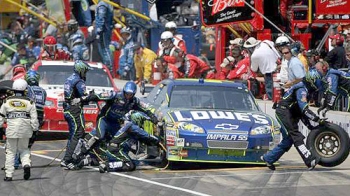 Is Goodyear just not capable of developing a decent tire for Indianapolis? A similar, albeit less extreme situation happened last year.
It's funny that this weekend they make a big deal about drivers pulling "double duty" (or in Kyle Busch's case, triple duty). Yes, it's different tracks, but it's only 7.2 miles from the Brickyard to O'Reilly Raceway Park (where the Nationwide and Trucks races were held). Why exactly do you need a helicopter to get there too? I remember seeing Clint Bowyer getting into or out of a helicopter on the practice telecast. Seems a little wasteful with gas so high.
Lots of folks complained that the domination Toyota has had over the Nationwide series came from its horsepower advantage. That resulted in NASCAR dropping the horsepower in the Toyotas. Seems like that didn't matter, since Kyle Busch found a way to win anyway. Busch not only won by, wiped the field clean, leading 197 of 200 laps. The race was a good one for the non-Sprint Cup regulars, with Busch and David Ragan being the only ones in the top 10.
Kyle Busch's win at ORP is a historic one. It is his 14th win of the season in a NASCAR national series event, the most of any driver in a season during the modern era (which begins in 1972). So far, Shrub has 7 Sprint Cup wins, 6 Nationwide wins, and 2 Truck wins in 2008. The previous record was held by Richard Petty in 1975 and Jeff Gordon in 1998. Petty had a few seasons with more wins than that, including 27 in 1967, but that was back when NASCAR ran almost as many races as there were weeks in a year.
IndyCar
Fortunately for IndyCar, the fans showed up in Edmonton. Unfortunately, great racing didn't. The racing in the front at the Rexall Edmonton Indy was rather processional, with the lead being decided in the pit lane. Scott Dixon won his fifth race of the season, continuing his domination of the points standings. Helio Castroneves seemed to have the better car, but found no opportunities to pass and after locking up the brakes late in the race the race was all but sealed.
The Indy Racing League needs to make a change as to who is running the races. Brian Barnhardt has been a loyal servant to Tony George for many years, but it's time to hand race control over to Tony Cottman. Cottman, who ran Champ Car's races last year, could fix several of the issues I have seen in recent races:

An overuse of the full course cautions on right turners. On ovals it's a given, which might explain why Barnhardt is so used to using them. This is more of an issue with Mid-Ohio, but they could have probably had one less caution (Meira's stalling for instance, did not appear to really need one) this weekend if they used local yellows more judiciously. That would have possibly allowed to race to run the full length rather than be timed out. This would have given a more dramatic finish, since the leaders would be struggling to have enough fuel to get to the end.
In addition on the yellow flag front, the cautions are taking far too long. I understand it takes time with the honest-to-goodness accidents, but when a car spins on lap 1, touches nothing, and goes on about its business as if it had qualified last instead, there's no need for 8 caution laps (this was at Richmond).
An uneven hand in dealing punishment. Kudos to actually punishing E.J. Viso for his aggressive dive that knocked Graham Rahal out of the race, but more equality would have been nice. Oriol Servia, on the other hand, collided into Dan Wheldon's rear, which caused Wheldon to lose positions and a top 5 finish. He should have received a penalty as well, but did not.
Another rules related thing became really clear today, although I have noticed it in the past too. Watch Scott Dixon when the whole gang pits at once. He usually always gains a spot to two on every stop. Although the Ganassi crew is good, it isn't that good. He has a significant advantage on pit out over every other car. Because his pit box is the last one on pit lane, he is able to pull straight out of his box to the scoring line. This was how he was able to pass Servia, Castroneves and Briscoe to take the lead in the race. He can do this at every track, since he always has the last stall (I am not sure whether it is based on this year or last year's points, but on either front he would have earned it) The series should require the driver with the last stall to pull out (i.e. place a physical barrier in front), or change who has the stall based on qualifying that week (a la NASCAR). It's not why he is going to win the series title this year, but it's why Scott Dixon won at Edmonton.
Paul Tracy showed everyone why Paul Tracy should have been racing all year. In a car he had never driven before Thursday, he qualified 15th and raced his way to 5th. PT was just about the only driver able to pass people on the track. Hopefully Subway or somebody else will give Derrick Walker the money to give Paul a car for the remainder (or at least Infineon & Belle Isle).
The new car is needed much sooner than 2011. I realize they want it for the Indy 500's centennial, but the sooner we have it the better. It would help parity, since every team not named Ganassi, Penske, or Andretti Green is so far behind they can really only hope to luck into wins. Having multiple engine makers would be able to battle each other for supremacy. In the meantime, I would love to see them implement multiple tire compounds on the road and street courses. Just another way for cars to be able to pass more often.
F1
No race this weekend, just a couple days of testing at Jerez. Great results if you're car had the words "red bull" attached in some language. Sebastian Vettel leads the first two days topped the first two days, with Mark Webber leading the third. Heikki Kovalainen prevented the monopoly by topping the speed charts on the final day of testing. It's hard to gauge anything tangible from these tests, but more competitive teams is always a plus.
I'm planning a rain dance for Sunday, since they're going to Hungary. Otherwise, it's all about the qualifying for excitement.
Earlier this week, I had a conversation with Alex Holowczak about F1. I hadn't noticed but next year's new race is scheduled to be called the "Abu Dhabi Grand Prix", as opposed to "United Arab Emirates Grand Prix." This race will be run near Abu Dhabi as opposed to Dubai (which has a track already, which has been used in GP2 and A1GP) - could this lend itself to having a race there as well? If it takes away a traditional race (i.e. Europe, Japan, Canada, Australia or Brazil), that would be terrible.
Congrats
Not too many to give out this weekend, but congrats to the name Jonathan. At the two Atlantics races supporting IndyCar this weekend, Jonathan Bomarito and Jonathan Summerton won series races on Saturday and Sunday respectively. Both won in different fashions: Bomarito stalked the leader and took the lead late in the race, while Summerton came from third to take the lead on the first turn and keep it for good. Too bad no one outside of City Centre Airport saw it, since Atlantics have become an orphaned series since the IndyCar/Champ Car merger (me? Just a small timing & scoring window told me the result). I've seen Summerton before in A1GP where he gave the US its first series win, and from the looks of his results (third place in the standings) he's doing well in Atlantics too. He's good, young, and American, which we need more of in IndyCars right now. He races for a team owned by Paul Newman, which might mean a seat with Newman/Haas/Lanigan when one of the big three poaches Graham Rahal away.
Next week, we've got F1 from Hungary and NASCAR from Pocono and Montreal.
Ad blocker interference detected!
Wikia is a free-to-use site that makes money from advertising. We have a modified experience for viewers using ad blockers

Wikia is not accessible if you've made further modifications. Remove the custom ad blocker rule(s) and the page will load as expected.