Welcome back to a look at all thing racing. I'm a little late this week, but there's plenty to talk about. F1 in Hungary, a NASCAR first, and a reaction to the 2009 IndyCar schedule.
Formula One
The Hungarian Grand Prix was a ho-hum affair as usual, with zero passing after lap 1. Polesitter Lewis Hamilton had a tire issue that forced him to pull his way back from 10th to finish 5th. Felipe Massa had a great start to jump from 3rd to 1st, and lead from there on out. That is, until his engine blew up with 3 laps to go. The beneficary of his engine failure? Heikki Kovalainen, who scored his maiden F1 victory in the process. Timo Glock, who ran up with the big boys in practice and qualifying, finished runner-up with Kimi Raikkonen squeezing out third.
Massa's Engine Failure:
Thoughts
Really, why do we race in Hungary anymore? The original intent was to race behind the Iron Curtain, but that hasn't been relevant in almost 20 years now. Either some really rich Hungarian is throwing a lot of money into this thing, or they have some great blackmail pictures of Bernie Ecclestone.
How do you know if a race track is rubbish? If the feeder series can't pass, then you've got a problem. No one really gained positions on the track unless somebody made a mistake in that race too.
I wonder if anyone was kicking themselves for turning off the race prior to Felipe Massa's engine failure. I know I was busy looking at my computer screen for much of the race, but timed my look back just at the nick of time to see a Ferrari with a cloud behind it.
You have to feel bad for Massa since he lost the win on something that was really out of his control. He's now third in points, however if he had won he would be leading Lewis Hamilton in the Drivers' Championship by three. Now he's down by eight.
NASCAR Nationwide Series
"Rain" and "NASCAR" goes as well together as chocolate and salmon. Or Brett Favre and decisiveness. But when the Nationwide cars went to Montreal, rain became an option. For the first time in NASCAR history, a race for points was run on rain tires. Road course ringer and Canadian Ron Fellows scored his fourth career Nationwide victory (his other three were at Watkins Glen) by pitting off sequence and leading when the race was ultimately called after the rain got torrential. For the second year in a row, Patrick Carpentier finished second in Montreal, however this year he was the top finishing Sprint Cup regular. Marcos Ambrose was third.
Thoughts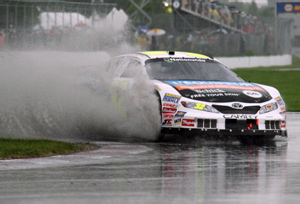 Kudos to NASCAR for actually trying the rain tires. In talking with some of the non-road course ringers, it was clear they were looking forward to the challenge.
The one thing NASCAR dropped the ball with was the length of the red flag delay to get the cars ready for the rain. They said it would be three minutes, but it turned out to be more like 30. Good thing the X Games were on so I had something to watch in the meantime.
Good to know the rumor that rain tires did not exist is false. I had previously heard that they had rain tires made, but they had expired before they ever got to use them.
Ambrose deserved to win this race (two years in a row on that one too). He dominated the field in the rain, only to get beaten by the red flag and the pit speeds.
They say that racing in the rain proves the great drivers. In that case, Joey Logano showed that the hype around him is legit. Despite being 18 and never driving a road course before, he was driving up with the lead pack. A pack that included a 24 Hours of Le Mans class winner (Fellows), a five time CART winner (Carpentier), a V8 Supercar champ (Ambrose), and a Formula One World Champion (Jacques Villeneuve). It's unfortunate Logano fell victim to the torrential rains (indeed, his crash probably clinched the end of the race) that made driving the track unsafe.
NASCAR Sprint Cup
The big boys were at the triangle of Pocono Raceway for the Pennsylvania 500. Rain stopped the race at one points (no rain tires here). Carl Edwards took the victory, opting to pit prior to the rain delay, then making his fuel last better than pole sitter and fellow contender Jimmie Johnson. Tony Stewart finished second, while Johnson was third, crawling to the finish line after running out of fuel.
Thoughts
Another race at Pocono, another thing to gripe about. Whenever the series gets to the Poconos this seems to happen. It is one of the hardest races of the season, since no car can be perfect in each of the three turns (all three are banked differently and the straightaways are not the same length either). But for once, I can agree with a complaint. The races at Pocono are too damn long. Under green flag conditions, running 500 miles here takes longer than any other 500 mile race by a good half hour. Considering that Sprint Cup races take upwards of three hours anyway, that it way too much.
After last week's issues at Indianapolis, it is a good step for NASCAR that they and Goodyear are going to do additional testing at IMS for next year's race. A big reason, in my opinion, for the problems was a lack of testing this season, which was not only limited but did not even include one of the manufacturers (Ford). The more testing they do, the better off 2009's event will be.
IndyCar
No racing, just the new schedule. The 2009 edition will be relatively similar.
Nashville is the only event dropped this year, which has been replaced by the Toronto Street Circuit.
Motegi, Homestead, and Mid-Ohio moved on the schedule. Mid-Ohio moves back to August, while Motegi and Homestead are provisionally the last two races of the year.
Once it was announced, every message board hound and blogger trounced the schedule. IndyCar officials are in a very difficult position, trying to cater to a wide variety of folks, but seeming to please no one.
While I'm not 100% happy, I am not upset by it either. What they got right was the number of races for 2009. 18 (or 19, if they confirm Surfers Paradise for '09) is ideal for next year in an effort to retain as many ex-Champ Car teams as possible. As part of the merger this year, a lot of equipment and engines were leased to teams for free by the Indy Racing League. However, they will not recieve this next year, so it may be tougher for some teams to stick it out. By keeping the number of races stable, they can keep operating budgets lower and be more likely to find a willing sponsor to keep up racing.
I am disappointed not to see Cleveland or Road America, two of the better Champ Car tracks remaining, not on the schedule. For Cleveland, it's understandable (Mid-Ohio is an obstacle), while Road America never seemed to be in discussion. Hopefully they'll find homes within the next few years.
My only concern with the schedule is in the number of street and road circuits compared to ovals. At this point, it's 10 ovals to 8 right turners. To me, this ratio is perfect. We've seen more and more right turners on the schedule, and my concern is that they will soon outnumber ovals. I love road racing, but it is an acquired taste for many American racing fans. The ovals are critical to keeping IndyCar in the eyes of the American racing public.
Congrats
Congrats to Lucas di Grassi and Sebastien Buemi, who won the GP2 races at Hungary this weekend. di Grassi won the Feature race, while Buemi took the Sprint race crown.
In the rally world, congrats to Sebastien Loeb, who won Rally Finland. The four-time defending World Rally Champion is now one point behind Mikko Hirvonen in the standings.
In the Grand-Am Rolex Sports Car Series, congrats to Mark Wilkins and Brian Frisselle of AIM Motorsport, who were the overall winners in the series stop at Montreal. The race finish was exciting, as the race leader ran out of gas on the final straight away and crawl to the line in third, while the AIM Motorsports car beat the Cheever Racing entry piloted by Antonio Garcia and Christian Fittipaldi to the line.
Ad blocker interference detected!
Wikia is a free-to-use site that makes money from advertising. We have a modified experience for viewers using ad blockers

Wikia is not accessible if you've made further modifications. Remove the custom ad blocker rule(s) and the page will load as expected.