Jim McKay, beloved sports broadcaster, minority owner of the Baltimore Orioles, and international sports legend, died yesterday in his Maryland home of natural causes at the age of 86. Jim revolutionized the field of sports journalism, using his calming voice and personable demeanor, through his coverage of the Olympics, horse racing, and ABC's Wide World of Sports.
McKay's son, Sean McManus, is the current president of CBS Sports. He is also survived by his wife, Margaret Dempsey, a former columnist for The Baltimore Sun; his daughter, Mary Guba, of Sparks, Maryland, and three grandchildren. All personal testimony indicates that McKay was the consumate family man, which, I'm sure, is surprising to no one.
He began his career in Baltimore, writing for the Baltimore Sun's evening edition in the mid-to-late 1940s. He also earned his bachelor's degree at Loyola College in Maryland, and remained a staple in the great city of Baltimore for the rest of his life.
McKay's talent was quickly recognized by the paper, and the Baltimore Sun relocated him to the local ABC television affiliate (WMAR-TV) in 1947 as a broadcaster, writer, and producer. He was offered a job with CBS in New York, specializing in sports commentary. After a quick stint as the host of an unsuccessful game show, he became the host of ABC's Wide World of Sports in the mid 1950s. He would remain there as a host for about 25 years, becoming a national celebrity via excellence in sports journalism; throughout his lifetime, McKay emassed 18 Emmy awards for journalism.
Jim McKay could be 3,000 miles away, standing in a meadow, sniffing a flower. He could call you on the phone to tell you what it smelled like, and you would understand the fragrance of that flower. In fact, you could probably almost smell it yourself. That's how good he was at telling stories and conveying his message to others, and that's what made him such a great sports journalist.
McKay is perhaps most famous for his coverage of the Munich Olympics. As many of you already know, eleven members of the Israel Olympic team were murdered in cold-blood by Islamic radicalists. This incident, by many accounts, was the first prevalent international terrorist incident and started to raise some eyebrows about what exactly was going on in the Middle East. He looked directly into the camera, using his compassionate, soft tone, and uttered the words "They're all gone." Thankfully, during his era, there was no liberal slant in the media, and incidents like this were reported truthfully and whole-heartedly, without any notion of supporting the "human rights" of these lunatics. Unfortunately, we have to deal with that monster today.
As a quick side note, I would like to quote the great US Navy SEAL and acclaimed author Marcus Lutrell, who has spoke about how radical insurgents use mainsteam liberal media against the U.S.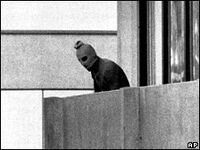 "I promise you, every insurgent, freedom fighter, and stray gunman in Iraq and Afghanistan who we arrested knew the ropes. He knew that his 'way out' was to announce he had been tortured by the Americans, was ill-treated, or prevented from reading the Koran...or eating breakfast...or watching television. They all knew al-Jazeera, the Arab broadcasters, would pick up their cries, and it would be relayed to the U.S.A., where the liberal media would joyfully accuse all of us of being murderers or barbarians. Those terrorist organizations laugh at the U.S. media, and they know exactly how to use the system against us...but how about when a bunch of guys wearing colored towels around their heads and brandishing AK-47s come charging over the horizon straight toward you? Do you respect the rules of engagement? Do you wait for them to start killing your team, or do you mow the bastards down before they get a chance to do so? That situation might look simple in Washington, where the human rights of terrorists are often given high priority. And I am certain liberal politicians would defend their position to the death. Because everyone knows liberals have never been wrong about anything. You can ask them. Anytime."
Well, that's quite enough politics for today, but I think it's relevant to what McKay experienced as a broadcaster, having to report about these opium-laced, freedom-hating idiots...
McKay developed a strong rapport with Walter Kronkite during his media endeavors. Cronkite spoke with him after the Munich Games in response to his coverage of the murders, saying: "Today, you honored yourself, your network, and your industry." With all due respect to Mr. Cronkite, he did more than that. He honored not only himself, his network, and his industry; he also honored the U.S. Armed Forces, the American public, our great nation, and the City of Baltimore.
Unfortunately, it takes a tragic event like death to make people realize what they're truly missing. Although McKay had been retired for sometime, living in his Monkton home and raising horses, it seems like now, more than ever, his kind voice and calm demeanor will be greatly missed in the world of sports media. Considering we have to deal with sports "journalists" like Skip Bayless and Screamin' A. Smith, who turn every sports broadcast into a shouting match, the Jim McKay's and Walter Kronkite's of this industry may not ever be seen again. Baltimore, and the entire sports world, will truly miss McKay for embodying what it means to be a true sports journalist.  
Ad blocker interference detected!
Wikia is a free-to-use site that makes money from advertising. We have a modified experience for viewers using ad blockers

Wikia is not accessible if you've made further modifications. Remove the custom ad blocker rule(s) and the page will load as expected.