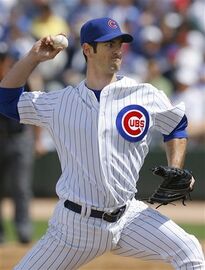 Earlier today, Ken Rosenthal of Fox Sports reported that the San Diego Padres signed former Cubs ace Mark Prior to a one year deal for one million dollars. The signing gives Prior a chance to revive his career with his hometown Padres in pitcher friendly Petco Park. Back in 2003, Prior became one of baseball's best young pitchers by finishing third in the Cy Young Voting by going 18-6 with a 2.43 ERA. However, the former USC standout has suffered through injuries since then and has not pitched since the 2006 season. Despite the injury concerns, the Padres signing of Prior was a good move by their GM Kevin Towers. Here are three reasons why:
1. It's Low Risk
A major league baseball teams signing a guy for a one year one million dollar deal is the equivalent of McDonalds hiring a sixteen year old for minimum wage. If Prior is once again pounded by injuries than the Padres don't have their one million dollar deal fulfilled. However, the upside of the signing is tremendous. Just a few years ago, Prior was one of the game's most dominant pitchers nearly leading the Cubs to the 2003 World Series while finished third in the Cy Young voting. If he can regain at least some of his old form than the Padres will have found a top level pitcher for AAA money.
2. Petco Park
Petco Park is regarded by most major leaguers to be the most pitcher friendly park in all of baseball. If Prior is to ever regain his old form, it'd be best for him to do it away from a hitters park, like Coors Field, U.S. Cellular Field, or Citizen's Bank Park. Many young pitchers such as Chris Young and old veterans such as Greg Maddux have found Petco to be instrumental into improving their game.
3. Bud Black
Padres manager Bud Black is regarded by most people to be one of the top pitching coaches in all of baseball. While working for the Los Angeles Angels under Mike Scioscia, Black developed young pitchers such as John Lackey, Jered Weaver, Joe Saunders, and Ervin Santana. Was is just a coincidence that Santana had a dismal season in 2007 after winning 18 games under Black in 2006? Black could help Prior to become an efficient major leaguer once again.
Ad blocker interference detected!
Wikia is a free-to-use site that makes money from advertising. We have a modified experience for viewers using ad blockers

Wikia is not accessible if you've made further modifications. Remove the custom ad blocker rule(s) and the page will load as expected.