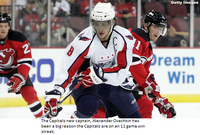 1. (2)
Capitals
-11 straight wins, a franchise record, and the Capitals are rolling. They are effectively dispatching of any team in their path.
2. (1) Sharks-Losses to Chicago and Detroit really set them back. They only thing that kept them from dropping further is Chicago's recent slip-ups.
3. (3) Blackhawks-They looked poised to take move up the rankings after beating the Sharks,. Then they lost to the Hurricanes and Blues. They elite teams are not supposed to do that.
4. (4) Canucks-A tough loss against the Canadiens broke up a seven game win streak. The Canucks have played very solid hockey, while managing to do much of their work on the road.
5. (7) Penguins-Despite their streaky play the Penguins are right there in the hunt. Dispatching of perennial playoff contenders, Buffalo and Detroit, has moved them up the board.
6. (9) Kings-The Kings have played phenomenally compiling their own 7 game win streak; including wins against Buffalo, at Detroit, and at New Jersey.
7. (13) Coyotes-Their wins have not been the most impressive, but all they do is continually win. The same cannot be said for the trailing Sabres and Devils.
8. (8) Sabres-They managed to beat the Devils before stumbling to Pittsburgh and Ottawa in back-to-back games.
9. (6) Devils-They blew up in Toronto, blowing a third period lead to escape in Toronto. Then they lost their other three matchups last week, including a 3-0 loss at the hands of Toronto. It may be a miracle they are this high.
10. (11) Senators-They are on a franchise-best ten straight wins. I doubt that their success will last much longer but the power rankings are supposed to represent the present and in the present they aren't losing.
11. (10) Flyers-The Flyers were playing excellent hockey winning eight of their last twelve. Then they went to Edmonton. Any team that wants to consider itself a serious contender cannot afford mistakes such as that.
12. (5) Avalanche-The Avalanche rewarded my high ranking of them with three straight losses. Now they have put themselves in a position where winning the division is just as easy as missing the playoffs all together.
13. (12) Red Wings-Yes we all know when this team gets healthy to watch out. Well right now they are tied with Calgary for that final playoff spot. They better start winning of a fully healthy team won't matter much.
14. (16) Flames-Just last week this team was in panic mode. Well it still should be winning only two of its last twelve this team is lucky to even be in the playoff hunt.
15. (14) Predators-They hit a rough patch this week. Only problem is these kind of rough patches (five in a row) are extremely damaging to any teams playoff hopes.
16. (18) Wild-The Wild were surging before getting beat by a clearly superior Sharks team. A playoff birth look tough at this point, but not unreasonable.
17. (20) Stars-I wonder how many teams have made the playoffs in NHL history without winning three straight games at any point in the season. The Stars may become the first.
18. (24) Panthers-They really could be a lot higher up this board due to their recent play. I just think they will are sorely missing Nathan Horton's play and it is only a matter of time before it catches up to them.
19. (23) Blues-The Blues may have won just enough to prevent them from being sellers came trade deadline time. They are in that limbo where the playoffs are still reasonably possible.
20. (15) Ducks-The Ducks are hoping the additions of Jason Blake, Jonas Hiler, and Vesa Toskala gives them a reasonable shot at the playoffs.
21. (25) Lightning- They have been playing a little better than I gave them credit for that accounts for their rise in the rankings. It had very little to do with yet another mediocre week.
22. (21) Canadiens-The loss of Mike Cammalleri ends any hopes of the playoffs. It is probably better they faced the reality now before the trade deadline anyway.
23. (26) Hurricanes-Unlike some teams they have not thrown in the towel. Despite the fact they have no real shot at the playoffs they continue to play hard.
24. (27) Thrashers-Now we are just counting the days till Ilya Kovalchuk is traded. I mean they have had this huge cloud looming over the players heads that they have to trade him now.
25. (28) Blue Jackets-At least they are winning some games now. They could not say that before.
26. (19) Bruins-A team that desperately needs a playmaker like Ilya Kovalchuk. As unrealistic as their playoff hopes are now, the addition of Kovalchuk would definitely give this team a more than legitimate shot.
27. (17) Islanders-Once, a team that appeared to have playoff hopes just last week. Now, a team that would settle for mediocrity.
28. (22) Rangers-A team that had playoff aspirations did everything wrong by only winning one of their four matchups last week.
29. (29) Maple Leafs-They have gotten good at one thing, putting up abysmal performances regularly.
30. (30) Oilers-They may just have perfected the art of losing and losing badly.
Check out http://360sport.blogspot.com/
Ad blocker interference detected!
Wikia is a free-to-use site that makes money from advertising. We have a modified experience for viewers using ad blockers

Wikia is not accessible if you've made further modifications. Remove the custom ad blocker rule(s) and the page will load as expected.