Dr. Commento breaks down the Division Series matchups using mostly meaningless trivia and tidbits from the annals of time...
Rays vs. White Sox: Guillen vs. Dave Martinez
Fun: Tropicana Field was originally built to lure the White Sox to Florida. It's true...
More Fun: "Tampa Bay" and "White Sox" both have 8 letters in a 5 and 3 sequence... Eeery!!
Mild Fun: The Bears and Buccaneers both kinda suck this year.
Plus there's Ozzie Guillen - he played his last MLB game as a member of the Tampa Bay Devil Rays
And Dave Martinez - the current Rays bench coach was a key White Sox player in the late 90's.

Notable players that played for both franchises:
Julio Franco, Jose Canseco, Roberto Hernandez, Wilson Alvarez, Charles Johnson, Greg Norton, Tanyon Sturtze, Toby Hall, Chad Bradford, Gary Glover and ESPN analyst Chris Singleton
Phillies vs. Brewers: Dale Sveum's Revenge!
Fun: Dale Sveum was a player for the Phillies and was a coach under former Phillies Manager Terry Francona - who played also for the Brewers once upon a time.

More Fun: Philadelphia is tied for the longest city name in baseball (12 letters) with San Francisco while Milwaukee is sixth longest behind also Washington, Los Angeles and Cincinnati.
Mild Fun: The Phillies were once known as the "Blue Jays" and the Baltimore Orioles before they were the St. Louis Browns were known as the "Milwaukee Brewers".
Yeah, I really don't have much for this matchup other than "4th and 26".
Notable players that played for both franchises:
Dale Sveum, Julio Franco, Tito Francona (that's Terry's Dad, BTW), Charlie Hayes, Geoff Jenkins, Doug Jones, Don Money, John Vukovich, Dan Plesac, Chris Short, Ken Brett, David Bell
Angels vs. Red Sox: The Fred Lynn Series!
Not so fun: Hello, 1986! Donnie Moore, Dave Henderson - these names will get dragged around too much - although I was an Angels fan in 1986, it's a sad story for any baseball fan.
Fun: "Red Sox" and "Angels" both have six letters.
Let's make it all about Fred Lynn instead! He left a furious start to his career in Boston and went on to hit the only Grand Slam in an All-Star game as a California Angel in 1983.
Mild fun: This matchup has the farthest possible travelling distance between any of the playoff teams.
Milder Fun: This is a fan base rematch of the 2008 NBA Finals!
Notable players that played for both franchises:
Fred Lynn, Don Baylor, Ken Brett, Bill Buckner, Orlando Cabrera, Dante Bichette, Tony Conigliaro, Gary Gaetti, Bartolo Colon, Rickey Henderson, Carney Lansford, Jim Leyritz, Jerry Remy, Mo Vaughn, Frank Tanana, Luis Tiant, Lee Smith, Spike Owen
Dodgers vs. Cubs: Rick Monday's Flag vs. Chad Kreuter's hat
Wow, a ton of history here. Both teams date back into the 1800's yet this is their first meeting in the postseason!
Fun: April 25, 1976 Cubs vs. Dodgers: A fan and his 11 year old son jumped on to the field in the fourth inning with an American Flag and a pint of lighter fluid. They were planning a protest of the treatment of American Indians by burning the flag. They put the flag in the grass and poured the fluid on it and were just about to light it. Cubs outfielder Rick Monday runs over and tackles the perpetrator and takes the flag to the delight of the patriotic crowd.
The next season he was traded to the Dodgers where he later became a World Series hero.

Not so Fun: May 16, 2000: At Wrigley Park. Chad Kreuter's hat was stolen by a fan from his head while he was in the bullpen. It sparked a vicious brawl that led to 24 players and coaches getting suspended a total of 60 games and the ejection of dozens of fans. Eventually all but seven players had their suspensions overturned.
Fun to me: Cubs fans call their favorite team "the lovable losers" but the Dodgers were the team that was first given that moniker - by Yankees fans in the 1950's.
Mild Fun: The Angels used to play in "Wrigley Field" in Los Angeles (Yes, there was a Wrigley Field in L.A.). Wrigley Field didn't have Wrigley Park's trademark ivy. The Dodgers were offered use of the stadium when they first moved to Los Angeles but opted for the seating capacity and horrendous baseball dimensions of L.A. Coliseum over the superior baseball supportability and smaller capacity of Wrigley.

Notable players that played for both franchises:

Rick Monday, Bill Buckner, Don Zimmer, Ron Cey, Fred McGriff, Delino DeShields, Nomar Garciaparra, Luis Gonzalez, Eric Karros, Kenny Lofton, Greg Maddux, Bill Madlock, Fred Merkle, Juan Pierre, Rick Sutcliffe, Hoyt Wilhelm, Hack Wilson, Todd Zeile, Eric Young
The Patron Saints of this year's playoffs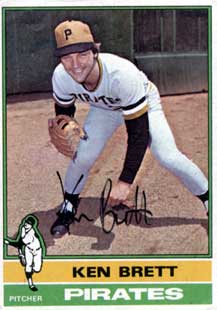 Ken Brett - lefty pitcher and older brother of Hall of Famer George Brett - played for the Brewers, Red Sox, Angels, Phillies, Dodgers and White Sox.
Sadly, he died in 2003 after battling brain cancer (too many lids on his dome?) bravely for six years, but we honor his erratic and varied career by donning him patron saint of this year's playoffs!
I guess it's the Cubs and Rays who will avoid the "Curse of Ken Brett" if there is one - Keep in mind that Ken never won a World Series!!!
Second Place - Jay Johnstone played for both L.A. teams and both Chicago teams as well as the Phillies.

Expect more "fun" for the League Championship Series!!!
Ad blocker interference detected!
Wikia is a free-to-use site that makes money from advertising. We have a modified experience for viewers using ad blockers

Wikia is not accessible if you've made further modifications. Remove the custom ad blocker rule(s) and the page will load as expected.