You all know the drill: I'm interviewing a fan of each Wild Card team in anticipation of the playoffs. Well, it's the same deal here except that I'm actually interviewing someone who was beneficial in me beginning to write about sports. I've visited his sports blog daily for the past year and a half and it is an honor to get his answers to my questions about his favorite NFL team: The Washington Redskins. Who is the interviewee you ask? Chris Chase (http://www.chrischase.com). Go read it, it's fantastic.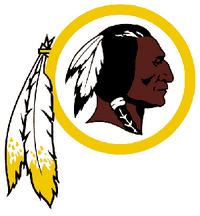 FC: What was your favorite moment from the Redskins regular season?
Chris: On Christmas Eve morning I was walking around a Best Buy in Columbia, MD, aimlessly looking for some last-minute gifts when I overheard two employees discussing the Redskins. One was explaining to the other how the Redskins now controlled their own destiny and would likely make the playoffs as the second Wild Card team if they beat a Dallas team that had nothing to play for.
This was, of course, not news to me as I had played out that same exact scenario in my head for weeks. But, for some reason, hearing it from a stranger in a random location near Ravens-country made it more real. And that made me happy.
FC: Least favorite?
Chris: The second defensive play of the Buffalo game, after the Redskins played with ten men on the first one. It was at that point that Sean Taylor's murder, and the fact that life and football would be moving on, was most evident.
FC: As much as I love Sean Taylor and would like to focus many questions of this interview on him, I'm only going to ask one question about him: What is your favorite Sean-Tay moment of all time?
Chris: Week 2, Monday night, 2005. After outlasting the Bears in week 1, the 'Skins were down 13-0 to the Cowboys with 3:56 remaining. Two fourth-down conversions and Brunell-to-Moss bombs later, they were up 14-13, but with plenty of time remaining on the clock. A long kickoff return by Tyson Thompson set-up the Cowboys in good field position. A few plays later, they were on the edge of field goal range when Drew Bledsoe threw to Patrick Crayton on a 3rd and 4. Crayton caught the ball right at the marker and appeared set to move the chains and, likely, get the Cowboys into range for the game-winning field goal.
But, out of nowhere, SeanTay laid his helment in Crayton's chest and the ball flew backwards seven yards. It was an incomplete pass. The Redskins went on to win. That's the forgotten play of that memorable game, but it was just as important as the two TD bombs.
FC: I remember watching that hilarious Clinton Portis hot dog clip on your site a month or two back. What was your favorite quirky Clinton Portis moment this season?
Chris: His outfit after the Cowboys game; hands down.
FC: Out of all the Redskins rookies that have played this year, who would you give the Redskins Rookie of the Year award to?
Chris: Laron Landry is the obvious answer here, but I'm going to go with Lorenzo Alexander, a do-everything 300-pounder who went undrafted out of Cal. Alexander plays offense, defense and special teams and does each very well. He's an unheralded guy, one you won't likely hear about much, but he's a player.
FC: What do you drink, if anything, during Redskins games?
Chris: I've cut back on the gameday drinking in recent years because I like remembering what happened the next day. But I usually drink three or four of either Sierra Nevada or Sam Seasonal.
FC: What's your prediction for the Skins/Hawks game?
Chris: I'm really superstitious and I've vowed not to pick any 'Skins games this year. Let's just say that I'm not all that impressed with Seattle and their weak resume. However, I am afraid of that 24-3 home record over the past three seasons, the 'Skins kicking game and the cross-country flight.
FC: Building on the last question, what are your predictions for the year?
Chris: Quiet as it's kept, the Redskins have been in every single game they've played this year with the exception of the Pats game. They dominated the Packers at Lambeau, but turned the ball over too many times. They had Dallas on the ropes in Big D, but couldn't defend T.O. without Sean Taylor (who was injured for that game). There's no reason they can't keep their winning streak going and make a deep run into the playoffs. But that's a conversation, hopefully, for another day.
FC: Jason Campbell or Todd Collins: Who is the Redskins QB of the future?
Chris: Campbell is the quarterback of the future; but Collins is the now. The only way Campbell should not have a lock on the starting gig next year is if Collins is sublime in the playoffs.
FC: Who is the MVP of the 2007-08 Washington Redskins?
Chris: If we're talking abstractly, Joe Gibbs is the MVP. People who don't follow the 'Skins like to make jokes about how Gibbs is senile, mainly based on the misunderstood timeout error. And it's true, Gibbs' clock management hasn't been the best this season. Much of this has to do with his young quarterback, but either way it's still a valid point. But nobody else could have rallied this team after Sean Taylor's death; not Dungy, not Shanahan and certainly not that cheating prick Bill Belichick.
On the players side, my vote goes to Shawn Springs who has managed to stay healthy and has returned to shutdown corner form this season. Now that I've said that, he's going to give up two deep TD passes tomorrow. Dammit.
FC: Is there a Redskins fan nickname for the team or the offense/defense? A la the Steel Curtain, Purple People Eaters, etc.
Chris: Nothing too clever, unfortunately.
FC: What parts of the team as a whole does the organization need to focus on in the upcoming draft?
Chris: D-Line; without a doubt. This means the team will draft another safety.
FC: Just how many coaches are there on the actual coaching staff?
Chris: Does Joe Bugel's hair count as a coach? Cause that hair is awesome.
FC: When Jason Campbell went down, did Redskin Nation have a collective heart attack?
Chris: When Todd Collins completely looked lost on his first series, that's when everyone freaked out. When he hit Todd Yoder for a TD pass as the first half came to an end in that Chicago game, we breathed a sigh of tempered-relief.
FC: If you had to think of a motto for this year off the top of your head, what would it be? Real quick!
Chris: It's their density... I mean, destiny.
FC: Well, that's it for the questions. Insightful and humorous as always, Chris -- thank you for the interview!
Original post at: http://sportcrack.net
Ad blocker interference detected!
Wikia is a free-to-use site that makes money from advertising. We have a modified experience for viewers using ad blockers

Wikia is not accessible if you've made further modifications. Remove the custom ad blocker rule(s) and the page will load as expected.