( Original post [with pictures!] @ http://www.sportcrack.net )
In anticipation of the upcoming NFL playoffs, I've taken the liberty to find a fan from each team in the Wild Card round and ask them some questions about them. The first edition: The Pittsburgh Steelers.
The fan: Dave (aka ReconGuy55 on the ESPN.com Message Boards). He is an avid contributor to the NFL Message boards over at ESPN.com
Football Crack (FC): I lost a LOT of money when the Steelers lost to the Jets a couple weeks back (screwed up my 3 team parlay)… what are your thoughts on that game?
Dave: The Jets game sucked. My thought at the time was that they just can't lose that game. Unacceptable. I wouldn't mind it as much if they had finished the year strong but they didn't. '
FC: What exactly did you do when you realized Willie Parker was out for the season? Shit your pants? Drop your beer?
Dave: Honestly, I have always thought Parker was good but not an every down back. I was a little bummed but not ready to hit the panic button. I think Davenport will do OK. The offensive line injuries worry me ALOT more than Parker.
FC: Good point, the offensive line situation would be more of a concern.
FC: Big Ben: Why did he return to form this year?
Dave: I think Big Ben wouldn't admit it last year but he was hurting all year from hit cycle accident and appendix surgery. I think the biggest difference this year is that he is healthy and realized how hard he needs to work to be good in this league.
FC: Yeah it was good to see him back on track. Especially since I had him on my fantasy team, although I traded him halfway through the season... I make very dumb trades after I've been drinking, which isn't very smart.
FC: What's the deal with Steely McBeam and why hasn't there been a mass petition by Steelers fans to have him 'erased'?
Dave: I don't think McBeam is really that big a deal and nobody really remembers him until they see him. I was at the Pitt/Miami game a few weeks ago and I saw McBeam outside the stadium. Until I saw him I actually forgot he existed. Even then I just walked by.
FC: Good to know. I shouldn't even be talking, since Pat the Patriot isn't the most masculine looking guy either... and come to think of it--his name is kind of retarded, too. Oh well.

FC: What is your prediction for the Jaguars game?
Dave: "Prediction..hmmm. I think if Essex and Colon can give Ben time to throw the Steelers will put alot of points up. That is a big if however. The Steelers play better when nobody gives them a shot and they are mad. I really think they will beat the Jags..I'll say Pitt 34 Jax 24."
FC: Mike Tomlin… Omar Epps' cousin? What do Steelers fans think about this?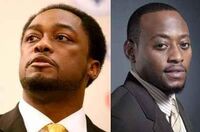 Dave: "Thats pretty funny. I never noticed that before. Hopefully Tomlin isn't just an actor. Jury still out!!!"
FC: What is your prediction for the entire year? Be honest!
Dave: "I think we will beat the Jags (see above). I think we will go to New England next week and play much better than we did the last time. Unfortunately it still won't be enough. They will lose to the Pats in a closer game than people think."
FC: Well, there you have it -- straight from a Steelers fan's keyboard. I forgot to ask him who he thought the Steelers 2007-08 MVP was, so if your reading this and your a Steelers fan, please state who you think the team MVP is in the comments. Stay tuned for interviews with fans from every wild card playoff team in the next couple hours/days. And thanks again, Dave!
(Armchair Readers please note: I am doing interviews for all other 7 Wild Card teams - so if your a fan of one of them and want to participate in this, just say so in the comments section.)
Ad blocker interference detected!
Wikia is a free-to-use site that makes money from advertising. We have a modified experience for viewers using ad blockers

Wikia is not accessible if you've made further modifications. Remove the custom ad blocker rule(s) and the page will load as expected.