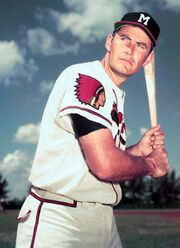 Joseph Wilbur Adcock Born October 30, 1927 in Coushatta, Louisiana Died May 23, 1999 in Coushatta, Louisiana
Major League Debut: April 23, 1950 Final Game: October 1, 1966
Managerial Record: 1967 Cleveland Indians 75-87 Finished 8th in the American League
When I think of Joe Adcock I have three memories of his career that I think of immediately. First is the time he hit four home runs in a game then the time he broke up the perfect game of Harvey Haddix and then the time he was being chased by Ruben Gomez of the Giants who was brandishing an icepick. Knowing he lived only 55 miles from us during the offseason was another reason I followed his career with so much interest.
On July 31, 1954 Adcock hit four home runs in a 15-7 win over the Dodgers. He also had a double that day giving him 18 total bases that day. For 48 years that record stood until Shawn Green had 19 total bases in a game in 2002 setting a new record. In the last 54 years since Adcock hit the four homers in one game only Willie Mays, Mike Schmidt, Bob Horner, Mark Whiten and Shawn Green are the only National Leaguers to match his feat. Mike Cameron and Carlos Delgado are the only current players to have hit four homers in a game.
On May 26, 1959 Harvey Haddix had pitched 12 perfect innings and in the 13th inning Adcock ended the game with a walkoff homer giving the Braves a 1-0 win.
He is one of three players to have hit a home run into the center field bleachers at the Polo Grounds which were close to 470 feet from home plate. The other two to accomplish the feat were Lou Brock and Hank Aaron.
The following paragraph from a jsonline.com article on the Braves tells about the time Ruben Gomez a Giants pitcher hit Adcock with a pitch and what transpired after the pitch
The most bizarre incident in the Braves' tenure in Milwaukee? No contest. Spindly Ruben Gomez of the then-New York Giants drilled Adcock with a pitch, then ran full tilt to the clubhouse with the ponderous first baseman yipping at his heels. Legend has it that Gomez brandished an ice pick and headed back toward the field, only to be restrained by cooler-headed teammates.
In his 17 year career Adcock hit 336 homers and drove in 1122 runs with a .277 lifetime batting average. Adcock made the 1960 NL All Star team and played in the 1957 and 1958 World Series hitting .250. Baseball-reference.com list his stats as comparing with Boog Powell, Frank Howard and Greg Luzinski.
The following obituary tells more about what Adcock did after retiring from baseball:
http://sportsillustrated.cnn.com/baseball/mlb/news/1999/05/03/adcock_obit/index.html
Ad blocker interference detected!
Wikia is a free-to-use site that makes money from advertising. We have a modified experience for viewers using ad blockers

Wikia is not accessible if you've made further modifications. Remove the custom ad blocker rule(s) and the page will load as expected.