Baseball Notebook
Players From the Past: Bob "Mr. Baseball" Uecker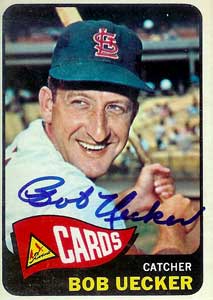 Born: January 26, 1935 in Milwaukee, Wisconsin
Major League Debut: April 13,1962 Final Game: September 29, 1967
Bob Uecker wasn't exaggerating when he said he was a terrible baseball player. Catchers aren't always known for their offensive talents, but Uecker wasn't able to harness nearly any of his batting skills that had shown through as high schooler. He hit a pedestrian .200 during his 5-year career in the big leagues, playing for the Milwaukee Braves and later the Atlanta Braves. It's a wonder the "Mendoza Line" isn't known as the "Uecker Line", since Mendoza himself had a career average of .215.
However, Uecker did hit 14 homers and drove in 74 runs in his 731 major league at bats. Something that took Lance Berkman fewer than two months to accomplish, Uecker needed the better part of 6 years. Baseball-Reference.com likens Uecker's stats to those of such immortals as Buddy Biancalana, Tom Nieto, and Al Glossop.
It's safe to say that Uecker will never darken the hallowed halls of the Baseball Hall of Fame; at least not as a player. Somehow his lifetime .293 on-base percentage (OBP) and .287 slugging percentage aren't welcome alongside the Babe and Mr. Aaron. And Ricky Henderson is looking at his career stolen base total (0) with disgrace. But the last laugh belongs to Bob. In 2003, Bob Uecker was granted membership to most elite club in baseball history, being inducted as a broadcaster rather than a player.
He grew up watching the minor league Milwaukee Brewers at Borchert Field. Many years later, he would be reunited with the Brewers. This time as a broadcaster for the major league team of the same name. One of the most recognizable color commentators of all-time, Uecker has provided his services to many national broadcasts, television, commercials and even the motion picture industry - playing an eerily familiar play-by-play broadcaster in the wildly successful, Major League (1989). He also had a role in the Carl Reiner spoof movie, "Fatal Instinct"(1993). From 1985 to 1990, Uecker appeared in 115 episodes of the television show Mr. Belvedere. During his time on the show, he guest starred on an episode of Who's The Boss with Tony Danza. Uecker can be seen standing up while in the crowd at as baseball game, where he muttered, "If they ever turned this park around, I'd be in the front row!"
&nbsp
Al Hirt, the famous New Orleans musician, played a key role in Uecker's show business career when he had Uecker come on stage at an Atlanta night club. Hirt was impressed enough to help Uecker get on the Tonight Show with Johnny Carson, which would be the first of many appearances on the show.
Regarding his infamous love of having a "few" drinks during his broadcast, SSNN shared this quote:

"It has been a long time since I've seen Bob this happy and this shit-faced. To be honest, I missed that Bob," Brewers radio personality Jim Powell said of his broadcast partner, Bob Uecker. "For nearly thirty-five years, he made a name for himself as the slurring, incoherent voice of a Brewers baseball team that was the joke of the league. In my opinion, I think you would have to be drunk to endure twenty straight losing seasons, or whatever it is."
Powell says Uecker's legendary propensity for alcohol inexplicably stopped last season, when the Brewers – riding a rare and invigorating infusion of young talent – showed signs of life for the first time in decades, and narrowly missed qualifying for the playoffs for the first time in 25 years.
"I was worried there for a while, when the Brewers were winning last season and entered the hunt for the division title. The whole success thing threw Bob for a loop. He was caught off guard, and I think that's why he stopped drinking," explains Powell, who has been Uecker's partner since 1996. "But it's nice to see Bob return back to his former drunken self, now that the team is losing again. He's back to being Harry Doyle."
When all is said and done, this is a game that is more fun to play than it is to watch. For 35 years, Bob Uecker has made the opposite true. He may not have been blessed with the kind of talent that translates to the major league level, but make no mistake about it... he's done more for professional baseball than what can be expressed in a few paragraphs. And he's had a smile on his piss-drunk face all the while.
Ad blocker interference detected!
Wikia is a free-to-use site that makes money from advertising. We have a modified experience for viewers using ad blockers

Wikia is not accessible if you've made further modifications. Remove the custom ad blocker rule(s) and the page will load as expected.