'
Donald Eugene Conley
'Born November 10, 1930 in Muskogee , Oklahoma '
'
'Major League Debut: April 17, 1952 '
'Final Game: September 21, 1963 '
'
When I think of Gene Conley I think of the day he and Pumpsie Green left the team bus in New York after a 13-3 Red Sox loss to the Yankees and tried to find a restroom but neither player returned to the bus. Green was only gone about a day but Conley for some strange reason wanted to fly to Israel but didn't have a visa and was AWOL from the team for three days.
Conley has the distinction of being the only professional athlete to play on championship teams in two different sports. He played on the Braves when they won the World Series in 1957. He also played on the Boston Celtics championship teams of 1959-1961.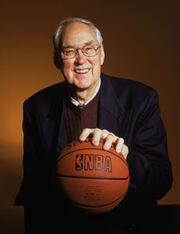 Conley was 6 foot 8 inches and 225 pounds and played for the Celtics in 52-53 season and then returned playing from 1958 to 1961 before playing for the Knicks from 1962 to 1964. He was not a great basketball player statistics wise but Red Auerbach kept him on the team for four seasons and Auerbach wasn't the kind to keep a player around that wasn't helping the team.
His best field goal percentage was .392. He had a .657 percentage shooting free throws.
Back in his day baseball players worked during the offseason since baseball players weren't being paid that much. Instead of working he played basketball during the winter and in effect was either playing baseball or basketball all year for six years. He would have played in the NBA longer but the Braves wouldn't allow him to play basketball during his five year stint with the Braves but he played basketball the last year which led to his trade to the Phillies. He was being paid $25,000 by both teams so made good money for back in the 50's and 60's.
Conley was named to the NL All Star team in 1954, 1955 and 1959. He was the loser of the 1954 All Star game but won in 1955 when Stan Musial homered in the 12th inning after Conley had struck out three American Leaguers in the top of the inning.
Conley didn't do so well in the 1957 World Series. He pitched 1 2/3 innings and gave up 2 hits and a walk for a 10.80 ERA. He was also a decent hitter and homered 5 times while in the majors.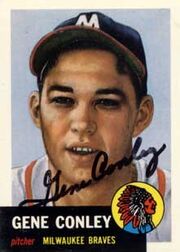 During his eleven year career Conley posted a 91-96 record. He played for Boston Braves for one season, five years with the Braves, two years with Phillies and finished his career playing his last three years with the Red Sox.
Ad blocker interference detected!
Wikia is a free-to-use site that makes money from advertising. We have a modified experience for viewers using ad blockers

Wikia is not accessible if you've made further modifications. Remove the custom ad blocker rule(s) and the page will load as expected.