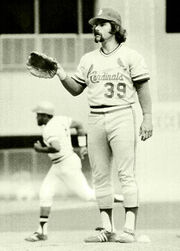 Alan Thomas "The Mad Hungarian" Hrabosky
Born: July 21, 1949 in Oakland, California
Major League Debut: June 16, 1970
Final Game: August 18, 1982
Al Hrabosky was drafted as the No. 19 overall pick in the first round of the 1969 amateur draft by the St. Louis Cardinals on February 1, 1969. Hrabosky played with the Cardinals for eight years, and led the NL in saves with 22, which doesn't sound like many saves, but the year before the leader had only 9 saves. His 13-3 record in 1975 also led the NL in best winning percentage (.813). Hrabosky also had an ERA of 1.66 in 1975.
The Mad Hungarian monicker was thought of by Jerry Lovelace, a Cardinals publicist, and it fitted with Hrabosky's personna. He was almost as well known for his walking off the mound and psyching himself up between pitches as he was for his pitching. I looked all over the internet for a video of his routine and thought I had found some at alhrabosky.com, but couldn't get any of the videos to open.
It is hard to explain in words what he did between pitches except to say he seemed to talk to himself and pound the ball into his glove before turning around and walking back to the mound. His act would not go well these days since Major League Baseball is pretending to speed up games this season and his shenanigans on the mound would not be allowed today.
In eleven Major League seasons, he had a losing record only once and combined during the 1974 and 1975 seasons to compile a 21-4 record. After leaving the Cardinals, he played two years with the Kansas City Royals and three years with the Atlanta Braves.
He finished with a lifetime record of 64-35 and a very respectable ERA of 3.10. He was released by the Atlanta Braves on August 30, 1982. On April 8, 1983 he was signed by the Chicago White Sox, but never threw a pitch for them.
Baseball-reference.com compares Hrabosky to pitchers like Jim Brewer (who was punched by Billy Martin) and Steve Howe, who died not too long ago.
Today, Hrabosky is an announcer on the Cardinals' broadcasts and also has Al Hrabosky's Ballpark Saloon located on 800 Cerre St. in St. Louis. Two of the sandwiches on the menu are named after Hrabosky. Their menu features the Mad Hungarian Burger, which is a 1/2 pound burger that costs $5.95. There is also a second sandwich named for Hrabosky which is Al's Jumbo BBQ Burger also for $5.95.
This article about Hrabosky gives more details about his baseball career:
http://findarticles.com/p/articles/mi_m0FCI/is_8_62/ai_104362923
Ad blocker interference detected!
Wikia is a free-to-use site that makes money from advertising. We have a modified experience for viewers using ad blockers

Wikia is not accessible if you've made further modifications. Remove the custom ad blocker rule(s) and the page will load as expected.