Real Madrid hit Sporting Gijón for seven in a game that saw Rafael Van der Vaart claim a hat-trick, Raúl net two, as well as Gonzalo Higuaín and Arjan Robben claiming one apiece. I judged every player and handed out marks out of ten.
Real Madrid
Casillas 7.5 - Deserves a good mark because he was called into action on more than one occasion and had to stay alert.
Torres 6.5 - Another at the back who had no real reason to stand out given that Sporting did not test Madrid enough, even when they had periods of possession.
Pepe 7.5 - The same can be said for the giant Portuguese international, apart from the fact that he appeared to be more pro-active at the back.
Cannavaro 7 - The Italian did not have a great deal to do against a visiting team that did go forward at time but were very naive.
Marcelo 8 - Was very good in the second half after having to repel several Sporting attacks down his side before the break.
Diarrà 7.5 - Always strong in the midfield, but his protective influence was unable to prevent Sporting enjoying possession down the flanks in the opening half.
De la Red 8 - Showed some very good touches and proved that he should be given more chances to prove himself in Bernd Schuster team.
Van der Vaart 9.5 - Not only did the Dutchman score a hat-trick, with all three of them being good finishes, he set up another one, and was influential throughout the entire game.
Robben 7 - Set Higuaín's goal up and was lively throughout, but his control on a couple of occasions let him and prevented Madrid having chances.
Higuaín 8 - Took his goal very well and involved himself as much as he could but with Madrid not laying siege to the Sporting goal he was quiet at time.
Raúl 8.5 - After netting a trademark poachers goal the much maligned captain showed he still has the touch with a superb Chip over the goalkeeper for number two. Also Setting up two of Van der Vaart's Goals.
Subs
Javi García 7.5 - Another youth team product desperate to show what he can do and he produced some good touches to impress.
Drenthe 6.5 - Really made very little difference when he came on and found it difficult to fit into a game that was already won.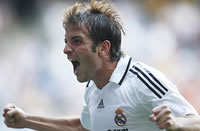 Saviola 6.5 - Looked busy, but against such a brittle defence he made it look difficult with some poor touches and his inbaility to stay onside. However, he set up Raul for his second goal with utter brilliance.
Sporting
Sergio Sánchez 5 - It has to be difficult to be a keeper behind a defence that just opened so easily and left you at the mercy of some superb shots.
Raúl Camara 4 - None of the defence can look back on another game that saw them embarrassed and he is no different after another poor display.
Colin 3.5 - It has to be doubtful that any of the back four can consider that they deserve to play in Sporting's next game, especially the two central defenders.
Iván Hernández 3.5 - It could be argued that it could have been more had they not stopped Madrid, but letting in seven only three days after a six-goal drubbing is too much.
Canella 4 - The full-backs cannot be blamed as much as the middle pair with the majority of goals coming down the centre.
Michel 4 - Employed to cover the back four, especially the middle pairing, he evidently failed at his job and was outclassed by the opposition.
Diego Camacho 4.5 - Was actually quite heavily involved in Sporting's attempts at going forward in the first when they dominated possession for a while.
Maldonado 5 - Arguably Sporting's best player, which may not be saying much, but he perhaps deserved better from those around him.
Pedro 4 - Maybe the fact that certain Sporting players saw so much of the ball going forward meant that they were not defending and should have been.
Kike Mateo 5.5 - Is given a higher mark for beating Iker Casillas, which not many forwards do, and he took his goal very well.
Barral 4 - Offered very little up front to bother either Fabio Canavarro or Pepe and will have better days this season without a doubt.
Subs
Diego Castro 4 - Made very little difference because Madrid were already in total control of proceedings when he entered the fray.
Luis Morán 4 - Another player that was seen going on and then seen walking off but not really anywhere in between.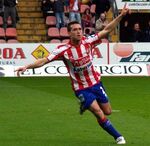 Neru 3.5 - Came on to add to the defence, but by then the hosts were not pushing with anywhere near the sharpness that they had been.
To see a video of the highlights of this game, visit this link.
Ad blocker interference detected!
Wikia is a free-to-use site that makes money from advertising. We have a modified experience for viewers using ad blockers

Wikia is not accessible if you've made further modifications. Remove the custom ad blocker rule(s) and the page will load as expected.