Real Betis looked as though they were going to do to Madrid what they did to Barcelona just four days ago. Coming back from behind to force a draw, they once again conceded the heartbreaking winner late in the game.
Casto – 6: Tested countless times from long range efforts, but dealt with every one of them. Had to hold some blame for both goals: should have come off his line to collect van der Vaart's cross for the first goal, and perhaps didn't cover his angles enough for the second.
Nélson – 7: After being hounded by Messi and Iniesta a few days ago, he had to put up with Robben this time. Although he was beaten on numerous occasions, he still held his own and never gave up. Suffice to say, he emerged a better player after these 180 minutes of football.
Juanito – 6.5: Shackled Raúl tightly. Shadowed him everywhere he went and didn't allow the Madrid captain any space to move.
Arzu – 6: Combined well with Juanito to keep van Nistelrooy quiet. His lack of pace was evident as he failed to keep up with the Dutchman to prevent the winning goal.
Monzón – 6: Couldn't perform the heroics from midweek against Barcelona. A rather subdued performance and didn't roam forward as much as he would've liked.
Emana – 8: Betis' best attacking player without a doubt. He was either taking shots at goal himself or setting up his teammates for one. Although he missed quite a few, as a midfielder, he did get most of them on target.
Aurélio - 6: Barely able to cope with De la Red and Van der Vaart. Got involved in attack more in the second half but ran out of steam towards the end as he allowed Robben to set up Van Gol.
Damía – 6.5: An energetic display on the right wing. Went toe to toe with Marcelo and played a few telling crosses and passes towards goal.
Capi – 5: Other than making up the numbers in midfield, he did not contribute anything significant to the Betis attack.
Sergio García – 7.5: Very lively down the left flank, kept supplying his forwards with ammunition but none of his teammates could finish off his build up. Did everything right, including the rebound off his own penalty, except for a silly foul on Drenthe.
José Mari – 5.5: Utterly anonymous in the first half. Barely got a touch of the ball, let alone an attempt at scoring. Came alive slightly in the second half and it was his gorgeous through ball to Damía that led to the penalty.
Substitutes:
Pavone – 5: Just couldn't get into the game to make any sort of impact.
Babic – 5: Made a few surging runs into the opposition half but never had the end product. However, it was his absence at the back that allowed Van Nistelrooy the space to exploit and score the winner.
Ilic - 5: Another Substitute that did not shine and did not make much of a difference.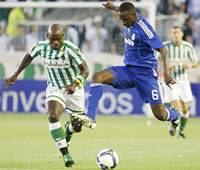 Casillas – 7: Made a number of superb reflex saves. Even denied Sergio García from the spot but there was little he could do to stop the follow up.
Sergio Ramos – 7: Had an intriguing battle with Sergio García. Couldn't bomb forward as much as he would have liked as a result, but always looked solid. Had to contribute more in attack once Madrid were down to ten.
Pepe – 8: Held the backline together. Madrid would have been lost without him and to a certain extent, Sergio Ramos. Perhaps as the lead defender, he should have been first to Sergio García's blocked penalty to clear it.
Heinze – 6.5: Stray passes, mistimed tackles, poor positioning… another typical day in the office for the Argentine. Did score the opening goal, though, with a great header.
Marcelo – 4: Made a few clumsy challenges, one of which, unfortunately resulted in a straight red card.
Van der Vaart – 7: His performance understandably looked a bit jaded. His deliveries weren't as sharp and his off-the-ball movement wasn't as spirited, although his pin-point freekick found Heinze for the opening goal.
Diarrà – 8: As usual, a rock in the heart of midfield and won every battle there was to win, was a bit slow, but was the player that made the difference.
De La Red – 7.5: Marshalled the midfield well and dictated the pace and direction of Madrid's attacks. A very worthy successor to Guti when the time comes.
Robben – 7: A real livewire in the opening exchanges, but faded away terribly as the game wore on. He did win the freekick that led to the opener and it was through his through ball that fed Ruud van Nistelrooy's goal.
Van Nistelrooy – 7.5: Had a few decent half chances throughout the evening but in typical predatory style, he tucked away his best opportunity to secure all three points for his side.
Raúl – 5: Barely registered a shot at goal. Strung a few passes together at most. Another quiet, lonely evening for the captain.
Substitutes:
Torres – 6.5: Had to get up to speed quickly to help stem the tide when Betis were on the ascendancy.
Javi García – 6: Brought on to freshen up what must have been a tiring midfield line.
Drenthe – 7: Controlled the ball well and Drew the foul that got Sergio Garcia sent off, which may very well have allowed Madrid to score the winner.
Ad blocker interference detected!
Wikia is a free-to-use site that makes money from advertising. We have a modified experience for viewers using ad blockers

Wikia is not accessible if you've made further modifications. Remove the custom ad blocker rule(s) and the page will load as expected.