As the Detroit Pistons keep on rolling over their opponents, other players on the team are getting their chance to shine. These players include Jarvis Hayes, Jason Maxiell and at times, Amir Johnson. These young, talented players have put their minutes to good use and have been able to gain trust from head coach, Flip Saunders. But there are two other players on the Pistons bench that stand out to me that I didn't mention. The catch is, they are rookies.
We all know that Chauncey Billups and Rip Hamilton were the previous Dynamic Duo of Detroit. But who will take those spots if those two are gone? I have the perfect combo for you.
Rodney Stuckey and Arron Afflalo.
Rodney Stuckey just came off a hand injury that has kept him out for about a month in a half. He made his debut on the 11th against the Memphis Grizzlies. He only scored two points and two assists in his first regular season game, but it's a start for the rook. His next game against the Houston Rockets, he didn't score at all, going 0-4 from the field. He didn't let that get to him as he came into the next game in New Jersey and put up 7 points, 3 assists and 2 steals. In last nights game, Stuckey scored 10 along with 3 assists and 3 rebounds. Stuckey has gradually, gotten comfortable with his role in coming off of the bench. He has adjusted to the flow of a regular season game without a problem, and he's already been getting his fair share of minutes. Stuckey isn't your average point guard though. Stuckey is what you look for from a guard coming off of the bench. He comes in and plays consistently, giving some of the starters a break.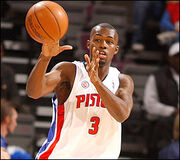 In last night's game, I noticed that Flip Saunders sat down Rip Hamilton and put Stuckey at point, and Chauncey Billups at the two spot (shooting guard position). This was a very smart move by Saunders because it allows Billups to get involved in more plays, rather than having to create them. This would give Billups more chances to take and make shots. Having Stuckey at point would give him the chance to play Billups' role by creating plays, and if he has to, make the plays. I doubt that Saunders will make this move every game, but it is a smart move if he needs Billups to take over games by scoring.

Stuckey does things at the point guard position that Billups can't do. He can drive the ball to the rim with no problem. Billups isn't known for doing things like that, though he has been doing it more this season than ever. Stuckey isn't afraid to draw contact in the paint and force the opposition to foul him. There's never a problem in getting your points from the free throw line, and that's what Stuckey's mentality is when he comes to the floor. He is valuable coming off the bench and he will be needed later on in the season, that's for sure.
Arron Afflalo has actually been a surprise to me so far this season. I didn't expect him to be as good as he is, nor did I expect him to get the minutes that he has gotten from Saunders. I knew he had talent from his days in UCLA, but he didn't show me anything in the preseason. He started in the first two games of the season because Rip Hamilton was out due to the birth if his child. He only took one shot in those two games (yes, he did sink it), but that was just him being nervous, starting in his first NBA game. He has been quiet in the previous two games, but last night he was able to put up 8 points along with 2 assists. But he did manage to put up 12 against Memphis, 4 against Boston and 11 against Golden State.

He's doing the things nobody expected for him to do. Ever since the Golden State game when he scored 11 points, that was what really brought the youngster out. He comes out with a lot of energy and he knows his job. One thing I'm really impressed with from Afflalo is that he plays outstanding defense. He doesn't get intimidated by anybody out there. In the game against the Boston Celtics, Afflalo had no problem containing Ray Allen. Every time Boston ran a pick and roll, Afflalo had no problem switching off and guarding Kevin Garnett. He forced a few bad plays from the Celtics which really seems to be his strength. He puts his body out there and stays in front of the opposition, causing them to either force bad passes or bad shots, and break up plays. I haven't seen a Piston play this type of defense in the past couple of years. That goes for Rip Hamilton as we'll, I'm sorry.
But not to worry.
Afflalo has been able to give Rip some rest, and ever since Afflalo has been getting the minutes that he has had, Rip has been playing better than he did in the beginning of the season. I feel that he has been helping him out by giving Rip some rest. Either that, or Rip's afraid of losing his job to a rookie. Afflalo has also done some things that Stuckey is liable to do. Afflalo has no problem taking the ball directly to the basket, unlike Rip who is better known for hitting the short jumper. Afflalo can do that too.

I would give you stats from these two, but I don't feel you guys are ready for that. We'll wait until later on in the season to start bringing up the "ppg" stat because their's is still pretty low. These two will get a lot of playing time in this season. And if the starters need to sit a game, don't be surprised if you see these two starting. I haven't been able to see Stuckey and Afflalo both on the floor together yet, but I am looking forward to it. These two will be stars when it comes to the future.
With players like Chauncey Billups and Rip Hamilton mentoring them, these two won't have a problem with their play when it's their turn to shine. Sure, rookies are liable to make mistakes, but that's because they are rookies. I haven't seen them make a mistake yet, so far this season. I highly doubt that these either of these two will become a fluke in their playing career. They already have a lot of confidence in their playing ability, and they show it by not being afraid to shoot the ball, other than some rookies (or players) in the league. Watch these two youngstars develop this season. They will be interesting to watch for the next couple of years.
Ad blocker interference detected!
Wikia is a free-to-use site that makes money from advertising. We have a modified experience for viewers using ad blockers

Wikia is not accessible if you've made further modifications. Remove the custom ad blocker rule(s) and the page will load as expected.