The Pittsburgh Pirates wrapped up there first series of the 2008 MLB season last night in Atlanta. The Pirates took two of three, as they now head to Florida for a three game road series with the Marlins tonight, before making their home debut on April 7th against the Cubbies. So far, Jason Bay has disappointed me, hitting just .200 (2 for 10), with 0 HR's, 0 RBI's, and 3 K's. Ryan Doumit is hitting .455 (5 for 11), leading Pittsburgh in BA, but has 0 HR's, and RBI's. Xavier Nady leads the team in HR's (2), RBI's (7), and OBP (.500), while hitting .429.
Game 1 (March 31st):
Pirates 12, Braves 11 (F/12)
Ian Snell v.s. Tom Glavine
CFer Nate McLouth came up big for Pittsburgh in this game, going 3 for 5, with 4 RBI's and an 8th inning 3-R HR to extend their lead to 8-4. Xavier Nady had a big night as well, going 4 for 7 with 2 HR's, and 4 RBI's as well. Nady's second HR came in the top of the 12th inning, and ended up being the game-winner, driving in McLouth, Jason Bay, and himself with one swing of the bat. Pittsburgh's starting pitcher, Ian Snell, lasted 6 innings but gave up 4 ER, and walked 2 batters. After Snell was pulled from the game, relievers Tyler Yates, and John Grabow combined for 2 scoreless innings, and 2 K's (one each). But, Pittsburgh used two pitchers in the ninth inning (Damaso Marte, and Matt Capps), who gave up a combined 5 runs, all of which were earned runs. So, to extras they went. It wasn't until the 12th inning when someone finally broke the tie, as Nady drove in 3 with his second HR. Franquelis Osoria, who pitched the last 3 innings of the game, gave up 2 ER in the bottom of the inning, including a Jeff Francoeur solo shot, but was able to hold the Braves off for the Pirates opening day win, 12-11. Osoria was awarded with the win, as the Braves RP Blaine Boyer was given the loss, pitching the last two innings, and giving up 3 ER.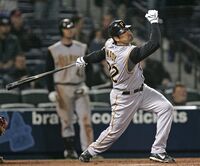 Game 2 (April 2nd):
Pirates 2, Braves 10
Tom Gorzelanny v.s. Jair Jurrjens
Pittsburgh really struggled against the 22-year old Jurrjens, who struck out five in 5.1 IP. The only 2 runs of the game for Pitt, came in the 6th inning against Jurrjens, wen Xavier Nady hit a 2-run single, driving in Freddy Sanchez, and Jason Bay. Following the single, Doumit hit a single, advancing Nady to third. Jurrjens was then taken out of the game, and Jeff Bennett came in to relieve, forcing a DP hit by Jose Bautista to end the inning. The Braves hitting produced 3 HR's, two of which came in the 8th inning, when Atlanta ran away with it, scoring 7 runs in the 8th inning alone. The 7-run inning all started out with a Mark Teixeira two-run blast, scoring Chipper Jones, and himself. Atlanta's six relievers held the Pirates offense to three scoreless innings, and Jurrjens was awarded the well-deserved win. Gorzelanny got the loss, as RP Damaso Marte had yet another disastrous night, giving up 4 ER's, and a HR in just 1/3 of an inning.
Game 3 (April 3rd):
Pirates 4, Braves 3 (F/10)
Zach Duke v.s. Mike Hampton
The Braves pitching had a disastrous night, which started off bad before the first pitch was even thrown. Probable starter, Mike Hampton, injured a chest muscle during pre-game warmups in the bullpen, he was later put back on the DL....surprise, surprise. So, the Braves bullpen was in for a long night. Reliever Jeff Bennett started for the Braves instead, and was pulled from the game after just 4 IP, though he was only down 2-0. In 5 innings, the Braves used 4 different pitchers (Blaine Boyer, Will Ohman, Manny Acosta, and Rafael Soriano), who gave up just 1 run to the Pirates offense (unearned). But, Xavier Nady came up big when needed, once again, hitting an RBI single to center in the 10 inning to score pinch-hitting CF, Nyjer Morgan for the go-ahead run. Closer, Matt Capps, came in to pitch in the bottom of the 10th inning and picked up his first save of the '08 season. Pittsburgh improved to 2-1, and Atlanta dropped to 1-3.
Upcoming series:
Pirates @ Marlins
Game 1 (tonight): Matt Morris v.s. Scott Olsen
Game 2 (April 5th): Paul Maholm v.s. Mark Hendrickson
Game 3 (April 6th): Ian Snell v.s. Rick Vanden Hurk
Ad blocker interference detected!
Wikia is a free-to-use site that makes money from advertising. We have a modified experience for viewers using ad blockers

Wikia is not accessible if you've made further modifications. Remove the custom ad blocker rule(s) and the page will load as expected.