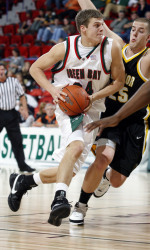 The Phoenix of Green Bay shot 58% from the field in a dominating performance over the Detroit Titans 78-52 in their Horizon League home opener. Green Bay used the speed and penetration of Freshman guard Rahmon Fletcher to set up Ryan Tillema as they defeated a team that has given them fits over the last several years. Prior to last nights match up, Detroit had taken five of the last six from the Phoenix.
The victory raises the Phoenix to an 8-5 record. They are 2-1 in Horizon league play. The loss knocks the hapless Titans to a 4-9 record and they have yet to win a league game in three attempts.
Ryan Tillema of Randolph, WI led the Phoenix out of the gate by scoring 16 of their first 22. His hot hand led him to 4/5 shooting from beyond the arc during that stretch.
Suspect rebounding by the Phoenix kept things close and they led by only nine at the half.
Any thought of a second half comeback by the grind-it-out Titans was quickly quashed by back-to-back 3-pointers by Rahmon Fletcher of Kansas City, MO and an old school three-point play by Mike Schachtner of Somerset, WI that gave Green Bay a 17-point lead at 46-29. Detroit trailed by as many as 31 points and never got closer than 15 the rest of the way.
Tillema, who led both teams with 23 points on 8 of 10 shooting, has averaged 24.3 points over his last three outings. Fletcher added 14 points, while Schachtner finished with 11. Cordero Barkley of Racine, WI chipped in 10.
Effort matters as the shortest player on the Phoenix, the 5'10" Fletcher, led them with eight rebounds.
The Phoenix scored 19 points off 17 Titan turnovers while committing 14 turnovers of their own.
Green Bay is an undefeated 5-0 at the Resch Center this season.
Photo courtesy of http://uwgbathletics.cstv.com
Ad blocker interference detected!
Wikia is a free-to-use site that makes money from advertising. We have a modified experience for viewers using ad blockers

Wikia is not accessible if you've made further modifications. Remove the custom ad blocker rule(s) and the page will load as expected.