I broke my coffee mug this morning. Not just any mug, but my favorite. The handle had a significant chip in it and was clearly ready to fall, but I didn't look at the signs. All of it was in front of my eyes and I just ignored it. And then it broke.
Of course, I'm lying to you, I actually threw my mug against the wall, coffee and all, partly with a bad taste in my mouth, partly because my coffee was cold and partly because my morning reading pissed me off.
I wasn't those Larry Fitzgerald rumors. I do think he'd be a great additional, even though the cost is incredibly high. It wasn't Adam Eaton, Kris Benson, Chad Durbin, J.D. Durbin or anyone else who has no business being on a good baseball team. It wasn't the Flyers ridiculous slide (for which I have no explanation). And it wasn't even that guy on one of those stupid ESPN shows with Skip Bayless who stated (and I'm paraphrasing here): What most people don't understand about Spygate is that Arlen Specter is from Philadelphia and wants to knows if the Patriots cheated in Super Bowl 39. If by most people you mean absolutely no one, then yes. (This was a close second)
None of those.
It was those ridiculous Bill James disciples over at Baseball Prospectus and their "predictions."
Yeah, rip me all you want, math nerds, but truth of the matter is these guys have spent more time telling me how clutch isn't real then getting laid. Sounds like the opposite of Babe Ruth if you ask me.
So what was it that flipped my lid? If you've read anything I've stated in the past, you could make one short Google entry and figure it out. Those number crunching schmucks picked my hometown Philadelphia Phillies to finish third. Not even second, but actually third. Look, I know the Phillies did little to keep up. I also know who Johan Santana and Tom Glavine are and how they change things. Coincidently, Brad Lidge, Pedro Feliz and Brett Myers certainly change the scenery. I think when you add it all up, you understand a lot of what The Phillies accomplished in 2007 was based on Jimmy Rollins and Aaron Rowand. And while admittedly, Rowand is gone, you understand that what they both accomplished wasn't simply based on statistics but with sheer tenacity, leadership and other immeasurables.
I also know a little about finance and one thing I can tell you is that past performance does not ever (NEVER!!!) predict future results. In fact any wealth management company will disclose this fact immediately and moreover their advertisements must ensure this fact is established prior to most attempts at sale. I guess in baseball, the past always predicts the future. Where are you Kerry Wood?
I know there are people out there who worship the ground these guys walk on and I understand the value of numbers, especially in fantasy. But this is reality. Reality is that people do have minds and mentalities, they have injuries and health concerns, they have families, they have mental blocks, they have managers, they have situations, they have lives. They are human, right Murray Chass?
For those of you who don't know. Murray Chass is a traditionalist among baseball, a baseball Hall of Famer and respected New York Times writer. He doesn't like those nerds much more than I do. Mr. Chass and I live by feelings, by smelling the grass and by liking the dust and gravel off our lips. Smells like a good game today, doesn't it Murray?
"I suppose that if stats mongers want to sit at their computers and play with these things all day long, that's their prerogative. But their attempt to introduce these new-age statistics into the game threatens to undermine most fans' enjoyment of baseball and the human factor therein. People play baseball. Numbers don't."

-Murray Chass
It's not that I truly hate any of these guys, even though I should probably start. There's just a certain egotistical promotion by these guys. For one, their PECOTA rating is advertised as "deadly accurate." Sadly, this isn't because its dead on, but rather because its more dead on that anyone else. It's sort of like being the best dart thrower I suppose.
Besides, If you listened to these guys, you'd know there's no reason to watch any game this season, its already been made clear. Gary Huckabay, I've got Bud Selig on Line One
Now that my sabermetics bashing is complete, it's time to move on.
For those of you who have written, read and watched something at the exact same time, you know how I put this together, but I've been occasionally watching my Senator, Arlen Specter, inspect the Patriots, frame by frame I suppose.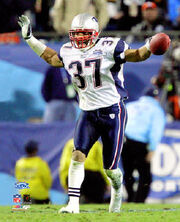 Let me begin by saying, I don't think Congress has any business checking this out. Much like steroids, you'd hope the league would take care of itself. That being said, the fact of the matter is, no league would try to fix something unless it had a dramatic affect on a measurable (meaning money). Look, if steroids had hurt the owners, it would have been gone before McGwire bashed 70 and Bonds 73.
In the NFL, Roger Goodell just wanted to make it go away and he almost did. Turns out you can't avoid letters from Senior Senators who may or may not be among the most influential people in the country. But, while we're digging up all the skeletons, why the hell not find out if the Pats are truly cheating bastards (as if Rodney Harrison being on the field wasn't proof enough).
After reading some of the statements released by Patriots officials in today's Boston Globe there is now little doubt in my mind the Pats built a dynasty on some questionable tactics. I'm just going to enjoy each tidbit as it comes out. After all, I'm a Philadelphia fan, what else am I going to get?
Besides, didn't I say months ago that "Spygate" would be a black mark on the Pats forever?
Citations

David Murphy with "High Cheese"

Murray Chass of the New York Times

Ad blocker interference detected!
Wikia is a free-to-use site that makes money from advertising. We have a modified experience for viewers using ad blockers

Wikia is not accessible if you've made further modifications. Remove the custom ad blocker rule(s) and the page will load as expected.