Maybe that's a bit unfair, but indeed the Philadelphia Phillies lost today. However, the city of Philadelphia and most Phillies fans rejoiced over the loss. Normally, such a loss would cause distaste or more historically, indifference around the city, but this time, Philadelphia seemed happy with the outcome.
Ryan Howard won his arbitration case and was rewarded a 10 million dollar salary this year, tied for the highest award in any arbitration case (Alfonso Soriano's 10 million in 2006), and the highest for any second year player. In response, Howard was quoted as saying; "It was some good news to start of the day. It's a good feeling. It's always a good feeling to win. But either way, it's a win-win. It's a substantial raise either way."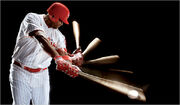 What's most surprising about the whole issue was that everyone this side of Bill Giles agreed that paying Ryan Howard a well deserved 10 million a year (versus the 7 million the Phillies offered) made perfect sense. Howard's resume was complemented with a Rookie of the Year Award and Most Valuable Player Award, something most recently accomplished by another pretty good player;
Obviously, Howard felt that he deserved the 10 million, given not only his outstanding effort, but his ability to put up out of this world numbers for such a new player (in service time) and due to his ability to push the Phils to the brink and eventually over the playoff hump. The fans feelings were two-fold. For one, most fans agreed that Howard's body of work had earned the extra three million and more importantly, this extra few million now would pay off later as Howard renegotiates his contract. However, given Howard's forced arbitration case and the Phillies unwillingness to pay him the 10 million, one could assume that the Phillies clearly made a huge mistake and now are taking a large risk with no payoff what-so-ever.
What's better is that in a city that generally hates players being overpaid is that the fans united behind a player who deserved more, suggesting that a player can indeed earn such a hefty salary. Hard work does payoff.
In other news, unless you were on the moon, under a rock, with your ears covered you have heard of the recent chatter oozing out of Queens, NY (Florida, actually) from none other than an actual overpaid athlete; Carlos Beltran. Beltran, clearly in a shot directed for the Phillies and one MVP shortstop, declared:
"This year, to Jimmy Rollins, we are the team to beat."
Unfortunately, the quote came too soon, as the most valuable one was too busy, being away from spring training…being valuable.
Naturally, when Rollins arrived at camp, he was greeted by a throng of media hoping to escalate the tirade (and write a column or two).
"The pressure is back on them, if you ask me. They were on paper the best team in the division last year and were supposed to win and didn't so they're going to be out there trying to prove what happened last year was a fluke, that it's not going to happen again . . . The spotlight is not on us. New York is always supposed to be better than any other city in baseball - the fans expect that and the media expects that, so the team is going to feel the same way. So they're already under the microscope. You go out there and struggle, you'll hear it."
Rollins went on to declare that the Phillies "can win 100 games," with the disclaimer that they won 89 last year through so many injuries and issues. If all goes well this year, I don't see how 130+ isn't possible. Cole Hamels will win one Cy Young, and eleven Cole Hamels.
The rest of the crew downplayed Jimmy's words, but were upbeat and lose, with Charlie Manuel quoted as saying "Same old Jimmy." However, the valuable one was still upset at Beltran, launching this damning statement; "Has anyone ever heard of plagiarism?"
Not to be outdone, Larry Jones got in the foray:
"I really don't care what's being said. The Phillies and the Mets know we'll be competitive. They know we'll be heard from."
Uh, thanks Chipper…
Of course there were a few detractors; Alan Schwarz of the New York Times released this little gem with regards to the most valuable one: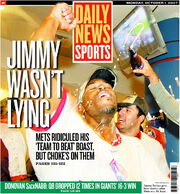 "One-upping the Mets has become increasingly delicious for Rollins, an ever-grinning, hip-hop-loving chatterbox who unabashedly considers his game's style inseparable from its substance. Wearing diamond earrings the size of lima beans and jeans so baggy they could fit a family of four, Rollins did not just predict that the Phillies would repeat as the division champions this season, but said they could win 100 games in the process."
Of course, Matt P of The 700 Level enjoyed it the most, mocking Schwarz with his retort of "Ol' hip-hop lovin' Rollins with those newfangled baggy pants and all that blingy bling!" Stay Classy New York Times!
For those of you not into the Phils, I've got one other treat for you, courtesy of Inside the Iggles.
Super Bowl Shuffle My Ass!
And yes, that's really
Mike Quick
Citations
Todd Zolecki of the Philadelphia Inquirer
David Murphy of The Philadelphia Daily News
Matt P of The700level.com
Rob Iracane of Walkoff Walk
Ad blocker interference detected!
Wikia is a free-to-use site that makes money from advertising. We have a modified experience for viewers using ad blockers

Wikia is not accessible if you've made further modifications. Remove the custom ad blocker rule(s) and the page will load as expected.