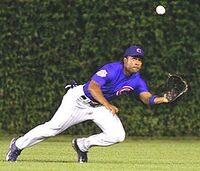 This story was original posted at RedsScout.com.
Corey Patterson is off to a great start to spring training for the Cincinnati Reds. The veteran outfielder is batting .455 this March, and has reportedly made quite the impression on manager Dusty Baker, who remained in touch with Patterson following their stint together in Chicago.
Good news for Reds fans, right?
Wrong. In addition to locking up a roster spot already, which will stall the debut of talented outfield prospect Jay Bruce for the time being, Baker appears set to begin the season with Patterson as the Reds' everyday center fielder and leadoff hitter. While no official announcement has been made just yet, the 28-year-old seems to have the inside track on the position, although Baker has three other solid options in camp—Bruce, Ryan Freel and Norris Hopper, who were all on the Reds' 40-man roster before Baker persuaded management to acquire Patterson.
Patterson had a promising turnaround in Baltimore last year, hitting .313 after the All-Star break to recover from a horrendous first half, where he posted a .235 batting average and added little value to the Orioles' offense. In 132 games with the Orioles overall, he actually put up some decent statistics from a fantasy baseball standpoint, batting .269 with eight home runs, 45 RBIs, and 37 stolen bases. Plus, he is only two year's removed from a season in which he belted 16 homers in 435 at-bats.
Unfortunately, however, fantasy baseball success does not translate into true effectiveness on the field. In reality, Patterson has been an out-making machine over much of his eight-year career, as was the case last season, when he nearly failed to post an on-base percentage above .300 (.304). For his career, he does, in fact, own a sub-.300 on-base percentage of .298, which is extremely poor for a hitter placed in any position in the batting order at any level, let alone for a player expected to fill the leadoff spot for a Major League Baseball team. As more baseball journalists and organizations begin to place a stronger emphasis on non-traditional, sabermetric statistics in how they evaluate talent—including OPS and VORP, which are really not as complicated as one may think— stories like this will begin to gradually disappear.
Baker, though, has yet to catch up with the progressive movement occurring in baseball today. He is a veterans' manager to the fullest and maintains strong relationships with all of his former players, which goes hand-in-hand with his strongest assets as a leader—clubhouse presence and motivational skills. Unfortunately, his loyalty with veterans, especially towards Patterson, most likely will only hurt the Reds' chances of competing in the wide open National League Central division in 2008.
Bruce, Baseball America 's Minor League Player of the Year in 2007, is arguably the top position player prospect in the entire sport, sitting among the top three—along with Clay Buchholz and Evan Longoria—in nearly every legitimate top prospect list. At just 20 years old he enjoyed a fine season in '07, rising from the Florida State League to Triple-A Louisville while posting a .962 OPS (.375 OBP, .587 slugging percentage) with 26 home runs and 89 RBIs in 133 games combined over three minor league stops. His strong performance and quick development played a huge role in the Reds' to decision to trade Josh Hamilton, who is currently tearing up the Grapefruit League for the Texas Rangers.
And in an organization featuring several other talented youngsters—Homer Bailey, Johnny Cueto and Joey Votto, who are all competing for a spot on the Reds' 25-man roster—it is Bruce who means the most to the future success of this team.
Similar to the Rays' predicament with Longoria, perhaps the Reds would be better off delaying the arbitration clock for Bruce, which could possibly save the organization millions over the long term.
But the talk around camp is that Cincinnati can compete now, in 2008. Yet, if that is the case, based on Baseball Prospectus ' ' PECOTA projections for each player—and plain common sense—the Reds would be wise to start Bruce in center on Opening Day from a pure baseball standpoint. Votto should begin the season as the Reds' starting first baseman, too, though incumbent Scott Hatteberg is more of an asset than a player such as Patterson.
It is easy to see why Cincinnati CEO Bob Castellini decided to pursue Baker, who has a .527 winning percentage for his career and brings instant credibility to the Reds' clubhouse. He is, perhaps, just what the Reds need in their continuous efforts to improve fan interest in the franchise among casual baseball fans in the Cincinnati/northern Kentucky area. The decision to sign the recognizable manager was also a sign to fans that the Reds were willing to compete, and was a popular decision among several Cincinnati veterans, including right fielder Ken Griffey Jr.
Similar to what financial advisors have been preaching to their clients with the current state of the economy, a short-term quick fix—a band-aid—has little benefit in the long run. This rings true especially in professional sports, which is why the decision to hire Baker may come back to haunt the Reds.
Already this spring, Baker has hinted about batting a player, Patterson, who posted one of the least productive offensive seasons in the history for the Cubs in 2005, leadoff.
Perhaps even worse is the distaste that he has shown towards those who value on-base percentage, dropping the dreaded "clogging the bases" phrase on far too many occasions. (Clogging the bases is a good thing, Dusty.)
In addition, he has actively advised his top slugger, outfielder Adam Dunn "not to walk as much," vocally discouraging plate discipline with the intention of motivating Dunn to become a more aggressive hitter.
Plus, judging by his track record at dealing with young pitchers—Mark Prior, Kerry Wood, anyone?—he does not seem to provide the Reds with what they need right now: a manager who knows how to handle the team's diverse crop of young pitchers.
The Reds have a formidable 1-2 punch at the top of their rotation, with the underrated Aaron Harang and Bronson Arroyo. And if Bailey, struggling this spring and expected to begin the season at Louisville, and Cueto can emerge as effective starters at the back end of the Reds' rotation in 2008, Cincinnati will find itself in the thick of the postseason race, anyway, regardless of any poor decisions that Baker makes. Plus, there is another young pitcher having a strong spring for the Reds—Volquez, who was acquired in the Hamilton trade, and "could surprise a lot of people this year," says one National League scout.
Baseball is not like basketball or football, where the offensive system a coach implements plays a major factor in a team's success. Studies have shown in-game decisions made by a manager play a minimal role over a large sample size. Managers are truly charged with bringing the best out of their players while keeping the clubhouse happy and motivating players to achieve a common mission. Baker is an above average leader from that standpoint. However, while managers do not make as much difference as coaches in other sports in guiding their teams to success, they can have similar negative effects on a team, by doing things like, say, batting arguably the most ineffective offensive player on the roster in the leadoff spot.
To contact Tyler Hissey, send an email to TylerHissey@gmail.com.
Ad blocker interference detected!
Wikia is a free-to-use site that makes money from advertising. We have a modified experience for viewers using ad blockers

Wikia is not accessible if you've made further modifications. Remove the custom ad blocker rule(s) and the page will load as expected.