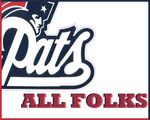 In 2007, the Patriots probably pulled off one of the best offseasons in NFL history. This year....I don't think so. Nevertheless it's time to meet the New Patriots. First lets look at some of the key losses and their possible impact also guest hosting with me is Homer Simpson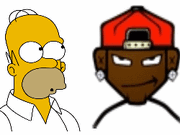 Key Losses
Asante Samuel, CB, signed with Philadelphia Eagles- The best CB in since since Ty Law(remember when he was the man). But anyway by losing Samuel,who is considered one of the elite corners in the NFL, adds pressure on this year's corners because he was able to cover the opponent's No. 1 receiver by himself. This past season he also struck fear in many quarterbacks forcing them to abandon their favorite target and keep the ball away from Asante. It was pretty much inevitable that he was leaving and I was surprised he stayed this past season but aside from replacing him they need to also replace...
Randall Gay, CB, signed with New Orleans Saints- The backup corner, though he had his very very off days, was still a decent #2 and his versatility will also be missed because he could line up over the inside receiver or in off coverage. With Samuel gone, personally I was terrified at Gay being the number 1 corner for he can't handle big receivers and tends to get burned alot and simply causes a DPI rather than try to make a play.
Eugene Wilson, FS, signed with Tampa Bay Bucaneers- He wasn't gonna start anyway. James Sanders has took over his spot and Brandon Meriweather is waiting behind him(or behind Rodney, whoever gets hurt first). Wilson had his ups and downs in New England and should help out Tampa a lot.
Donte Stallworth,WR, signed with Cleveland Browns- Stallworth came to Foxboro expecting to be the man but when Randy Moss and Wes Welker came and then Jabar Gaffney started to come around, Stallworth found himself going from #1 to #4. Nevertheless the Patriots could always use a good receiver and thats what they had in Stallworth, this move would've hurt more if Randy Moss left as well.
Junior Seau, LB, technically still on the team but he just needs to retire- Okay Junior you pulled a Karl Malone and still didn't get your ring. Millions of people saw your awkward "I finally did it" hug with Bruschi only to see it deemed premature after well, you know what happened. Hang it up, coaches get rings too go that route.

Trizz says: Its so haaaaaard to say goodbyyyyyee to yesterdaaaaaayeeeeeeee....

Homer Simpson says: so what if they lost their top 2 corners....they're still good...they're still good
Offseason Signings
Sam Aiken, WR, Originally with Buffalo Bills- Another low end receiver/special teams player from a division rival, could we possibly have a black Wes Welker...I doubt it but hopefully I will eat those words. Hard to see what you got here he only has 19 receptions and 250 yards for a season thats horrible but this is for his CAREER so thats just...lets move on
Jason Webster, CB, Originally with Buffalo Bills- Webster signed with the Bills after they lose Nate Clements he broke his arm in week 1 and didn't play again. Now he's "healthy" and will try to replace Asante Samuel, he also hasn't played a full season since 2002...and we signed him why? But I will remain optimistic and hope this one pans out. What do you think Homer
Homer Says: mmmmmm Buffalo wings
Victor Hobson, LB, Originally with New York Jets- Hey this guy has his own website...he must be good. Okay lets see what we're working with here....2 sacks on the season, 62 tackles nothing great but he is 28 so by Patriot linebacker standards he's the hip cool guy in the lockeroom. Then again if the Jets defense were a stream, you would think Mangini had prostate cancer so maybe he just needs the right system. Only signing I like thus far.
Fernando Bryant, CB, Originally with Detroit Lions- Okay he had a pretty good season last year, but do you really want someone that the DETROIT LIONS rejected, but then again I'd take him over Webster. I think this guy just might be ok
Trizz Says: None of the signings are anything to get excited about but I trust the Pats

Homer Says: It's not the Pats fault they lost its Professor Pigskins
Draftees
Round 1: Jerod Mayo, LB, Tennessee- They passed on "sure-things" Leodis McKelvin and Cedric Ellis to get this guy and Belichick looked like a kid on Christmas when they got him, there has to be something about this guy. One thing I know he provides is speed that the LB position something that has been missing since 2003. Mayo has sleeper written all over him but I'm not sure how well he fits in the 3-4.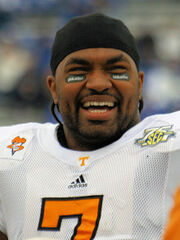 Round 2: Terrence Wheatley, CB, Colorado- Alot of people scratched their heads at this pick but the guy can play and he's smart and with the Patriots thats all you need to be. He loves to make plays on his own and trusts his instinct, that may or may not be a problem because if he's right then its a easy pick but if he's outsmarted then of course thats an easy reception. And of course its a different league, you can try to pick Peyton's brain all you want and you will likely be wrong and pay the price but I like this pick.
Round 3: Shawn Crable, DE/OLB, Michigan- Crable is a system player and can start immediately. Like most college players he doesn't come in knowing the 3-4 but there is no doubt that he can learn. He has a "tremendous upside" (yes i finally got to use it)
Round 3: Kevin O'Connell, QB, San Diego State- No no no and million times no, this is not Tom Brady's sucessor. Why did they draft him, because he was the best player available and you could never count out a good backup. With Matt Cassel likely not to be returning, and Matt Guitierrez not being able to even win the spot from Cassell, I think O'Connell will be the number 2 guy play a couple preseason games, Brady might actually rest with a big lead this year. I'm not concerned, but from what I hear he's pretty good and other teams are slacking in their macking...maybe I'll go to a workout see for myself.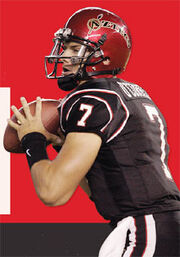 Round 4: Jonathan Wilhite, CB, Auburn- Wilhite is another sleeper and while he may not start right away, I think he makes the squad via special teams and works his way up the ladder. He's only 5'9 so he's more of a zone coverage back and the Patriots love the zone. So that makes 6 CBs and none of them so far have clinched a spot training camp might get interesting.
Round 5: Matt Slater, WR/KR, UCLA- I think he could take the KR job, but thats about it. The receiving core is already stacked. An interesting twist is that he also played safety in college and you know that versatility gets you brownie points on the Patriots.
Round 6: Bo Ruud, LB, Nebraska- He's a solid inside guy and of course YOUNG. I have a lot of confidence in the Pats coaches that Ruud will be a solid pick not now but later, even if he is dropped after preseason (spoiler alert)
Trizz Says: People are critical of the Pats not picking a new lineman but really the Patriots had the best line in football all year long and the Giants had the bet D-Line for the past couple years, needless to say something had to give. Take us away Homer
Homer Says: And remember, when you participate in sporting events, it's not whether you win or lose; it's how drunk you get.
Ad blocker interference detected!
Wikia is a free-to-use site that makes money from advertising. We have a modified experience for viewers using ad blockers

Wikia is not accessible if you've made further modifications. Remove the custom ad blocker rule(s) and the page will load as expected.