Following the tweets of Tom Pellisero of the Green Bay Press Gazette (@tompelissero) and Greg Bedard of the Milwaukee Journal Sentinal (@Greg_A_Bedard) was interesting last night as they commented from Packer Training Camp (both are Top 15 NFLers on Twitter).  Fight after fight took place between the offense and the defense.  In addition to the actions after the plays, there was some hard contact throughout practice.
The defense was definitely showing extra oomph in their giddy-up.
All I can say is IT'S ABOUT TIME!
It got so aggressive that, after a particularly bad fight between Brady Poppinga of the defense and rookies TJ Lang and Jamon Meredith of the offense, McCarthy had them all take a cool down break at separate water tables.  Poppinga had decleated Kregg Lumpkin after he caught a swing pass.  The offensive lineman took exception to the action in a "no tackling" drill.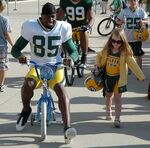 To quote Head Coach Mike McCarthy to reporters after the practice, "I probably shouldn't even say this, but we were 6-10 last year and we didn't have a damn fight all training camp.  So I guess we're off to a hell of a start."  He went on to add, "I actually didn't see Brady's hit but it's unnecessary.  We talk about it all the time. It's part of our practice ethic. When you have a teammate in a compromised position, we don't want to hurt anybody. I was told what happened and had a chance to talk to Brady about it. But we're not looking for that. I'm not looking for a player to be hurt when it's unnecessary. That's not what we're teaching."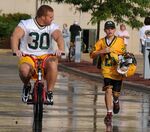 It's good to see some passion.  Many of you know that my biggest issue with the 2008 Packer squad was a lack of passion.  They lacked spirit.  McCarthy did not like to practice in pads during the season and it showed on game day.  The Packers were out muscled by several teams.  That is not NFC North football.
However, Greg Bedard, experienced beat writer for the Packers and formerly the Dolphins called the second hour of practice, "…the most physical and spirited I have seen covering the NFL."
I wonder if the addition of coach Kevin Greene may have something to do with the attitude adjustment?  I'm just glad it's come.
Camp Notes
Sources: Greg Bedard and Tom Pellisero on Twitter, JSOnline.com, Packernews.com, Packers.com
Ad blocker interference detected!
Wikia is a free-to-use site that makes money from advertising. We have a modified experience for viewers using ad blockers

Wikia is not accessible if you've made further modifications. Remove the custom ad blocker rule(s) and the page will load as expected.