According to Green Bay Packers Head Coach Mike McCarthy, the Packers will definitely be switching to the 4-3 defense to a 3-4 defense.  In fact, this defensive change is one of the things he was looking for a his new Defensive Coordinator.
Earlier today, the Packers announced that they had hired Dom Capers as the DC.
McCarthy is a fan of the 3-4 system because of the flexibility it offers in stopping the run and the myriad of ways in which the defense can get after the quarterback.  As an offensive minded coach, he says that there are definitely targeting problems with trying to prepare for a 3-4 defense.  McCarthy said, "I know from an offensive standpoint, when you look at it, when you play the 3-4, it creates targeting problems just from your initial game-plan meeting, and it really cuts the menu of the offense probably in half of what you would normally do on a four-man front."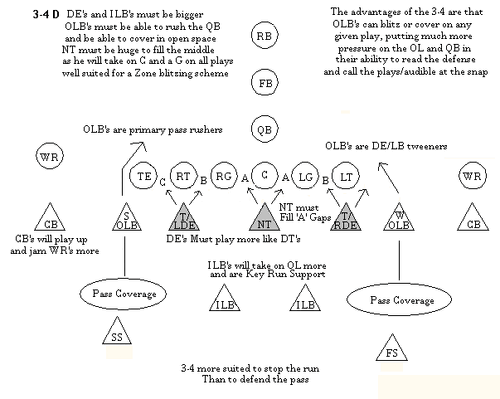 I have gone on record questioning the Packers personnel and how they will be utilized in the 3-4 defense.  McCarthy is of the belief that most of the personnel needed are already there.  He cited Ryan Pickett as the nose tackle.  McCarthy also said that there would be roles for Cullen Jenkins, Aaron Kampman, AJ Hawk, Nick Barnett, and Brady Poppinga.
It remains to be seen how well these players will adjust to the new scheme.  I look forward to some exciting defensive play.
Ad blocker interference detected!
Wikia is a free-to-use site that makes money from advertising. We have a modified experience for viewers using ad blockers

Wikia is not accessible if you've made further modifications. Remove the custom ad blocker rule(s) and the page will load as expected.