In a follow up article to this, the Packers have waived veteran wide receiver Koren Robinson.
This move was pretty obvious when the Packers drafted Jordy Nelson from Kansas St. in the second round of the 2008 NFL draft. To add insult to injury, the Packers then proceeded to draft another wide receiver, Brett Swain, and added three more as undrafted free agents. All those moves meant that, prior to Robinson's release, the Packers had 13 WR's on the roster.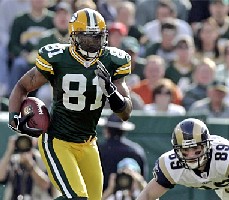 Retired Packers QB Brett Favre was a staunch supporter of Robinson and his comeback after suspension for a 2006 DUI incident while playing for the Minnesota Vikings. Unfortunately, Robinson had trouble coming back from a knee injury. The speedster had lost a step and as the season went on he appeared to have more problems with it in the colder temperatures.
During nine games last season, Robinson had 21 catches for 241 yards and 1 TD. He was second on the team in kickoffs though with 25 returns for 596 yards.
The move leaves the Packers with 12 wide receivers on the roster. The reliable veteran, Donald Driver is 33 years old. However, with ages ranging from 22 to 26 years old, the rest of the receivers are quite youthful. Starting with third year veterans Greg Jennings, Ruvell Martin, and Shaun Bodiford. Follow that up with second year players James Jones and Chris Francies. The roster is rounded out by Johnny Quinn and rookies Jordy Nelson, Brett Swain, Jake Allen, Taj Smith, and Rod Harper.
The top three are probably set with Driver, Jennings and Jones. After that it's probably going to come down to the players that can develop the best chemistry with Aaron Rodgers and show the most potential on special teams. At 6'3" and 217 lbs, Jordy Nelson will probably battle with the 6'4" 215 lb. Ruvell Martin for the 4th WR spot.
Ad blocker interference detected!
Wikia is a free-to-use site that makes money from advertising. We have a modified experience for viewers using ad blockers

Wikia is not accessible if you've made further modifications. Remove the custom ad blocker rule(s) and the page will load as expected.