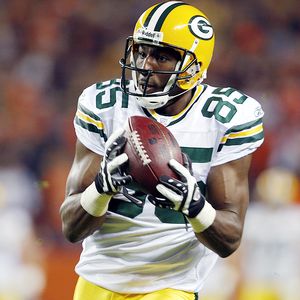 The Green Bay Packers and playmaking receiver Greg Jennings have agreed in principle on a 4 year contract keeping Jennings a Packer through 2012.  Reportedly, the deal includes over $26.35 million in new money for an average of about $9 million per year. As part of the new deal, Jennings will be given an $11.25 million signing bonus and his $5 million salary for 2009 is guaranteed. It all adds up to an incredible increase from the $535,000 he was set to make in 2009, the final year of his rookie deal.
The resolution of Jennings contract situation saves the Packers from a potentially huge distraction heading into training camp.  Jennings is a team leader with a good work ethic and a major asset to the Packers offense.
As Jennings said to the Milwaukee Journal Sentinel, "I don't want to be a distraction to the team. When you're looked upon as a leader on the team - not that I'm a main leader, but I'm looked upon as one of the leaders - your leader can't be a main distraction."
In addition to being the second highest paid receiver in the NFL, Jennings is currently the second highest paid Packer behind quarterback Aaron Rodgers ($10.83 million per season).
Jennings led the Packers in 2008 with 80 receptions for 1292 yards and 9 touchdowns.  He led the NFL with eight receptions of >40yards.  That statistic along with the fact that he was tied for second with 12 catches of >20yards is a good indication of what he means to the Packers.  He is their only offensive player who is a threat to break away for the endzone any time he touches the ball.
The author has mixed feelings on this one.  In addition to being the Packers' only playmaker, Jennings is the little guy who has worked hard and done the right things to be successful.  He deserves to be rewarded.  At the same time, it is a lot of money to pay for a player who has never made a pro-bowl.


Sources:
  J-S Online, Pro-football-reference
Ad blocker interference detected!
Wikia is a free-to-use site that makes money from advertising. We have a modified experience for viewers using ad blockers

Wikia is not accessible if you've made further modifications. Remove the custom ad blocker rule(s) and the page will load as expected.