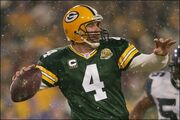 On July 11, the Green Bay Packers professional Football franchise released a statement with regards to the ongoing Brett Favre developments. They say:
"The Green Bay Packers are aware of the latest developments regarding Brett Favre.
Brett earned and exercised the right to retire on his terms. We wanted him to return and welcomed him back on more than one occasion.
Brett's press conference and subsequent conversations in the following weeks illustrated his commitment to retirement.
The finality of his decision to retire was accepted by the organization. At that point, the Green Bay Packers made the commitment to move forward with our football team.
As a retired player, Brett has the option to apply for reinstatement with Commissioner Goodell. If that were to occur, he would become an active member of the Green Bay Packers. As always, the Packers will do what's right and in the best interest of the team.
As with all Packers greats, Brett's legacy will always be celebrated by our fans and the organization, regardless of any change in his personal intentions.
Brett and Deanna will always be a part of the Packers family."
Some would interpret it otherwise, but the part where they say they will do what is in the best interest of the team sounds like they are undecided. The word on the street is that the Packers' phone isn't exactly ringing off the wall with suitors for Favre's services.
I sit with my popcorn awaiting their reply to his latest interview and the ensuing carnage.
Ad blocker interference detected!
Wikia is a free-to-use site that makes money from advertising. We have a modified experience for viewers using ad blockers

Wikia is not accessible if you've made further modifications. Remove the custom ad blocker rule(s) and the page will load as expected.