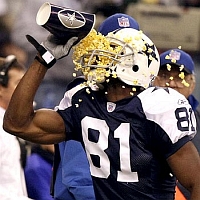 You just knew it was coming, the Terrell Owens circus is coming to town. In a shocking move, the Cowboys cut T.O. leaving analysts all over the country wondering where Mr. 81 will end up...but how about calling it a career.
It was a good run but the Cowboys was the only team that was foolish enough to put up with him and barring a change of heart he's not going anywhere....well maybe the Lions or the Raiders but do you seriously want to end your career that way?? T.O. will be 36 next season, while I'm sure he still has some left in the tank but I don't see anything close to his prime or even his Dallas years. He drops the ball so much you would think he's dribbling, he's not the greatest route runner, and of course theres the locker room issues. He has no major milestones to achieve this season and likely won't win a ring because any contender will likely have Drew Rosenhaus's number blocked by time I even finish this post.
But for shits and giggles lets look at teams that might take the red pill...
Bears- Don't see them contending anyway and have nothing to lose with say a 1 year/ 5 mill T.O. rental...Orton is like Romo in the sense that he isnt the in your face back type of guy that T.O. can scream at and he just brush it off and play ball. They have a diamond in the rough in Matt Forte and will likely overuse him this season, meaning no big passing game leaving T.O. as a blocker more or less...
Eagles- I know I know the irony goes for miles and honestly I think if the Eagles were to throw money at a big name it would be Marvin Harrison, just make sure he shuts down his shoot em up car wash first...
Chargers- So crazy, it just might work. I'm actually surprised that I havent heard this one yet. Rivers is improving and could use a downfield threat to play with. LT is well, yeah and it seems around the nation everyone is wondering why the Chargers have all the pieces yet not even a Super Bowl appearance. I think the pressure to win now just might push them to make this move
Dallas- Maybe they change their mind and work things out. T.O. is the circus and Jerry Jones is a ringleader, thats why it worked.
San Francisco-Oh wait, they need a QB first...
But my suggestion is to call it a career. He's Canton bound anyway and any team less than a sure fire contender would simply be a waste of time because if people havent noticed winning shuts him up, not money. The curtain is closing on Terrell Owens, it sucks that he couldnt end on his own terms or at least have a Brett Favre will he wont he year but things happen.
As for Dallas I think if Roy Williams can step up then it can be business as usual. Honestly they should just get with of Wade Phillips but thats another post for another day....
Ad blocker interference detected!
Wikia is a free-to-use site that makes money from advertising. We have a modified experience for viewers using ad blockers

Wikia is not accessible if you've made further modifications. Remove the custom ad blocker rule(s) and the page will load as expected.