I was reading an article in SLAM magazine about this, and it got me thinking about how underrated and unknown this man is.
http://i.a.cnn.net/si/2007/writers/steve_aschburner/09/28/twolves.sanskg/p1_jefferson-ap.jpg
This past summer, the Boston Celtics and Minnesota Timberwolves pulled off one of the biggest trades in their respective teams' recent histories. Many people believed that Danny Ainge pulled a fast one on his old teammate, Kevin McHale, by acquiring Kevin Garnett, a shoe-in for the Hall of Fame (in his prime), in exchange for Ryan Gomes, Gerald Green, Theo Ratliff, Sebastian Telfair, a 2009 first round draft pick (top three protected), a return of Minnesota's conditional first round draft pick previously obtained in the Ricky Davis/Wally Szczerbiak trade cash considerations, and last, but definitely not least, a man named Al Jefferson. What many fail to recognize is that, despite being 7-34, the T-Wolves actually did well in their rebuilding process. Not only that, but they got rid of one of the biggest contracts in sports today (a 2008 salary of $23,751,934) for a player who, with more experience, has the potential to be just as talented.
During his first two seasons on the Celtics, the 15th round draft pick in 2004 didn't too well, as his chance to demonstrate his skills were impeded by a few injuries, which led to Jefferson playing only 8.56 minutes/game as a substitute for Kendrick Perkins. When the Celts found out that Perkins was only able to score about 4.63 points per game, and collect only 4.53 rebounds/game, they knew it was time to give Big Al a shot. Last year, he wasn't half bad, as he scored 16 points along with his 11 rebounds per game. Yes, he averaged double digit numbers for that season, as well as 1.5 blocks/game! Pretty good huh? Well, it seemed like Danny Ainge overlooked this when he traded his big bundle for just one player who you have to pay almost a quarter million bucks for, as well as being 31 years old already; you can't expect Garnett to be decent for long. On the other hand, Jefferson just turned 23 years old in the beginning of this month.
I have never seen Jefferson been talked about, not even on the all-star balloting for this and last year (I have no clue why). Sure, he's on the Timberwolves, but did you know that he was the main reason why the Timberwolves won their 7th game in probably the biggest upset of the season so far, against the Phoenix Suns? That's right, the Timberwolves beat the Suns 117-107, thanks to Jefferson's career high 39 points and 15 rebounds. I'm sure Manny wasn't happy about that when he found out they lost, and I'm sure he won't forget Al Jefferson for a while now.
Actually, come to think of it, looking at his stats, Al Jeff is definitely improving year after year, and his numbers have (just about) up to KG's numbers already. 20.8 points (compared to 19.5), 12.1 rebounds (compared to 9.8), and 1.32 blocks (compared to 1.43). And do you know what really hurts the most for the Celtics? Two things: The $23,751,934 compared to Jefferson's $2,480,885. KG's contract costs about five times more than Jefferson's, PLUS the Timberwolves got a lot more than just Jefferson. Secondly, The big surprise is that Jefferson went against the advice of his agent before the season started and decided to sign a 5 year $65 million deal, far less than what his potential demanded. $13 million dollars per year to a team that has absolutely nothing... yet. This is what he said,
"You look at guys who got the max, like Chris Bosh and Dwight Howard, they've been consistent for their first three years. I just had a great outcome in my third season, so I didn't want to just come out talking about max money."
That was definitely very unselfish for him to say, and I definitely respect him for that.
Although the Celtics are the best team in the league right now (33-7), and the Timberwolves are the worst team in the league (7-34), I must say that the Timberwolves, all in all, were much better off with this trade. What are the Celtics going to do after KG's, Pierce's, and Allen's days are done? Who are they going to rely on? If you turn to the Timberwolves, you know who they're going to rely on (all signs point to Jefferson right now... five years, double figure numbers, good defense... what more could you want from a leader). All he needs is more experience, and he's definitely going to be a guy who everyone is going to talk about. As Al Jefferson tries to wreak havoc on the block and management tries once again to complement their burgeoning centerpiece, he'll show Boston, Minnesota, the rest of the NBA, and their fans that he will not let the Timberwolves down, and that he was a great investment.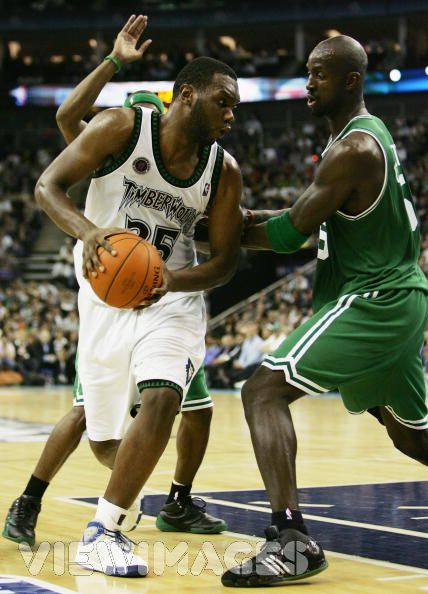 Speaking of "showing Boston", I wonder how well the T-Wolves will do against Boston. Here are some of the thoughts towards the game:
"I want y'all to understand something. A lot of the guys I played with in Minnesota are not even on this team. It's like a brand-new team. The personnel, the trainers and people behind the scenes are probably a little more important than some of the people who are on the court."
"It's time now. It's time to start turning this thing around and start building for next year. I look at Boston like I look at Phoenix: just another game."
"I thank the (Minnesota) fans for being behind me. Minnesota knows they have a special place in my heart when it comes to the people there. That's my connection there and it will always be a connection. But right now I'm in Boston and I'm enjoying it."
It seems like the key players involved in the Minnesota/Boston trade have similar thoughts about their former teams: they are both downplaying the significance of their former teams. As for the Timberwolves as a whole, they won their second straight game for the first time this season when they beat the Suns. The Celts have lost 4 out of their last 8 games (and they've only lost 7 in the season so far. Can we see another upset led by Al Jefferson. We'll see...
Ad blocker interference detected!
Wikia is a free-to-use site that makes money from advertising. We have a modified experience for viewers using ad blockers

Wikia is not accessible if you've made further modifications. Remove the custom ad blocker rule(s) and the page will load as expected.