The Florida Marlins have decided to finally give Hanley Ramirez a $70 million, 6 year extension. While that would be a bargain to the "Evil Empires", this is huge for all 8 Marlins fans who might actually see the same team after they win a championship this time. The Marlins are the definition of frugal with a 21 million dollar payroll and before the extension the Marlins star was making only $439,000. Ramirez would have been eligible for arbitration after this season and would likely have earned a significant pay raise. He was National League Rookie of the Year in 2006 and hit .332 last season with 52 stolen bases and 212 hits last season -- second only to NL MVP snubbed runner up Matt Holliday. This season he's hitting .336 with eight home runs and 21 RBIs in 35 games so far.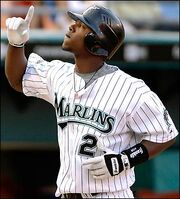 The team is off to its best start in franchise history (21-14) despite its meager payroll. The Marlins look to break their piggy banks and clip their coupons as they prepare for a new stadium and Ramirez, if healthy will keep butts in the seats. Several other Marlins will become eligible for arbitration and substantial raises after this season, including second baseman Dan Uggla left fielder Josh Willingham, first baseman Mike Jacobs and left-hander Scott Olsen also look to try and make 7 figures in the offseason.
The deal would be the team's first multiyear deal since 2005, when they signed Carlos Delgado to a four-year free-agent contract and Paul Lo Duca to a three-year extension. Both were later traded to the Mutts. The team's previous richest contract was the six-year, $61 million deal signed by Gary Sheffield in April 1997, he was traded as well.
Ramirez as many know was sent to the Marlins from the Sox in the Josh Beckett-Mike Lowell deal and though the pair would become ALCS and World Series MVPs respectively, you can't help but wonder what would happen with a Ramirez-Ramirez-Ortiz lineup. But while the deal seems fine and dandy history tells us that in 2011 he will be on the trading block, cross your fingers he's not gone yet if they win another World Series its fire-sale time!!!!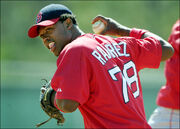 Ad blocker interference detected!
Wikia is a free-to-use site that makes money from advertising. We have a modified experience for viewers using ad blockers

Wikia is not accessible if you've made further modifications. Remove the custom ad blocker rule(s) and the page will load as expected.