The 2008 Arizona Fall League opens up its 17th season Tuesday October 7th. For the second season in a row, Manny Stiles will be reporting the action from the press box.
Arizona Fall League is the Winter League where Major League Baseball's elite prospects go to face each other in a sort of All-Star league of fellow prospects for 6 1/2 weeks of fair weathered seasoning. It is known as baseball's premier "finishing school".
AFL was the brainchild of 3-time MLB Executive of the Year, Roland Hemond to be created as a place where organizations could get their top prospects experience against fellow top talent and also as a place where teams could showcase and develop their talent and where scouts could compare a talent pool in a close location instead of all over the country.
The result has been a platform for top talent to make "the leap". If you think that winter leagues don't matter much consider these tidbits:
Over 1,600 AFL alum have played in the Majors.
413 AFL alum were on 2008 MLB Opening Day rosters.
136 AFL alum have been MLB All-Stars. Six All-Star MVPs were AFL alum.
Five MVPs and 3 Cy Young winners played in the AFL.
18 Rookies of the Year starred in AFL (and likely 2008 winners Evan Longoria and Geovany Soto did as well)
38 Silver Sluggers, 34 Gold Gloves, 8 Batting champs and 11 season hits leaders have all played in the AFL.
It's not just players that go on to greater success: 23 MLB Managers, 31 Umpires and 71 MLB administrators all spent time in the Arizona Fall League
Of the 8 playoff teams in 2008, 112 players were AFL alum - that's 56% of 2008 Playoff team's rosters!!!
It's not just a Winter League, it's THE winter league.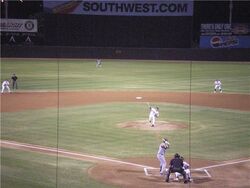 Each of AFL's six teams is comprised of five MLB organizations which send eight of their chosen prospects to compete with the other top flight talent. Teams can only send one player that is below AA Minors.
The teams each play games 6 days a week (Sundays are off days) and are played in five stadiums in Maricopa County, Arizona; all of which serve as Spring Training sites for MLB teams in February and March.
The Stadiums
Ho Ho Kam Stadium, Mesa (Chicago Cubs Spring Training Site)
Scottsdale Stadium, Scottsdale (San Francisco Giants)
Phoenix Municipal Stadium, Phoenix (Oakland A's)
Peoria Stadium, Peoria (San Diego Padres, Seattle Mariners)
Surprise Stadium, Surprise (Kansas City Royals, Texas Rangers)
This year's MLB teams will be broken down into the following teams:
Atlanta Braves, Chicago Cubs, Detroit Tigers, Florida Marlins, Philadelphia Phillies
Cincinnati Reds, Milwaukee Brewers, New York Yankees, Seattle Mariners, Tampa Bay Rays
Chicago White Sox, New York Mets, St. Louis Cardinals, San Diego Padres, Washington Nationals
Arizona Diamondbacks, Colorado Rockies, Minnesota Twins, Oakland A's, Toronto Blue Jays
Boston Red Sox, Houston Astros, Los Angeles Angels, Pittsburgh Pirates, San Francisco Giants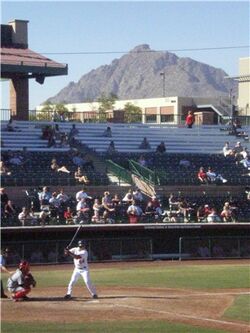 Who is attending?
There's some top flight players on the rosters this season.
Twenty Seven former 1st round draft picks are playing this Fall including 2008 draftees LHP Brian Matusz (Orioles, 4th overall), SS Gordon Beckham (White Sox, 8th), IF Justin Smoak (Rangers, 11th) and IF Brett Wallace (Cardinals, 13th.
Other top rated prospects will include Minor League Player of the Year C Matt Wieters (Orioles), 3B Mat Gamel (Brewers), OF Brian Bogusevic (Astros), OF Tyler Colvin (Cubs), OF Sean Doolittle (A's), P Ross Detwiler (Nationals), P Kevin Pucetas (Giants), C Lou Marson (Phillies), Eastern League Player of the Year IF Wes Hodges (Indians) and Florida State League MVP Logan Morrison (Marlins).
There is some other names you might recognize as well - Boston P Clay Buchholz, Yankees P Philip Hughes, Blue Jays OF Travis Snider, Diamondbacks P Max Scherzer, Tigers 1B Jeff Larish, Giants SS Emmanuel Burriss and Mets IF Dan Murphy as well as sons of former MLBers Ivan DeJesus Jr. (Dodgers), Eric Young Jr. (Rockies) and Jared Lansford - son of Carney Lansford (A's).
But the biggest name in Arizona Fall League in 2008 will be one of the Mesa Solar Sox's coaches - Hall of Famer Ryne Sandberg. Phillies Shortstop Jimmy Rollins is also getting inducted into the Arizona Fall League Hall of Fame this year. The Rising Stars game is scheduled for October 24th at Surprise Stadium and the AFL Championship will take place November 22nd at Scottsdale Stadium. We'll see if the Phoenix Desert Dogs can extend their streak of four consecutive championships.
Expect regular updates on the games and the stories of the players as well as interviews, news and photos from Arizona Fall League action to follow.
Let the games begin!!!
Ad blocker interference detected!
Wikia is a free-to-use site that makes money from advertising. We have a modified experience for viewers using ad blockers

Wikia is not accessible if you've made further modifications. Remove the custom ad blocker rule(s) and the page will load as expected.