The Phoenix Suns showed that yes, they can play a little defense when they need to finishing Sunday's game with a 14-2 flurry over the last 3 minutes and 40 seconds of play to beat their archrivals Los Spurs. The best part was that the final 5 minutes of play came with Phoenix's two star big men, The Big Sahquaro and STAT each playing with 5 fouls.
Donning special game jerseys to celebrate Latino culture as part of the Arizona Lottery's "Fiesta Sunday", "Los Suns" handed "Los Spurs" a defeat 94-87 to send a message to the reigning champs whom many feel is still the team to beat in the tight Western Conference race. I'm still not sure why "Los Sols" and "Los Espuelas" weren't playing...
Coach Mike D'Antoni returned to his favorite rotation - what is basically a 7 man rotation - which harassed the San Antonio Spurs into a horrendous 34.9% shooting day (30-86) and outrebounded the Spurs by 8 boards. The Suns also scored more points off of turnovers than their counterparts, demonstrating that the key to their success lies in that turnover differential and capitalizing, scoring points off of turnovers.
For most of the first half it seemed that the game was transported back to the '07 playoffs with several players on both ends getting bloodied and referees making VERY suspicious calls for the Spurs and way too many non-calls that should have gone the Suns way. The crowd was chippy and the Suns were too, drawing a 4th quarter technical foul on coach D'Antoni which proved to be the emotional turning point of the game. Manu Ginobili missed the FT on D'Antoni's T and the Suns proceeded from there to make the referees and game outcome moot with the final 14-2 closeout stretch.
Amare Stoudemire added 16 points, 11 boards and 3 big blocks in the win as his streak of consecutive game swith 20 or more points ended at 15 games. Oddly, enough his last game with under 20 points came against these same Spurs on January 31, an 84-81 loss for Phoenix.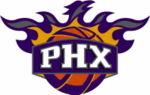 Two time MVP held up his end of the bargain as well. Over the last 3 games Steve Nash's defensive intensity has ratched up (and also has had a spike in personal fouls - which is a good sign for him, demonstrating more intense effort) and his turnovers are decreasing. After the months of January and February - Nash's assist averages were under 10.5 apg and turnovers were well over four per game - the point guard has controlled the ball better and seen his assist averages go up - 11.4 apg and 3.8.
Grant Hill played an efficient game, scoring 18 points on 9-13 shooting while Raja Bell had a tough day from 3PT (1-5). Leandro Barbosa had a rough day shooting from everywhere (3-13, 0-3 from 3PT) and Boris Diaw handed over 4 turnovers.
Shaq-haters were squelched once again as O'Neal continued to play ferocious defense, create energy for his team with hustle and wreak havoc on the offensive side by setting Grand Canyon-sized screens. Shaq mustered a 14 point and 16 rebounds night on the boxscores, but his contributions were more impactful than the stat lines can measure.
Impressing a Sunday afternoon crowd that attracted such prominent Arizona residents such as Muhammad Ali and Arizona Senator/Presidential candidate John McCain, O'Neal showed the spirited hustle and determination that has been his calling card since arriving in the Valley of the Sun. On one play in the second quarter Shaq aroused the crowd by diving into the stands to save a loose ball for the Suns and started a fastbreak and while Raja Bell missed the three pointer on the other end, the crowd still erupted showing their newest big man some love for his tremendous effort. One fan caught one of Shaq's elbows to the lip and after he was attended to, the fan also received a standing ovation for "taking one for the team". Shaq's quote afterwards was priceless. "I hit one guy. Sorry. I just wanted to make sure I didn't hit any kids."
Shaq also showed some gamesanship with Tim Duncan that ignited his team and the home crowd. After a play where Duncan fouled O'Neal causing him to fall to the ground, #21 - ever the gentleman - offered a hand to assist the Diesel up from the floor. Shaq did not flinch and waited patiently for two teammates in home Orange to come and pick him up. One thing Shaq has added that few people have noticed is that comraderie and teammate companionship that the team didn't really have before. Now Suns are rushing to aid teammates up off the floor as a show of solidarity. Shaq has said on several occasions that he wants to draw this team tighter and closer in every way and that since his arrival the Suns are leading the league in hugs.
Little things go a long way.
Over the 10 games since Shaq's arrival in the Copper State, the Suns are a mere 4-6. However the stats belie Shaq's end of the bargain. He has done everything asked of him since the trade and for some reason the know-it-alls and pundits who seem to open their mouths more then their eyes haven't gathered what O'Neal has added to this team.
Let's break down some things:
Shaq's first five games with the Suns: 2 wins, 3 losses
28.6 mpg - .526 Pct - .412 FT - 1.4 blk - 10.4 Rpg - 1.6 Apg - 10.8 Ppg
Shaq's last five games with the Suns: 2 wins, 3 losses
30.4 mpg - .615 Pct - .500 FT - 1.6 blk - 12.2 Rpg - 1.4 Apg - 12.0 Ppg
Not only have Shaq's numbers increased - which would seem to make sense considering these are his first ten games he's played since suffering a hip contusion in mid-January - but the team has become more confortable around him. More than just having jovial fun with the Biggest Kid on Earth - who has been noted for bringing musical equipment on road trips and holding in-air concerts -the Suns are showing their comfort with him on the floor as well. With the ball and away from the ball, Los Suns are beginning to understand how to use the Biggest Big Man's size to their advantage with ball movement and screens and picks. Sunday the Suns used Shaq's size more than ever away from the ball. He is wider to go around than he is tall to get over and the Suns' players off-the-ball movement took advantage of that.
The Suns have defied convention time and again. Yesterday they won with stingy, shut-down defense and shot a mere 3-14 form 3 point land, outrebounded their opponent by a healthy margin and ran off 23 fast break points - WITH Shaq logging 35 minutes of play.
The Suns are more versatile than ever and even with just 7 guys (save for Giricek's 5 minutes) the Phoenix Suns have demonstrated they can play any style with any team and still play THEIR game - something the Spurs were able to thrive on in building 4 championship teams.
Make no mistake that the Shaq trade was made specifically with the San Antonio Spurs in mind. The Spurs have stood in the way of the Suns reaching the higher ground 3 of the last 4 Suns playoff runs. Phoenix is starting to gel as a team and by manhandling the Spurs - a team that is a favorite pick in the West - the Phoenix Suns have served notice to all.

This is NOT the team you want to face in the Playoffs.
Ad blocker interference detected!
Wikia is a free-to-use site that makes money from advertising. We have a modified experience for viewers using ad blockers

Wikia is not accessible if you've made further modifications. Remove the custom ad blocker rule(s) and the page will load as expected.