My name's Manny Stiles and I'm a WNBAholic.
Yes, I am a guy. I willingly admit that women playing basketball does not make me feel threatened. It's not hard for me to enjoy the WNBA because I love both basketball AND women. Putting the two together is all the more fun!
Hurray, the USA Women's basketball team won gold (how shocking!), Lauren Jackson is still hot just because she's that good at what she does (and I think she's hot) and Becky Hammon can get back to being the nice girl from South Dakota that's always underappreciated and overlooked without the media trying to make it into a story, blah, blah, blah.... The formality of handing out medals and the jetlag has worn off and now we have an all-out mad scramble for a playoff race in the Sister Association.
With most teams having seven to nine games left on their schedule, only the putrid Atlanta What's-Their-Names are out of the playoff hunt. Five teams are within a half game of a top division seed. Clearly, home court is a severe advantage in the WNBA as no team has even a .500 record on the road and only two teams have losing records at home (Washington Mystics at 6-7 and Atlanta What's-Their-Names at 1-13).
Even the Western Conference cellar-dwellers/defending champions Phoenix Mercury are but 3 games out of a playoff seeding. No one can count out a Diana Taurasi led team. The Mercury climbed out of last place last season to take the title. This year it will be much tougher. Center Tangela Smith is out for at least two more weeks due to right knee surgery and the Mercury clearly miss the presence of Aussie Forward Penny Taylor-Gil who stayed Down Under to train for the Olympics. She announced just before the games that she wouldn't return to the team once the Games in Deathcloudtown were over. (OK, one more Beijing Cheap Shot - I can't be the only person who thought the "Bird's Nest" looked an awful lot like a bedpan made from an erector set. I digress...)
I don't have much love for the Eastern Conference this year. Detroit is exposed without Cheryl Ford as evidenced by their 4 consecutive losses heading into the Olympic break and to be honest, New York and Connecticut (although I fear Lindsay Whalen for non-basketball related reasons) are just fattening up on having the Atlanta What's-Their-Names on their schedule so often (Oh, yes I did crack on Atlanta three times). Since I'm one of three men willingly writing about the WNBA on the internet (although the other two are probably ghostwritten by women... or transsexuals at worst), I consider myself an "expert" and all of the experts I know (myself) agree that the trophy was staying in the West.
The real battle will be out West as San Antonio, Seattle and Los Angeles vie for the top spot. It's been clear all season that the Western Conference has been dominant. Seattle came into the season with very high hopes, a revamped and improved roster and what I thought was going to be an undefeated season. Instead, über-Forward/20 and 10 machine Lauren Jackson will be out with ankle surgery until the second round of the playoffs (if the Storm even make it that far without her) and Swin Cash will be lost for the season once she admits back surgery will most likely fix her ailing back. The Storm will be relying on Yolanda Griffith and Sheryl Swoopes, who are both pretending to be shadows of the players they once were. At least Sue Bird is still so darned cute.
In San Antonio, the Silver Stars are going to have to restrain their awe of Becky Hammon shiny Bronze medal and rely on the balance of their bench depth and the trio of Hammon, Forward Sophia Young and the Belgian Center Ann Wauters. I don't know how they've been doing it other than relying on Young's athleticism and veteran wily Ruth Riley as the defensive infusion off the bench. Hammon is a pretty decent player, but I didn't have any qualm with her not getting invited to Team USA, because she's simply not that good. The Silver Stars' 18-9 record seems mirage-ish to me.
Which leaves us with the Los Angeles Sparks. A year ago, the Sparks were a sad sack franchise devoid of their face and most prominent talent, Lisa Leslie due to her selfish, team-second decision to have a baby and finished with the league's worst record. It turned out to be a great year to suck since they got the first pick in the draft who is the WNBA's Bob Pettit in University of Tennessee's Candace Parker . (I say Bob Pettit, because the WNBA's Wilt Chamberlain isn't here yet... Remember people, it's only Year 12 of the WNBA and Lisa Leslie is the George Mikan, so there.)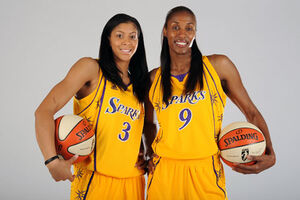 The tandem of Leslie and Parker are the league's1-2 leaders in rebounds per game and Sparks' opponents are about to have another reason to tremble. Los Angeles announced Tuesday they had signed 7'2" Polish Powerhouse/Center Margo Dydek. Yes, THAT 7'2" chick that is a Redwood amongst Rose Bushes and all-time WNBA career blocks leader. Dydek formerly played for Connecticut but took last season off as she was off bearing children as well (apparently it was "popular" to get knocked up in 2007) While Dydek is a stiff as far as 7'2" white chicks go, she is a dominant force in the middle, certainly capable as a player as she is a former Defensive Player of the Year, a two-time all star and will only enable Leslie and Parker as well as Delisha Milton-Jones to run rampant on their competition.
As the games resume, despite my Phoenix allegiance, I can only foresee the Los Angeles Sparks hoisting the trophy after the dust of the post-Olympic scrum settles. Maybe Candace Parker can get a dunk in a Finals game and we can "ooh" and "aah" as the scoreboard operator reminds us that a dunk is just two points in any league! As long as the games are good I'll be entertained and if Rick Mahorn isn't starting any fights, I'll be happy... eh, maybe if Rick Mahorn smashes Bill Laimbeer with a chair, it's ok.
Hurray for the return of the WNBA and as always, hurray for Women!!!
Ad blocker interference detected!
Wikia is a free-to-use site that makes money from advertising. We have a modified experience for viewers using ad blockers

Wikia is not accessible if you've made further modifications. Remove the custom ad blocker rule(s) and the page will load as expected.