As I've stated in the past, I'm not as knowledgeable about baseball as a whole compared to football. With that said, I think I'm competent enough about the AL East to at least write a preview relegated to it. I don't know Alex Gordon's batting average in the minor leagues, I do know who Alex Gordon is. Let's put it that way. Also, I did not create the following rankings to create controversy -- this is honestly, in my gut, how I think this whole race will shape up, and if we don't have our gut in regards to predictions, what do we have?
To be absolutely and completely honest, I considered putting the Yankees here. Yes, the Red Sox have a better roster on paper but as we all know, that doesn't mean shit. Would it surprise me if the Yankees took back control of the East? No. Do I have the balls to predict it since I live on the outskirts of Boston? Also a no.
On a baseball note, I am going along with the belief that Dice-K's second year in Boston and more importantly the AL will be much better than the first. People were surprised when he came to camp packing more pounds than last year -- but if that's what makes him comfortable, so be it. Dice-K is my sleeper/homer pick for the AL Cy Young. Commence with the witty jokes and jabs!
I've been brought up to despise the Yankees, and it's been successful. I do. But in a weird way that I hope makes sense, I appreciate them. Because when the Yankees come to town, my whole attitude changes, not to mention the atmosphere in Boston is completely different. I can't stand them, yet I don't think I would enjoy baseball as much without them.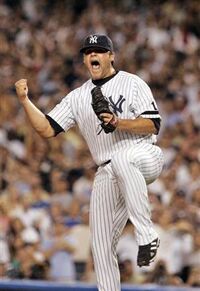 It's common knowledge that the Yankees' destiny hinges on their young pitchers. More importantly, the AL East hinges on their young pitchers. If they play up to their expectations it's going to be one hell of a ride. If they don't? Well, I'm still pretty sure it's going to be one hell of a ride -- but it's always more fun when the AL East title comes down to the last couple of series' of the season in the best rivalry in professional sports.
Here it is. Make fun of it if you want, but every single year in every sport, a team like the Rays comes out of the wood work to surprise everyone. Just as consistent is the fact that no one had the balls to predict it. A lot of those people are also wrong, mind you, but that's okay. I have no problem admitting I'm wrong -- especially if it's in regards to the Rays finishing fourth rather than my predicted third. So, I'm going to go on a limb -- based on their last season's improvement and the fact that I've been a fan of Scott Kazmir for many years and think he will be a big part in the Rays' resurgence (among many others, mind you). Actually, I should say first-surgance… what is it called if they've never 'surged' before?
Oh, and the video of Jonny Gomes coming to the aid of his teammate had a big part in this prediction. Any time something like that happens, I believe it has a lot to say about the team as a whole. I can't really explain it, it just gave me a really good feeling about them.
To use the on paper analogy again, the Jays look better on paper (maybe they'll follow suit with the Rays and drop the Blue from their name?) than I think they will really be. Yes, their starting pitching is impressive and the addition of Scott Rolen improved the team, I just don't see the same intensity as I've seen in the Rays thus far that will be key in whoever finishes third in this tough division.
Sure, the Blue Jays are the logical pick to finish third -- but honestly, since when have we ever had a logical baseball season?
The Orioles look to be in an infamous 'rebuilding year' which is management slang for 'We're horrible, but um… we're trying to get better… yeah, yeah! We're rebuilding!' There's nothing wrong with rebuilding of course, and I'm ready for anything in this upcoming 2008 baseball season -- but if the Orioles contend, I'll sure as hell be surprised. You never, ever know though -- and that's the allure of sports and it's why we watch. Enjoy the season.
Ad blocker interference detected!
Wikia is a free-to-use site that makes money from advertising. We have a modified experience for viewers using ad blockers

Wikia is not accessible if you've made further modifications. Remove the custom ad blocker rule(s) and the page will load as expected.