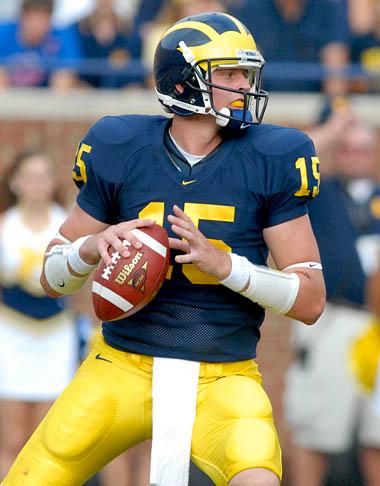 Former University of Michigan Quarterback Ryan Mallett is appealling the NCAA for immediate eligibility. Mallett, his family and apparently the University of Arkansas believe he should play instead of sitting out one year after transferring as per NCAA rules. Arkansas athletic director Jeff Long said in a release, "After visiting with Ryan and his parents, we feel that it is appropriate to file a waiver in this case based on extenuating circumstances, while the outcome of the waiver request is uncertain, we feel strongly that as an institution we should offer our full support to Ryan and his family in this process."
Mallett's claim is that he should not be punished because an incoming coach runs a system which does not fit his pocket-passing style. The 6'7" Mallett, who played in 11 games for the Wolverines this past season, has three years of eligibility remaining. Mallett appears well suited to a pro-style offense, but Rodriguez's offense works well with a more mobile quarterback. Bobby Petrino, new Arkansas head coach helped develop Jake Plummer at Arizona State and Brian Brohm at Louisville. Brian Brohm could be the first quarterback selected in this year's NFL Draft. Rich Rodriguez hasn't produced any NFL-worthy quarterbacks.
Personally I believe given Petrino's recent hisory Falcons debacle, Mallett will probably have a 3rd head coach before he completes his eligibility. I think the NCAA will deny his claim, which may cause Mallett and his family to try the Maurice Clarett route, hopefully minus the jail time.
Ad blocker interference detected!
Wikia is a free-to-use site that makes money from advertising. We have a modified experience for viewers using ad blockers

Wikia is not accessible if you've made further modifications. Remove the custom ad blocker rule(s) and the page will load as expected.