By Jason Bryant
[www.Wrestling411.tv]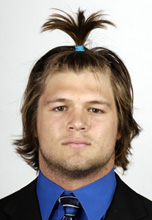 Would you listen to someone who loves to rock a mullet, paint their face and wear spandex when it comes to wrestling advice?
You would if the spandex-wearing, face-painting, mullet-sporting Jake Herbert was giving it.
Herbert, 23, returned to Division I wrestling this season after spending much of the 2007-08 year working towards making the Olympic Games in freestyle. But as Herbert fell short of his lofty goals in 2008, he returned to Northwestern's Evanston, Ill., campus with goals of returning to the top of the podium.
During Sunday's 18-16 loss to Minnesota, Herbert earned four points for the Wildcats in dispatching redshirt freshman Sonny Yohn at 184 pounds. Immediately afterwards, Herbert was on the AirDyne pushing the limits on how fast the rickety metal bike could handle.
As freshman John Schoen was trying to upend Gophers' 197-pounder Gordon Bierschenk, Herbert hopped off the bike, then banged out pushups. Moments later, he rejoined his teammates and barked out instructions. As the old man of the team, Herbert's almost become a member of the coaching staff.
"I've been here for six years and done pretty good," said Herbert. "In some ways I know I can go out there and coach and do pretty well. It's a good thing because I'm on the same level as the guys, so they know what I'm doing is the right things."
Northwestern assistant Will Durkee has a long-standing relationship with Herbert. The pair first met as preteens attending a wrestling camp at Clarion. Both are natives of the Pittsburgh area.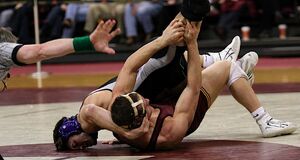 "We like to have him lead by example," said Durkee. "As long as he's working hard and doing what he's doing, the guys will follow him."
Durkee does feel Herbert might be putting his teammates before himself in some situations.
"He needs to worry about his matches and preparing himself," explained Durkee. "If he can do that, we can do our jobs and make sure everyone's doing what they are supposed to and make sure the team's moving in the right direction. We don't like to put pressure on him as trying to making him feel like he's an extra coach."
Match after match, Herbert's in the ear of his teammates.
"C'mon Metz, we need one," Herbert says to teammate Eric Metzler as he wrestles 133-pounder Jayson Ness. "C'mon Metz, one takedown."
As the dual started to swing Minnesota's way after wins by Ness and Mike Thorn, 149-pounder Andrew Nadhir needed a win over Joe Grygelko to keep the Wildcats in a position to win the dual coming into the last match.
He did just that.
"Nadhir had a great match," said Herbert. "He got taken down with 50 seconds left and he knew in his head he was going to win that match. He got up right away, got out right away, set up his shot and got the takedown. It's that little bit of adversity he pushed aside and said screw this, I'm still going to win and that's the attitude you need."
Immediately following Nadhir's win, there wasn't any huge celebration, it was Nadhir hopping on the same bike with his roommate Herbert barking out instructions and doing pushups along side.
"I have to set an example and let these are doing everything they should be doing after the match, so when I'm not here, somebody else is doing that," said Herbert.
Herbert doesn't come off brash or arrogant, but the Wexford, Pa., native has a Dr. Jekyll/Mr. Hyde quality about him.
Prior to matches, he's all business. Stalking behind the bench with a stone-faced look often staring at opponents across the mat. Herbert's victim on Sunday, Yohn, didn't get the full fury of Herbert's gaze as he warmed up in a back gym.
Off the mat, Herbert's laid back, ham-it-up demeanor has made him a favorite amongst fans and fellow wrestlers.
"I think Jake does a great job of being a very balanced person," said Durkee. "Getting through school at Northwestern, he's putting the time in the classroom and he's a very social person. He gets along with everyone. If you ask any of the coaches in the country, they're not going to have anything bad to say about Jake.
"He's very charismatic and does a great job at camps with little kids. And a great job helping out when he does clinics. One of the most amazing things for him is he can be a competitor on the mat, but off the mat, he's very level-headed. He's made Academic All-American, Academic All-Big Ten at Northwestern. That's not easy to do," said Durkee.
While Northwestern's in the nation's premier wrestling conference, the Big Ten, he doesn't second-guess his choice in heading to Evanston rather than another school with more wrestling tradition.
Why Northwestern?
"The whole environment of it," said Herbert. "We have great coaching, Chicago is a great place for wrestling. We've got amazing workout partners. Our strength program, our technique, the people we have coming in and out that are available to us is just phenomenal."
As Jason Welch, a true freshman from California, steps off the mat with a 10-3 victory at 157 pounds, Herbert's waiting for him after the post-match handshake. Welch needed a fall to give the Wildcats the victory, but Herbert would rather tell you he needed the pin.
"My goal this year was to pin everybody, but my last three matches have been majors and I haven't really been turning kids as much, I've kinda in a little bit of a slump at that point," said Herbert.
"65! Constant Pace," yells Herbert over to Welch, who has taken up a spot on the bike.
"I'm happy because I'm still putting 15-20 points up every match. I know if I score 20 points during a match, no one's going to be able to keep up with me and that's going to win me a Big Ten title and a National Title and that's what I want."
"CONSTANT PACE!" Herbert bellows again looking over at Welch.
With time winding down on the Jake Herbert era in Evanston, the infectious grin turns somewhat somber despite the smile showing through.
But does he feel he's this year's "Rock Star" of college wrestling?
"It's fun, you know, I can't believe this is my life," he said. "I get to wrestle, I go to school -- I'm pretty good at both of them. I've been doing it as long as I can and stretching it out to the last little bit and I just have a couple of weeks left. Now I'm just trying to savor it all in and enjoy it."
Durkee thinks a Rock Star label is fitting.
"He was the Ultimate Warrior for Halloween," he explained. "He seemed to enjoy painting his face and wearing around purple spandex. I think it worked well for him, and since we're black and purple, he already had the purple spandex. I think that made his costume a little more enjoyable for him."
Ad blocker interference detected!
Wikia is a free-to-use site that makes money from advertising. We have a modified experience for viewers using ad blockers

Wikia is not accessible if you've made further modifications. Remove the custom ad blocker rule(s) and the page will load as expected.