You need to walk before you can run; you need to grow wings before you can fly; and, in the case of the Pittsburgh Pirates, you need wind before you can sail!
Nate McLouth, Pittsburgh's lone All-Star representative in 2008, was traded to Atlanta last Wednesday. The Pirates' GM, Neal Huntington, recently explained his rationale for the trade to season ticket holders in an email: "Tough decisions are not always popular. However, we have a singular focus on our goal of building an organization that can consistently compete for championships, not simply finish above .500."
That's honorable enough, but considering the team hasn't finished over .500 since 1992, I think most of those season ticket holders would settle for "simply finishing above .500."
In fact, if I was a season ticket holder (and God bless them, they truly need to be "die-hard" to hold tickets to show so saddening, not even a well placed Johnny Depp quip could cheer them up), I'd be pretty pissed that Huntington so easily dismissed the simplicity of finishing over .500.
Then, again, this is about the average wind speed in these doldrums. The Pirates have not finished within 10 games of .500 since 1999, when they went 78-83, and this deal won't put any air in the sails anytime soon.
McLouth was a complete player. He won a Gold Glove in 2008, while stealing 23 bases and belting out 26 HRs. At only 27, he was expected to build on that this season while serving as a figurehead for the organization. The Pirates finally appeared to take a step toward steering the ship when they extended his contract through 2011 (with an option for 2012) this Spring Training. His deal was a modest $15.75 million over the next three years, and Huntington said the decision wasn't about money.
Clearly, it wasn't about the money, Neal! In fact, it's obvious that the financial ramifications weren't even considered in this deal, because, for a team with the lowest attendance figure in the league, trading your most popular player will most only cut down on your revenue!
Huntington's rationale was that by trading McLouth, it allowed the Pirates to promote top prospect Andrew McCutchen to the helm. True, but was the outfield really that jammed up by players like Nyjer Morgan, Brandon Moss, Craig Monroe, Eric Hinske, and Delwyn Young that McCutchen needed to stay below deck? Seriously! Have you ever seen more of a rag-tag lineup who's who of "WHO!?" in your life!? Pittsburgh certainly didn't need to trade McLouth to find space for McCutchen to play in the outfield.
Huntington also stated that by bringing in these prospects, the team planned to "build and sustain a championship caliber organization" and listed the prospects the Pirates acquired as being tossed out in offers between Atlanta and San Diego for ace Jake Peavy last offseason. On further examination, it's easy to see why San Diego didn't accept these players. Pittsburgh would be lucky to "build and sustain" a fresh water sailboat for a youth regatta with the players in this deal.
Gorkys Hernandez was listed as a top prospect in the Braves system, but on further review, he's simply a direct down grade from McClouth...in Double A. While Hernandez, 21, is batting .316 on the season, he has no power (.387 SLG, 0 HR), poor plate discipline (54 strikeouts:15 walks in 212 at-bats), and misappropriated speed (10 stolen bases, 8 caught stealing).
By comparison, McClouth smacked 9 HR with 29 SO and 21 BB in 168 AB. He was also a perfect 7-7 on stolen base attempts and, since 2005, his 64-69 SB/SB Attempts is the highest percentage in the majors.
To top this all off, Hernandez plays center field! What are they going to do when they want to call him up to the big ship? Trade McCutchen!?
The player with the most immediate value to the Pirates in the deal is pitcher Charlie Morton. Morton had been dominating AAA with a 2.26 ERA and 1.02 WHIP and 62 K against just 17 BB. However, despite tearing up the minors, his 2008 stats are still a cause for concern. In 74.2 big league innings, he had a 6.15 ERA and 1.62 WHIP, striking out 48, while walking a whopping 41. Based on this season, those troubles could be behind him, but it's still a red sky in the morning ("sailors take warning").
The third player, Jeff Locke, is a landlubber at this point. He started 10 games this season for Class-A Myrtle Beach, posting a 5.52 ERA and a less than exemplary 1.60 WHIP. His upside, at this point, is that he's averaging nearly a strikeout per inning pitched, but it'd be unrealistic to expect too much of a splash in the Major League waters.
Still, while Locke is the most meaningless player in the deal, symbolically, he might mean the most to the Pirates. He symbolizes a long-term project that probably will never get fully unfurled in the wind.
First baseman, Adam LaRoche, spoke out against the deal: "If they feel like it's the best move for three or four years from now, great. Unfortunately, that does me no good. I've still got to be in here telling guys it's going to be fine with Nate [McLouth] gone. Well, you can only do that for so long until guys just kind of ... well, they know."
Yeah, we all know! You can't abandon the ship in the middle of the ocean, but it's hard to stay on-board when it keeps taking on water (unless maybe you're Kate Winslet in Titanic).
"You keep hanging on," LaRoche said. "Hanging on, and you've got to figure: How much longer until you sink?"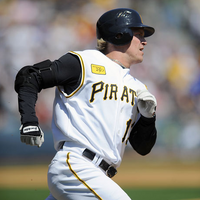 --Originally posted at 
[1]
http://jtstally.blogspot.com/
--
Ad blocker interference detected!
Wikia is a free-to-use site that makes money from advertising. We have a modified experience for viewers using ad blockers

Wikia is not accessible if you've made further modifications. Remove the custom ad blocker rule(s) and the page will load as expected.