The
New York Mets
failed to provide run support and that led to a 3-0 loss to the
St Louis Cardinals
. The series is tied up 1-1 with two games remaining.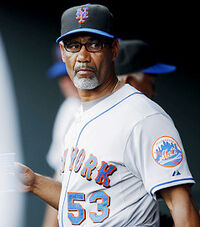 Mets starting pitcher Livan Hernandez pitched seven innings and allowed three earned runs with three strikeouts and three walks. Hernandez suffered his second defeat on the season, which brings him to 5-2 with a 4.05 ERA.
Everyone in the Mets lineup went hitless, except second baseman Luis Castillo and center fielder Jeremy Reed. The Mets didn't get their first hit until the ninth inning.
Cardinals starting pitcher Joel Pineiro pitched a complete game, allowing two runs and had one strikeout.
Cardinals second baseman Skip Schumaker, Pineiro and shortstop Brendan Ryan scored the Cardinals three runs.
Ad blocker interference detected!
Wikia is a free-to-use site that makes money from advertising. We have a modified experience for viewers using ad blockers

Wikia is not accessible if you've made further modifications. Remove the custom ad blocker rule(s) and the page will load as expected.