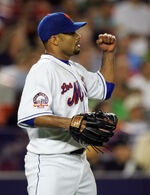 The
New York Mets
suffered another defeat against the
Pittsburgh Pirates
; 3-1 was the final score.
Johan Santana received his third loss of the season, giving up three runs and seven hits in the sixth inning, which led the Mets to lose three out of their last four games.
"He got a couple pitches up, but we should have enough to overcome that," Mets manager, Jerry Manuel said. "We weren't able to do that."
Santana had three earned runs (including one home run) with three strike outs in six innings pitched.
Ramon Martinez, the Mets' shortstop, gave the Mets their only run of the game. Martinez has been playing shortstop, since Jose Reyes was placed on the 15 day DL.
Zach Duke received the victory for the Pirates. He pitched seven innings and had one earned run with zero strike outs. Duke happens to be 6-4 on the season.
Duke understands the talent Santana has, but he believes his team took advantage of Johan's mistakes. "You always want to see how you match up against the best," Duke said. "Johan's numbers don't lie; he's a great pitcher. We just capitalized when we had the opportunities tonight."
According to Duke, he stayed focus and tried to stay within striking distance. "'I have to keep it within striking distance,' that was my main focus," Duke said. "When I got into those tight spots early on, maybe I'll give up one, but make sure it's only one."
Pirates second baseman Freddy Sanchez and center fielder Nate McLouth, had one run, two hits, and four at bats each. Catcher Jason Jaramillo, had one run, one hit and three at-bats.
Quotes from Yahoo Sports
Ad blocker interference detected!
Wikia is a free-to-use site that makes money from advertising. We have a modified experience for viewers using ad blockers

Wikia is not accessible if you've made further modifications. Remove the custom ad blocker rule(s) and the page will load as expected.