From: http://afraidofedhochuli.blogspot.com/
I have so many opinions that I want to get out right now but I am having trouble expressing them.
The last few days I have grown more frustrated and I think I am finally ready to attempt to let that out.
This diatribe is focused at the Seattle Times and the recent articles written about the Washington Huskies.
I would like to start this off by stating that I am not taking a side on any of the arguments and I am NOT condoning any of the actions that are listed in the article, but this post is going to be focused on the absolute disregard of integrity by the Seattle Times; namely Reporters Nick Perry and Ken Armstrong. 
My arguments might come off as taking a side, but I want to add this disclaimer: What these players did WAS WRONG, but I don't believe that it is responsible reporting to bring up these issues 8 years after the issue.
They have decided that they need to write a four-part expose on the "failures" of the 2000 Rose Bowl team. They have decided that eight years later it is a good time to unleash stories about player's indiscretions and run-ins with the law. They have decided that this is the time to drag names through the mud.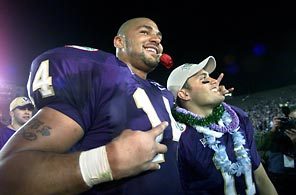 What is the reason? Was it just to point out that there are bad seeds? Was it to show us that the administration did nothing about these problems; possibly overlooking the legal issues of star players?
My major problem with the articles is this: they are terribly biased and one-sided. They pick out a few players (out of 105) that were problems, but fail to speak of the majority of students that actually follow the rules.
Sunday, January 27th Everything in this article was already listed in newspapers and everyone knew that he was a "head-case". He was accused of rape but was never formally charged; he was charged with hit-and-run.
Everyone was aware of that, but this article reads as if everything was covered up by police, administration and lawyers.
Stevens was only formally charged for a hit-and-run where he was given probation. The others never came through based on lack of evidence or conflicting witness descriptions.
For the hit-and-run (which took place during the week) he was suspended for the first half of the following game. Is that lenient? Probably, but take that up with good ol' "Slick" Rick Neuheisel.
The player was wrong. But if there was a cover-up done, is it the fault of the team or of the administrators and legal teams?
Monday, January 28th This one makes some sense as to why there might be a question on cover-up seeing as there was evidence that Pharms may have been the attacker who broke into a drug dealer's home and shot him twice.
There was a bloody fingerprint and witness accounts, but because of prosecutors wanting a "bulletproof" case, wasn't charged until 14 months later; after the team had won the Rose Bowl and Pharms had been drafted in the 5 th round by the Cleveland Browns.
He spent time in prison because of the shooting and is currently under investigation for "two felonies: illegal possession of a firearm by a convicted felon, and discharging a firearm in a grossly negligent manner that could harm or kill."
We can all agree that this guy wasn't exactly a model citizen. But for every one of him there were 40 other players that worked hard and paid their own way, just to get an education and play football.
Tuesday, January 29th This is the one that really peeves me.
Williams' problems with his wife and his subsequent court troubles are documented. The reporters got more information then normally got released by running a simple public records search. Anyone can do this.
They say that Williams' off-field trouble (which mainly focused around his abusive nature towards his wife, including: broken nose, broken arm, cut face) was not covered in the paper at the time.
Whose responsibility is that? That is right boys, yours. NOT eight years later.
Most know Williams as the Safety who hit so hard he could knock guys out. More know him as the player that was paralyzed from the neck down due to a hit that he put on Stanford RB Kerry Carter.
He died in his sleep 18 months later – his body shut down from the injuries.
The paper has posted an article destroying the name of a man (deserving or not) who is dead. The paper has posted an article destroying the name of a man (deserving or not) who left behind a daughter. The paper has posted an article destroying the name of a man (deserving or not) who is not here to defend himself.
Well done.
What does his estranged widow think?
"Submitted Date: 01/28/2008 10:13 pm
Dear Nick Perry,
Thank you. Thank you for coming all the way to Alaska to ask me in person what happened to me so many years ago. Thank you for having the integrity to be honest with me from the get-go about what you were writing this story about before it was published. Thank you for understanding my concerns as a mother, my love for my daughter, and my deceased husband, Curtis. Thank you for your kind-heartedness, and your willingness to get to know me for me. I know that many will probably vilify you for being inquisitive and investigative. I don't.
As I told you when you were here, you're just doing your job. I respect that. To those that question, Curt was a wonderful man, athlete, husband, and father...when he wanted to be. Other times he wasn't. So what, I've put all this in the past and I have not let one person degrate him to this day in the precsence of our beloved daughter. Not once. Not ever. Yes, We had problems, we went our separate ways. That is just that. Nothing more, nothing less. Let Curt rest in peace. Please do not disrespect his memory or his legacy. I dont, and I don't wish for anyone else to either. May he rest in Paradise...
with love,
Michelle Williams"
Notice how it was sent before the publishing of the article. Also notice how the reporters did exactly what she asked them not to do: "Please do not disrespect his memory or his legacy"
Wednesday, January 30th This is the saving grace of the four parts.
Kelley was a blossoming Defensive Star who decided that he would go against the grain and be a student first and an athlete second. Studying abroad in South Africa and adopting one of the children he met.
This article was still based on the closed eyes and turned heads of the Administration when it comes to players and their off-the field lives; mainly as students.
The problem I have with that? The Administrators that they name are all gone and didn't exactly leave under good terms.
But again, they throw away all of their credibility by discussing the off-the-field incidents of Kelley's best-friend: Anthony Vonture, who also is dead.
Vonture had what some thought was bipolar and led to him having possible psychosis.
According to the Mayo Clinic: "From high to low. From mania to depression. From recklessness to listlessness. These are the extremes associated with bipolar disorder, a mental illness characterized by mood instability that can be serious and disabling. Bipolar disorder is also known as manic-depression or manic-depressive illness — manic behavior is one extreme of this disorder, and depression is the other."
The police were called one night when he was raving about men in green masks coming to get him. He had a heart attack.
Toxicology reports state that he had cocaine in his blood. The Mayo Clinic lists drug abuse as a "sign and symptom".
KJR AM 950 here in Seattle had a recent interview with ex-players Chad Ward and Kyle Benn (audio can be heard here: http://www.kjram.com/pages/softy_page.html) who said that they had been interviewed for these articles. They said that they were "surprised and taken aback" by the article and that they felt that the Times were trying to "paint a grim picture of those guys that isn't true".
Ward and Benn said that they were approached by Nick Perry who said they were doing a "Where Are They Now" piece about the 2000 Rose Bowl team. Benn said that every time they would mention a name, Perry would interrogate them. Ward went one step further saying that he had said he wanted nothing to do with a negative article.
They both said that they felt lied to and that Perry misrepresented the interview.
Ward and Benn said that they were all aware of team rules stated that if you are charged with a crime you are suspended until resolved. If you are convicted you are excused from the team.
The Times article itself makes it seem as if a cover-up was involved. To me, that is quite an accusation. The Times is accusing these players and administrators that they were attempting to cover up accusations against them.
These things were already in the paper. Perry and Armstrong make references to the articles that had been posted. (Electronic version has hyperlinks)

My problem lies with the reporting. I agree that the off-the-field issues that guys like Stevens, Pharms and Williams encountered were heinous. They did things that should bring fans and watchers to the point of frustration.  These guys maybe should have been suspended or even kicked off the team, but why now?
What is the purpose of dragging Curtis Williams' name through the mud? What is the purpose of rehashing the stories about Jerramy Stevens that we have all been made aware of? Is there a reason to bring up Pharms when he has served his time and is currently dealing with other problems?
My hope of these articles is that they decide to bring in an article based around how the current team, while trying to get wins in order, have actually created a good and responsible team.
There is an article in today's paper where University President Mark Emmert  comments on the challenges they faced when they took over the team.
"Unfortunately, people have this notion that you can have good guys or you can have champions," Emmert said. "I think that is an utterly false dichotomy. I reject that absolutely. You can win, and you can win properly."
That is an article I can agree with.
I'm not the only one that this offended.
From the Seattle Times Husky Blog
"8:20 AM, Jan 30, 2008
Your article about Curtis Williams was not only in poor taste but limited and biased in its perspective about a man whose life was tragically cut short.
I was at the Stanford – UW game on the day that Curtis suffered his injury. My son Brad Vanneman had recently committed verbally to play for the Huskies in the upcoming fall and we as a family felt an immediate bond with the Husky program. I was so impacted by Curtis' injury that I began to visit him during his stay at Valley Medical Center in San Jose. During my visits, I got to know Curtis and his brother Dave who went on an extended leave of absence from his management position at Waste Management, Inc. in Fresno, California to care for his brother. I watched Curtis's eyes light up when a visitor would drop in unrepentantly. I saw him battle his own personal despair in accepting how his life had forever changed. I was with him when he learned to control his wheel chair by manipulating a toggle stick with his chin. Curtis bravely grew to accept his fate, was learning to use a computer and was planning on attending school again to finish his degree. Lastly, I attended his funeral and witnessed the outpouring of support and love from the Husky family and his community. Through my all too brief time with Curtis, I came to know him as a man of courage, humility and honor.
While your article may be factually correct, it dishonors a man, his family and members of the extended Husky program. What you chose to print is tantamount to tabloid gossip disguised as sports journalism. Even worse, your portrayal creates a lasting representation of Curtis Williams that is completely inconsistent with who Curtis was when his life ended.
You owe the William's family and the Husky family an apology.
Regards,
Mike Vanneman"
I agree, Mike.
Matt's Conspiracy Theory: Nick Perry and Ken Armstrong are two Reporters no one knows, and after the success that Mark Fainaru-Wada and Lance Williams had breaking the steroids scandal, maybe they thought they could make a name for themselves by "breaking" this scandal.
Reporter Ken Armstrong is an alum of the Purdue school of Journalism. Who did the Huskies beat in the 2000 Rose Bowl? You guessed it: Purdue.
Ad blocker interference detected!
Wikia is a free-to-use site that makes money from advertising. We have a modified experience for viewers using ad blockers

Wikia is not accessible if you've made further modifications. Remove the custom ad blocker rule(s) and the page will load as expected.