What are we? The facking Devil Rays? The Marlins? We have four jerseys now! No, wait, with the green ones that's five! And now we have our very own "alternative cap?"
I'm bullshit about this. Absolutely positively about to have an aneurysm kind of bullshit. Kick the dog, bite your own tongue 'til it bleeds kind of bullshit.
I don't mind the new road jerseys. I actually like them. They remind me of the new Bruins' alternate jerseys. A sense of history with a bit of modern style. They make a statement without being too loud.
But now we have alternate home jerseys (the red ones) AND alternate road jerseys? What the fack? Why do we need so many alternate jerseys?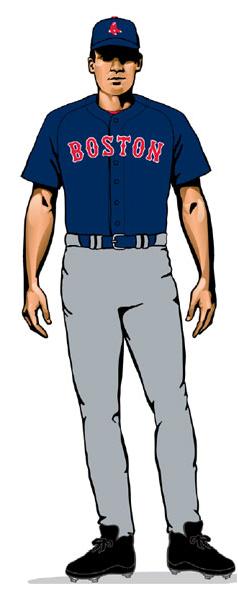 I'm sorry, but that's a spring training warmup, not a Major League Baseball uniform, and certainly not the uniform of a 108 year old team like the Red Sox. Laundry like this should never leave Fort Myers.
But the worst part. The absolute worst part of all this pre-Holiday promotional garbage is the hat that belongs in McCoy Stadium down in Pawtucket, not in Fenway. This is a joke. I can't believe the Boston Red Sox will be taking the field with this travesty atop their heads.
It's not that these things look particularly ugly. And certainly there are worse jerseys around baseball. But why change? How much money is enough? Don't the Red Sox sell enough pink and green and turquoise merchandise for Larry Luchino, Tom Werner, and John Henry to survive through the stormy waters of today's stock market?
The Red Sox have five different jerseys. That's only one more than the Kansas City Royals. Nuf said.
Ad blocker interference detected!
Wikia is a free-to-use site that makes money from advertising. We have a modified experience for viewers using ad blockers

Wikia is not accessible if you've made further modifications. Remove the custom ad blocker rule(s) and the page will load as expected.