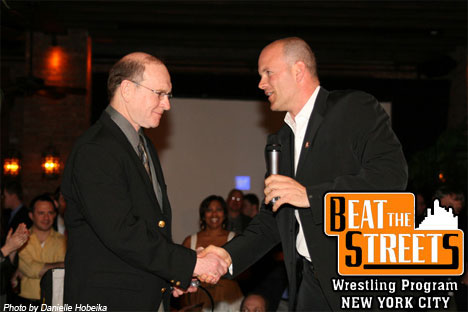 Former Iowa head wrestling coach Dan Gable and former Princeton wrestler and current President of Fortress Investment Group Michael Novogratz at Tuesday's Beat the Streets fundraiser gala in New York City.
RELATED : Celebration Photos by Danielle Hobeika
It's the most populated city in the United States … and up until four years ago, it was one of the most wrestling parched regions of the country.
But that was then and the Beat the Streets Wrestling Program initiative has turned New York City wrestling into fertile ground from what was once a barren landscape.
Following the 2003 World Wrestling Championships at Madison Square Garden in New York City, long-time wrestling coach and educator Al Bevilacqua got a few friends together with an idea.
The feisty and verbose Bevilacqua, in a short four years, has seen wrestling in New York City grow from one program to over 100 among the middle and high school levels.
Over 300 donors, benefactors, fans, coaches and wrestling dignitaries from around the country celebrated four years of growth at the Beat the Streets fundraiser at the Bowery Hotel in Manhattan on Tuesday night, in what is sure to be a yearly spectacle and a veritable who's who of wrestling.
Among those presenting awards to the Beat the Streets award winners this year were former three-time World Champion and U.S. Olympic Team coach Lee Kemp, six-time World and Olympic Champion and current Oklahoma State head coach John Smith, Executive Director of the National Wrestling Hall of Fame Lee Roy Smith, Olympic Champion and long-time Iowa head coach Dan Gable and four-time Olympic Medalist and Edinboro A.D. Bruce Baumgartner.
High-ranking staff members from USA Wrestling and the National Wrestling Coaches Association along with dozens of high school and college coaches scattered the room.
Beat the Streets Chairman, Mike Novogratz, a former Princeton wrestler and President and Director of Fortress Investment Group, chuckled during in his welcome speech, noting the presence of icons like Smith, Kemp, Gable and Baumgartner in the room.
"I counted 25 or so NCAA champions in here tonight," Novogratz said. "It's a tough gig when you're an NCAA champion and don't even get recognition. Let alone all the All-Americans that are here."
As Novogratz handed off the microphone to the award presenters, there was a sense of validity, a sense of arrival.
Beat the Streets has truly arrived and in a big way.
"It's a great thing to watch kids come in, with zero knowledge about the sport and watch them have some level of success," said Roosevelt Island Middle School Coach Corey Luce, the recipient of the Middle School Coach of the Year Award. "It's not just our kids, it's our parents. People on the outside who know nothing about the sport coming in and supporting our program."
Luce wrestled collegiately at Lock Haven and teaches at Roosevelt Island. He also serves as an assistant coach at Division III New York University after spending time down the street at Hunter College. He was prodded into coaching middle school by Bevilacqua and Bill Crum.
Luce thanked his assistant coaches, all former wrestlers at Hunter College.
"That's the sign of a good coach," said Smith, who presented Luce the award. "Recognizing his assistants."
Along with Luce, NYU head coach Bruce Haberli was honored as the College Coach of the Year.
"To see wrestling move up in New York City and have 100-plus programs in the biggest city in the country," explained Haberli. "I can't see anything more positive for wrestling right now."
Haberli, who doesn't have the involvement he'd like to have in Beat the Streets due to NCAA regulations, raves about the work being done.
"The contributions of outstanding wrestlers who have stepped up to the plate are amazing," said Haberli. "You have a guy like Mike Novogratz, who financed this thing and it's being so well recognized by the wrestling community, you take guys like Bruce Baumgartner, Lee Kemp, John Smith, Dan Gable – they show up to important events. You get Olympians to do clinics and help teach these kids. That's a key factor and the biggest positive I've seen."
High School Developmental Coach of the Year Keith Conrade of Canarsie High School opened the awards with a humorous but thankful speech, while High School Coach of the Year Michael Blyth of Petrides High School was awed by the turnout and response.
Beat the Streets Man of the Year Award went to Eric Goldstein, the Chief Executive of New York's Public School Athletic League (PSAL). Goldstein is a pivotal player in ensuring the sport grows within the city schools.
The time and effort put in by the award winners is well-deserved, and as Gable puts it, something to get behind.
"You look for something that's going to be a catalyst. Something you can work off of, build from," he said. "I've been in the sport full-time, my whole life and I didn't realize New York City didn't have wrestling all over.
"How can you raise your level of awareness? You find a place, high profile like New York City, and get something going there and then the other states can pick it up. It's going to affect the high level," he answered. "There are no excuses. If it can happen here, it can happen anywhere."
For Smith, it means more, especially coming from wrestling-rich Oklahoma.
"Me and my brothers wrestled in Oklahoma and we thought it was like this everywhere," recalled Smith. "The important thing for me being a part of Beat the Streets is that I understand it's a real privilege to be a part of something like this. People who are sponsoring this are a part of something that's great."
Smith pointed to Novogratz's unwavering support as inspirational.
"The thing I appreciate the most, he's a wrestler who has given back to wrestling," said Smith. "We all need to be a part of this. Every time I've come, it's renewed my spirit in wrestling."
It would take Bevilacqua a book the size of War and Peace to explain all the nuances of wrestling as an educational tool, but he sums up the fundamentals of the program rather simply.
"We put out a mat and 40-50 kids come out," said Bevilacqua. "We have intramurals, ninth-period … we teach with lesson plans. When a kid finishes ten lessons, he doesn't have his knees on the mat; his head isn't on the mat."
And what does a Beat the Streets Lesson Plan consist of? Fun and Fundamentals.
"Basic skills: Stance, motion, change levels, penetrate, lift and back step," said Bevilacqua.
"The design of this program was for middle school," he said. "We've expanded it to high school to connect to our middle schools. We have 100 new teams; we brought another 3,500 kids to wrestling. New York City has more high schools than 40 states in this country. What's my goal? 400 high schools.
"My goal is to put a mat in every school," said Bevilacqua.
Last weekend, Beat the Streets hosted its second Middle School City Championships, bringing in over 600 wrestlers. It's gone from adding programs, to adding skills, to now providing competition as an added bonus.
Beyond the sport, Novogratz sees the roots taking hold in New York City and believes the tough kids who come out of the five boroughs can eventually lead in life and society.
"We need to change the society," said Novogratz. "We need to create an army of heroes in waiting. (We need) many people who work hard that will show up and do the right thing at the right time.
"That's the mission of Beat the Streets. It's to take the vast reservoir of talented kids in New York City and through our sport, instill in them toughness, not a bravado swagger toughness, but a toughness that comes from hard work, toughness that comes from doing your 50 push-ups before you brush your teeth," said Novogratz. "Toughness from showing up on time. Toughness from doing the same thing over and over. That toughness and discipline will show up in leaders."
But as Novogratz looked around and announced an estimated half-million dollars raised, the "wow" seemed to hit the room.
"The major reason I do this is, like so many of you, wrestling brought things to my life and created a foundation to grow on," said Novogratz. "We raised about $500,000 tonight. That will go a long way in sending kids to camp and paying for mats."
"It was me and a few others pulling the wagon early on," said Bevilacqua. "Now we have the wagon being pulled by many."
Want to know more? : www.beat-the-streets.com
Ad blocker interference detected!
Wikia is a free-to-use site that makes money from advertising. We have a modified experience for viewers using ad blockers

Wikia is not accessible if you've made further modifications. Remove the custom ad blocker rule(s) and the page will load as expected.