Let's talk some hockey.
By the Numbers
64 Shots for the Pittsburgh Penguins. (Two Goals)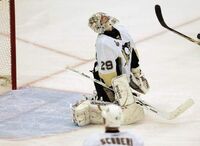 56 Shots for the Detroit Red Wings. (Six Goals)
41 Giveaways by the Red Wings versus 25 for the Penguins.
17 Takeaways by the Penguins against 20 for the Red Wings.
77-72 Hits in favor of the Red Wings.
25-21 Blocked Shots in favor of the Penguins.
1 Power play goals by Pittsburgh in three attempts. Detroit has yet to tally a power play goal in their three attempts.
.969 Save percentage for "the over-rated" Chris Osgood, Red Wing Goalie.
-4 Pittsburgh defenseman Hal Gill's plus-minus rating. He's been on the ice for four of the Red Wings' six goals. Gill was +6 on the playoff season going into the finals.
2 Points (1G, 1A) for Evgeni Malkin
0 Points for Sidney Crosby
15 Hits credited to Red Wing Center Darren Helm. The most for either team.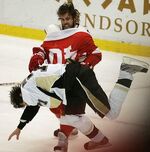 19
Penalty minutes by Pittsburgh's
Evgeni Malkin
in Game 2, including a misconduct. He also had an instigator penalty in the final five minutes of regulation. Under their, "We can't be missing our stars" policy, the NHL has ruled that Malkin will be eligible to play Game 3.
2 Goals for 22 year old Justin Abdelkader. A Muskegon, MI native who wasn't even playing at the beginning of May. Abdelkader joins Darren Helm as two Red Wings with playoff goals without any regular season goals.
2:46 Minutes into the third period for Abdelkader's goal in Game 1
2:47 Minutes into the third period for Abdelkader's goal in Game 2
63 Faceoffs won by the Red Wings against 43 won by the Penguins.
24 Faceoffs lost by Pittsburgh center Jordan Staal against only nine wins. Staal was 6-of-19 in Game 1 and only 3-of-15 in Game 2. Detroit center Darren Helm was 13-4 against Staal in Game 1 and 9-2 in Game 2. Sidney Crosby improved his faceoff percentage tremendously from Game 1 (6/20) to Game 2 (10/15).
0 Empty net goals for Detroit in almost four minutes of empty net time.
Comments
In all seriousness, the Penguins are skating very hard and taking it to the Wings on every shift. Detroit is getting more than a little bit of Puck Luck and will need to play better to close out this Pittsburgh team. Pittsburgh has caught more than one post and is doing a good job of out-RedWinging the Wings. Anytime a team plays the puck possession game better than the Wings, they can assume they're playing pretty good hockey.
Sources: freep.com, nhl.com, detnews.com, redwings.nhl.com
Ad blocker interference detected!
Wikia is a free-to-use site that makes money from advertising. We have a modified experience for viewers using ad blockers

Wikia is not accessible if you've made further modifications. Remove the custom ad blocker rule(s) and the page will load as expected.