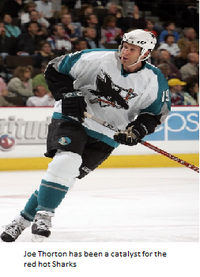 1. (2)
Sharks
-They had a superb week beating Los Angeles, Anaheim, and Buffalo. Ultimately though to retain the top spot they will need to win their Thursday showdown with Chicago to hang on to the top spot.
2. (3) Capitals-They have dominated the opposition during their six-game win streak. Another strong week and a stumble by the Sharks and they could find themselves atop the rankings by next week.
3. (1) Blackhawks-If it were not for the outstanding play of the Sharks and Capitals this week the Blackhawks would still be atop the rankings. Despite playing well they did falter this past week against Ottawa and Vancouver. A win this Thursday against the Sharks and they could be back on top.
4. (9) Canucks-The Canucks have played absolutely amazing hockey since the turn of the calander. However, their biggest test will be in an excruciating 14 game road trip.
5. (6) Avalanche-Six straight wins has really helped the Avalanche climb up the rankings.
6. (5) Devils-They have had a rought start to the year that may see them fall soon. However, they had a decent week with wins against the Islanders and Panthers.
7. (7) Penguins-The Penguins had a realy chance to put themselves at least in the conversation this week with a win against the Capitals. However, a heartbreaking loss set them back a bit. The big win against the up-and-coming Flyers helped them maintain the status quo.
8. (4) Sabres-A brutal four game losing streak is the last thing Buffalo wanted. They need to put in a strong week to rectify last weeks mistakes.
9. (12) Kings-They put together two huge wins against the Sabres and Red Wings this week. Both of which may of just saved their season.
10. (18) Flyers-The Flyers are really moving up the rankings jumping eight spots. Right now they are beating every one they are supposed to. If they want to climb any further though they are going to need to beat some of the top teams like the Capitals and Penguins, who they recently lost to.
11. (15) Senators-Another very impressive week has helped the Senators move up the rankings. While they cannot keep this performance going forever, if they can keep some semblance of this going they could make some noise.
12. (10) Red Wings-There drop in the rankings had more to do with the play of the Flyers and Senators then anything else. They will get a chance to reisert themselves with games against Phoenix and Pittsburgh this week.
13. (11) Coyotes-I still cannot get over them being shellacked by a struggling Sabres team, especially when you couple it with a loss to Washington. This week will be huge in determining just who the Phoenix Coyotes are.
14. (9) Predators-They really have dug themselves a hole with their poor play this past week. They need a strong week to return to their former level.
15. (16) Ducks-They are off to a 1-1-0 start to their six game road trip. A win in Washington would go a long way.
16. (14) Flames-Calgary is in in panic mode with two more losses added to their already poor start to the new year.
17. (13) Islanders-They have a chance to regain their form with big games against the Capitals and Flyers this week.
18. (18) Wild-They put an end to their four-game skid with a win against the Blue Jackets. But let's be honest, your supposed to win against the Blue Jackets.
19. (17) Bruins-This was not the start the Bruins needed. You would never of guessed this was the same team that dominated the opposition in the regular season last year.
20. (20) Stars-The Stars will face the rising Avalanche and the falling Flames this week. The question is where do the Stars fall.
21. (26) Canadians-The Canadians seem to be two different teams. They is the one that fell to the Blues and the one that dominated the Rangers.
22. (19) Rangers-A three-game losing streak was the last thing they needed, especially that performance against Montreal. If you call that a performance.
23. (22) Blues-Simply another mediocre week for a mediocre team.
24. (23) Panthers-It really is baffling how they are managing to be second in their division. Could it be that the Thrashers, Lightning, and Hurricanes are in their division? The Capitals are the only thing keeping this division from being abysmal.
25.(25) Lightning-This would of been a great weak if not for the horrendous 2-8 showing against the Rangers.
26. (29) Hurricanes-They actually decide to play decent when the season is lost.
27. (24) Thrashers-There only win came this week came against the pitiful Maple Leafs.
28. (28) Blue Jackets-Lone win this week came against the struggling Bruins.
29. (27) Maple Leafs-They had some nice momentum last week and then this. week came.
30. (30) Oilers-They are just terrible.
Check out http://360sport.blogspot.com/
Ad blocker interference detected!
Wikia is a free-to-use site that makes money from advertising. We have a modified experience for viewers using ad blockers

Wikia is not accessible if you've made further modifications. Remove the custom ad blocker rule(s) and the page will load as expected.