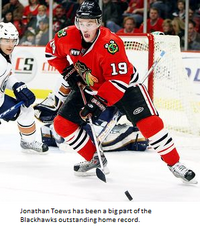 1. Blackhawks
-Chicago's superb play at home has been a large part of their success this year. Already off to a 2-0-0 start on their 8 game road trip they have entrenched themselves in the number 1 spot until we see otherwise.
2. Sharks-Right now San Jose is Chicago's biggest threat. If they survive the grueling next three games (Kings, Ducks, Sabres), they will have a chance to take over the number 1 spot next Thursday (28th) with a showdown against Chicago.
3. Capitals-Ovechkin's strong play has kept the Capitals among the leagues elite.
4. Sabres-Buffalo's 8-0-2 record in the past 10 games should act as a springboard before facing San Jose on Saturday.
5. Devils-The dropped the ball again by losing to the Islanders. They have given up 11 goals while only scoring 4 in the past three games resulting in loses to the Coyotes, Avalanche, and Islanders.
6. Avalanche-They have outscored opponents 16-5 in the past four games despite being outshot 143-113 the past four games. The luck is sure to run out at some point if that number doesn't change.
7. Penguins-The Penguins have struggled on the power play mightily in January scoring four times on 80 tries. That is not gonna get it done against the Capitals this week, let alone the Islanders.
8. Canucks-The Canucks managed to lose 3-2 for three straight games. They need a strong showing against Chicago to avoid a steep fall.
9. Predators-Excluding a recent slip up against Toronto, the Predators have played well enough to keep them among the second tier.
10. Red Wings-Their pedestrian road record is what prevents them from being higher on this list.
11. Coyotes-Just when all looks lost they come up with wins against Minnesotta and New Jersey. However it doesn't look good when the last time you gave up less than three goals was 10 games ago on December 29th.
12. Kings-The Kings are creeping closer and closer to mediocrity. This looks to be about their ceiling for the year.
13. Islanders-Their 7-2-1 record in the past 10 games has put them in the playoff picture, however a -15 goal differential doesn't help your case.
14. Flames-Just a fortnight ago they boasted a 25-12-5 record. Things have taken a hit for the worst winning just 1 of their past 8. They need to right the ship quick or playoffs may be out of the question.
15. Senators-They put a dent in that ugly 5 game losing-streak with a 3 games win-streak. A win tonight in Chicago would certainly help.
16. Ducks-Talk about a tough division. The Ducks have gone 3-10-2 in their division and 19-10-5 in all other games.
17. Bruins-A 3-3-3 record in January is not what the crippling Bruins were looking for in the new year.
18. Flyers-Their recent 6-3-1 surge has given them some semblance of playoff hopes.
19. Rangers-If not for their big win against Montreal the Rangers from a freefall.
20. Stars-Auld will get the nod in net after the recent abysmal performance of Turco. You really can't get much worse that what you were getting out of Turco but Dallas fans shouldn't get their hopes up.
21. Wild-The Wild quickly erased their four game win-streak with a three game skid.
22. Blues-The Blues looked to turn the corner with a four game winning streak following a 7 game losing streak. This week will go a long way toward telling us who the real Blues are.
23. Panthers-Recent performance could move them up a few spots. Another strong week and Florida will shoot up the rankings.
24. Thrashers-Atlanta just can't seem to get anything going at times. The bright side is they have gone .500 in the six games after dropping 9 straight.
25. Lightning-If they can manage to win 2 of the next 3 games this week that will go a long way towards dictating the season.
26. Canadians-By the way the Canadians play you wouldn't even know if their offense was on the ice.
27. Maple Leafs-After looking terrible against Washington the Leafs showed a glimpse of mediocrity with a big win against a strong Nashville team on the road.
28. Blue Jackets-Their three game win-streak was quickly offset by a 3 game skid.
29. Hurricanes-Carolina showed some promise with a 3 game win-streak headlined by a win against Colorado only to drop their next 3.
30. Oilers-It is almost as if they are trying to lose as the Oilers managed one win in 10 tries culminated by a 6-0 shellacking at the hands of Colorado.
Ad blocker interference detected!
Wikia is a free-to-use site that makes money from advertising. We have a modified experience for viewers using ad blockers

Wikia is not accessible if you've made further modifications. Remove the custom ad blocker rule(s) and the page will load as expected.